Ever wondered you can measure distance by using a set of binoculars? Well, the surprise doesn't end here. One of the most prominent inventions for hunters, and shooters is binoculars with range finding capabilities. As soon as you get your hands on them, they instantly surprise you with peculiarities and blueprints. 
Before we discuss remarkable factors about best rangefinder binoculars, there are a few pointers to remember. Similar to the idea of telescopes and microscopes, binoculars are constructed when two telescopes are put side by side. They can adjust the focus accordingly.
The difference between ordinary binoculars and rangefinder binoculars is that the earlier with rang finding capabilities give you something more for viewing access.
If you are a big game hunter or a long range shooter, there is a chance you carry a separate best rangefinder for deer hunting with you to calculate how far your target is. Carrying a set of binoculars and a rangefinder separately not only takes up extra space, but you might end up forgetting one of the two things. 
What are Binocular Rangefinders?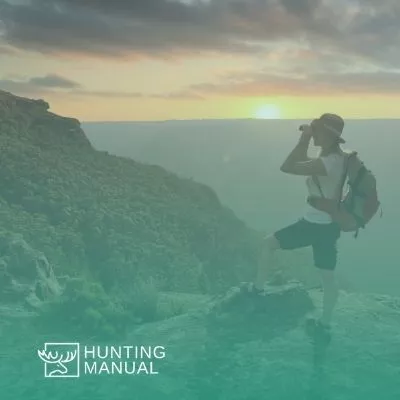 Rangefinder binoculars are devices that measure and give an accurate distance between you and your target area. They are excellent for several activities, including hunting, shooting, military purposes, and much more. 
For instance, the binoculars with rang finding capabilities ensure you don't crash into a bush while hunting or miss your target while shooting.
What's so special about binoculars with a rangefinder? Well, the main principle behind them is that they measure angle compensation and range. 
Looking for rangefinder within your budget? explore best rangefinder under 200.
Why the Binoculars with Rangefinder is Must Have
As the name suggests, the device serves the dual purpose of being a must-have in your gear bag. They give more yardage, better magnification resolution, and much better features. The rangefinder binoculars help you achieve your goals with a better success rate. 
That's not it, there's more to the privilege of being an owner of a binocular with the rangefinder. And that's the ballistic data. Widely used in hunting and sports, they give accurate distance measurement, angle, and bullet drop information. 
It is one of the major factors why they are recommended for shooting as they enable a fast reaction of the user. Additionally, the most appealing fact about them is that they give an around-the-clock performance. This is because some advanced binoculars have rangefinder and night vision features built in one unit.
However, one thing to keep in mind is that if you plan to use a unit with a rangefinder any time of the day, you recommend you get expensive and advanced ones as they will have better vision. 
Binocular vs Spotting Scope – Let's Put an End to the Debate
If you are an outdoor enthusiast, you must have come across the spotting scope vs. binoculars debate. Which has better specifications, which one to invest in, and how are they different from one another.
Answers to these questions can be daunting. And so, to save your time and energy, we have got you sorted. Below we have mentioned everything you need to know about spotting scope vs binoculars.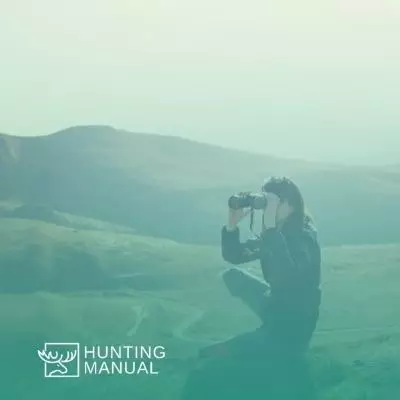 Firstly, binoculars and spotting scope serve a similar function but have different goals to achieve. The binoculars are versatile and portable, and the most latest models have a plethora of features that make your outdoor adventure memorable. However, on the other hand, spotting scopes are tripod-mounted monocular scopes that have high magnification powers. 
In a nutshell, while investing in a pair of binoculars or in the spotting scope, all of this narrows down to the fact that for which activities do you plan to use them. Moreover, before making the investment, a list of features including weight, magnification, objective lens, a field of view, and image stability, these features must be in consideration. 
If you are a beginner and want to practice without spending much, you can find best rangefinder under 100 easily!
Magnification
Generally, the magnification resolution is how the object appears in the optic device. For example, if a magnification power is 50x on the spotting scope, then it means the object appears to be 50 times larger than it actually is. 
Moreover, another notable feature is that spotting scopes with higher magnification power are heavier in weight than spotting scopes with low magnification power. If you plan to travel a lot, it's always better to choose a spotting scope that's light in weight. Binoculars, on the other hand, have a wide range of magnification power and can be carried easily. 
On average, the binocular magnification power ranges between 4x to 10x.To sum it up, the magnification power in the spotting scope is higher than a regular pair of binoculars. 
Lens and Prisms
One misconception most people have is that they think the bigger the lens, the better it is. When it comes to lenses, bigger doesn't always mean better. For spotting scopes, an average objective lens ranges between 45mm and 100mm. Most of the latest models fall between the 60 mm and 80 mm range. 
For binos, they come in different lens sizes. Most units have a lens of 25 mm. While the full-size models usually have a lens of 40-500 mm. 
Did you know some binos have a lens as large as 100mm? Yes, that is right! However, they are impractical for day viewing. And are used for astronomy. 
Binoculars vs. spotting scope in terms of objective lens all of this comes down to the fact that no matter which optic device it is, the quality matters more than the size, regardless of whether the lens is in binos or spotting scope.
To sum it up, typical binoculars have a smaller objective lens than an average spotting scope. Therefore, spotting scope always wins when it comes to an objective lens. 
Image Stability
Generally, binoculars are handheld. The more you zoom in, the more your hand movements increase. We understand how nearly impossible it can get to use a binocular with a high imagination power without a tripod stand. So when a stable base, both spotting scopes, and binos can give you a steady image. 
Binoculars vs. Spotting Scope – What's Better?
To sum it up, spotting scope and binoculars share so much in common, and this is why they are often confused as two optic devices with the same performing agenda. Although they have different features and specifications. If you don't want to dig deep in your pockets, the best you can do is invest in binos just at the same price as an ancestry level spotting scope. 
While narrowing down your choices, you need to make the decision wisely. Choose the magnification power, type of adventures you may encounter, how often you move, lens and prisms, and much more. Most importantly, always remember an astronomer and a hunter can't be looking at an identical device. So, choose your gadget wisely. 
Laser Range finding Binoculars
Laser rangefinder binoculars are devices that calculate the distance by emitting laser light shoots at the target place. The distance is then calculated by the amount of time the light bounces back to the receiver. 
They are excellent for hunting and can spot animals up to 1000 yards away. However, they need a constant power course to run because of the laser system. Moreover, if you are looking for cheaper options, you may not look into these as they are expensive. 
On average, a laser rangefinding binocular costs up to $200 to $1000, depending on the quality and its specifications. 
What are Military Rangefinder Binoculars?
A military laser rangefinder binocular is a piece of worldwide standard equipment. It is equipped with a digital magnetic compass and provides details of the target. 
The military rangefinder binoculars enable time-to-flight technology. It means the time taken for the light to travel past the target and bounce back is calculated in an instant. 
It is also equipped with interferometry techniques. This technique measures changes in distance rather than absolute distance. Moreover, the military rangefinder binocular has the doppler effect. The doppler effect measures how fast the object is moving towards or away and its speed. 
Why You Need to Use Binoculars with Rangefinder and Night Vision
If you plan to invest in night vision binoculars, you surely are going to use it during night or in low light. The night vision binos are rare. Since binos have magnification, rangefinder has angle and distance calculation, a third complex function adds up to making an extremely complicated product and thus a completely new design is required. Therefore, best binocular rangefinders with night vision are rare.
The only prominent feature in currently available binocular rangefinders with night vision provides a red reticle. It shows a better display over dark targets in low light compared to black reticle. 
Fun fact: Did you know the first-night vision binoculars were invented for military purposes? Yes, that's right! However, today, they serve a multi-purpose, and you can take them for hunting, animal viewing, cave exploring, rescue operation, and marine purposes. 
What's the Price Scale of Rangefinder and Binocular Combination?
After detail discussion on what is a rangefinder, rangefinder binoculars and important features. Let's discuss the prices and why they vary so much!
If you are low on a budget, we recommend you invest in binoculars with a rangefinder that is used for marine purposes. The price ranges between $50 to $100, and the quality is acceptable too. They are waterproof, give range but don't display angle compensation which is necessary for hunters and shooters.
However, if you plan to use it during hunting or other professional outdoor adventures, you need to invest in generation 2 or 3 night vision binoculars with red reticle and built-in angle compensation feature for bullet drop. They are advanced and the price starts from 1000$. 
Also, when investing in a binocular and rangefinder combo, make sure they are weather-resistant and waterproof and have rugged build quality.
Rangefinder vs Binoculars
What's better than determining the distance between you and your target while looking at it from a distance? A rangefinder (or monocular rangefinder) does that. On the other hand, a  binocular has strong magnification. It is used to watch wildlife, birds, ships or other objects at long distance. Unlike rangefinders, they don't give either range or angle.
Conclusion
The bottom line is finding quality units in binoculars with rangefinders isn't a piece of cake. You need to take note of all the features you need, determine where you plan to go hunting and how often, and then choose a pair of binoculars with rangefinders that you believe are best for you. You can study more on quality control of optical devices at SPIE digital library.
Frequently Asked Questions (FAQ's)
How to Use Rangefinder Binoculars?
Using a binocular rangefinder is as simple as monocular rangefinder. You just need to turn on the device, aim on the target and press the laser button, it will give you both angle and distance mostly on right glass side.
Why Combination of Binocular and Rangefinder good?
A unit having both binocular and rangefinder lowers the weight and space in backpack. Hunters often have to hike on steep mountains over long distances. A two in one product is suitable as this leads to less weight and hassle.