What is the best companion of a hunter? If you don't want the animal to be injured or miss your target, a best hunting rangefinder is what you need. A top laser rangefinder assists you to decide whether to take the shot or not and helps in building a strategy to go near the animal and hunt trophies. In the wild, it is crucial to have range finder for hunting with angle and distance calculation.
Among the best hunting rangefinders, we found Sig Sauer Kilo 2400 BDX to be the on the top of the list. For long distance hunters, it has been market leader in laser rangefinders category for past 3 years.
The sig sauer 2400 BDX easily target beyond 1000 yards with 100% accuracy. It is a fact that ranging beyond 200 yards or on slope require a suitable laser rangefinder.
Here are top 3 rangefinders for hunting available online:
Top Rated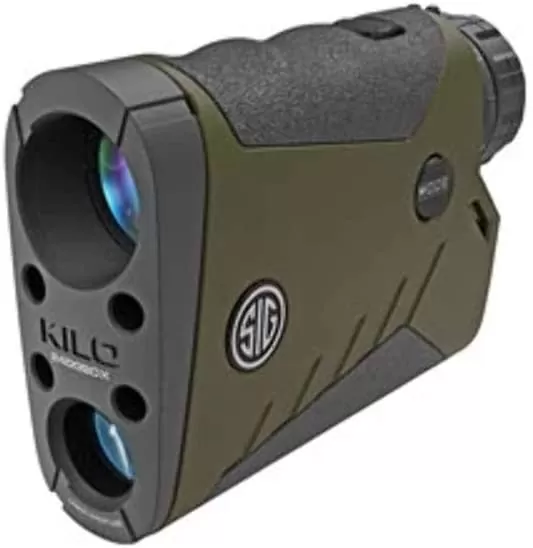 Sig Sauer Kilo 2400 BDX Laser Rangefinder
1400 yards for deer and 3000 yards for reflective objects.
Lifetime support & warranty
Accurate angle measurement for long distance
Editor's Choice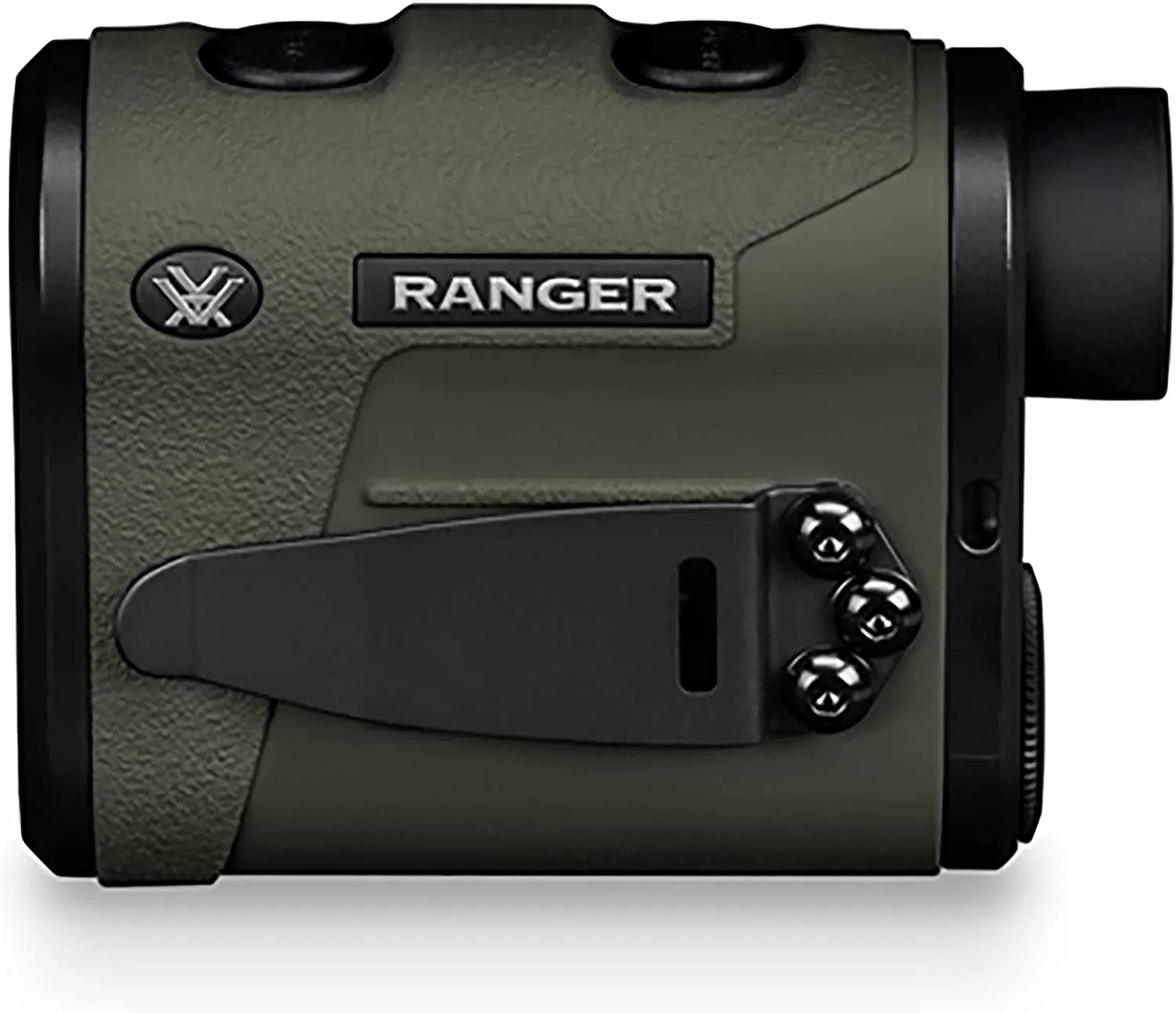 Vortex Ranger 1800 Hunting Rangefinder
800 yards range for deer, elk and 1800 yards for reflective targets.
Best for archers and rifle hunters.
6x magnification
Best Overall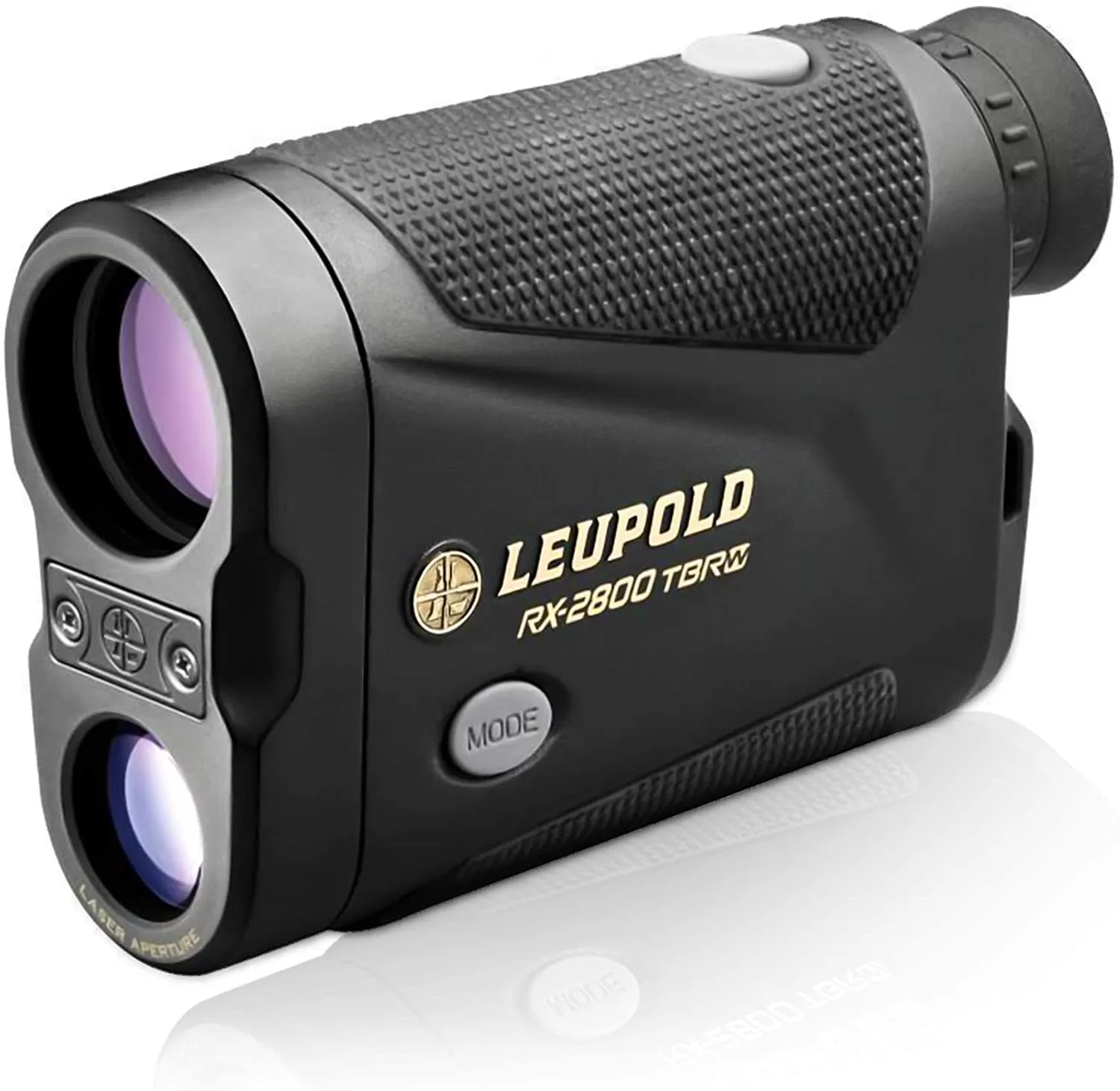 Leopold RX 2800 TBR-W Hunting Laser Rangefinder
2800 yards for reflective targets,1800 yards for game animals
Red OLED display better at night 
100% water proof and extreme weather tested
10 Best Rangefinder for Hunting
We have tested several products from various companies and reviewed all of them based on primary rangefinder attributes including size and build quality, portability and design, maximum range and accuracy, expert reviews, overall usability and satisfaction, and lastly value for money.
40+ Products
Reviewed
10 Best Products
Considered
200+ Hours
of Research
As a result, we have found the following rangefinders to be the best among tonnes available in the market.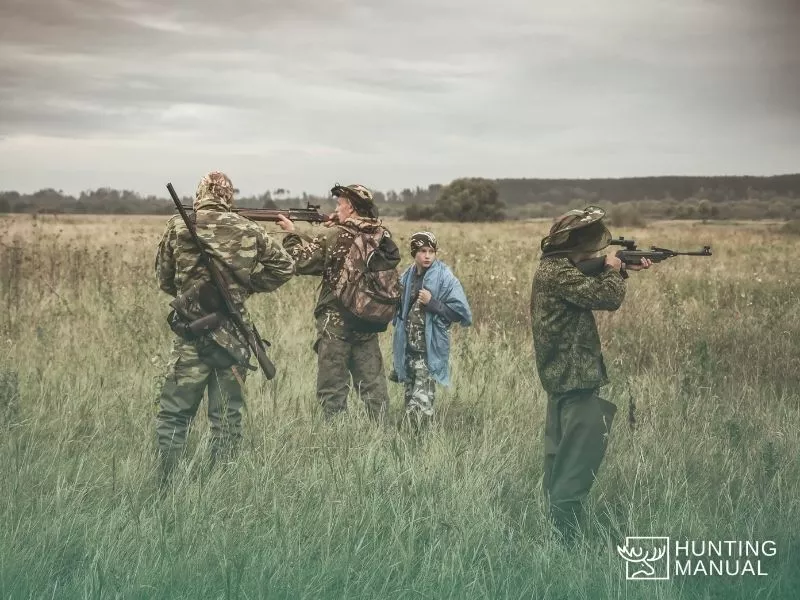 1- Sig Sauer Kilo 2400 BDX Top Hunting Rangefinder
Premium Pick & Top Rated
Key Specifications:
1400 yards range for deer and 3000 yards for reflective objects.
Lifetime warranty and support.
Accurate angel and distance 
The ultimate hunting rangefinder is rated best in quality and performance. Auto brightness adjustment, bullet library for a variety of bullets, calculation of environmental factors, i.e., humidity, temperature, wind speed, and direction cumulatively make this rangefinder topper of the list.
For hunting deer or elk at 1400 yards, it works ideally and without shaking. We were able to range solid buildings and grey structures at 1700 yards. For reflective or shining targets, it goes beyond 1700 yards easily up to 3000 yards.
The rangefinder with ballistic technology is equally suitable for long-range hunters, and shooters. It requires calibration using mobile; a free app downloaded from the app store. The app helps in minimizing variation and achieving pin point accuracy according to hunter's equipment. After calibration, it works as a stand-alone device.
2400 BDX, as the name suggests, is Ballistic Data Exchange technology that calculates the effect of gravity over long range hunting shots. The 2400 BDX can be mounted on a tripod for long distance estimation. This is usually done for targets beyond 1400 yards.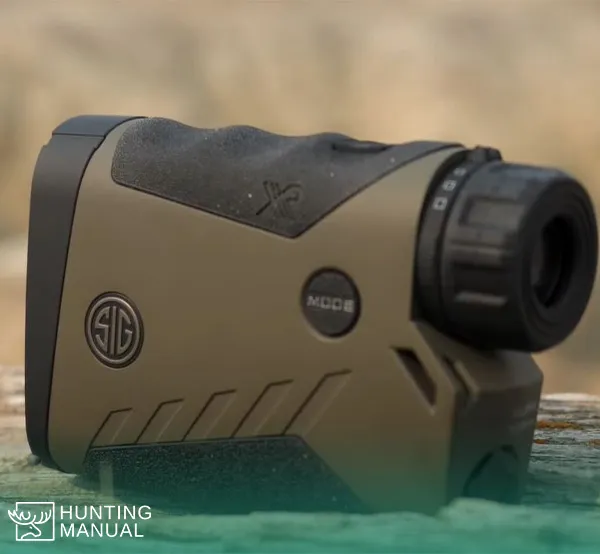 The summation is Sig 2400 BDX is modern, optimized, and brilliant invention backed by a company with lifetime support.
Pros
Display adjusted brightness. 
Long range shooting and hunting.
Ballistics data and accurate angle compensation.
Lifetime company support.
Cons
Out of budget rangefinder for some people.
2- Vortex Ranger 1800 Hunting Rangefinder
Editor's Choice
Key Specifications:
900 yards for deer and 1800 yards for reflective objects.
Improved low light vision.
6x magnification
Clear red display
Most popular in market is ranger 1800 rangefinder. It comes with 3 brightness settings, improved objective lens and light transmission, 100% waterproof and strong built all backed by lifetime warranty from vortex. 
A terrific rangefinder for archers, bow hunters and rifle hunters. It provides HCD which is corrected angle for slope. LOS or line of sight mode doesn't calculate angle and gives straight length distance. The combination of fog and water proofing with ergonomic rubber grip and strong housing makes it a resilient and rugged device. 
Vortex Ranger 1800 is by far the most popular rangefinder available online. Its a great rangefinder for hunters with great rubber based rugged built quality. It comes with a belt clip and is water proof as well. A tripod mount option which is great for long range shooting and is included in long distance and best 1000 yards rangefinders.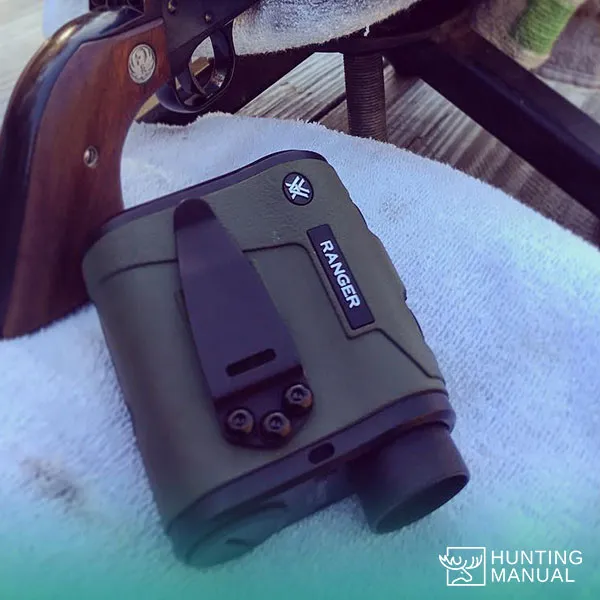 For mentioned range, it is 1800 yards only for reflective or shiny surfaces. For dark surfaces like deer, elk or bushes and trees it calculates up to 900 yards. In low light it will reach up to 700 yards. Usually for rifle hunting, its absolute best machine.
The most amazing feature is warranty, which is lifelong and you can change or replace it anytime anywhere. With 6x magnification, 17 mm eye relief, compact and strong built, lanyard, tripod mount option and belt clip features makes it a perfect device.
Pros
Most popular rangefinder with all necessary features.
6x magnification and 17 mm eye relief.
Accurate angle compensation .
Infinite warranty from Vortex.
Cons
Issues to turn on in extremely cold weather. Keep close to body heat.
Not for long range shooting of dark objects to 1000 yards.
3- Leupold RX 2800 TBR-W Hunting Rangefinder Review
Best overall
Key Specifications:
Rubber and metal ergonomic built
Red OLED works better in low light as well.
2800 yard range for reflective targets,1800 yard for game animals and 2200 yards for big non reflective objects.
100% water proof and extreme weather tested armor
7x magnification
Leupold 2800 TBR comes with most advanced engine among Leupold rangefinders lineup and provide best, most accurate range with angle and wind calculation over long distance. 
With honest cowboy opinion, the Leopold RX 2800 has proven to be an excellent device for long range targets. For non reflective animal targets, the maximum it has gone to is 1800 yard. Similarly for trees and large non reflective objects, it measured to the range of 2200 yard easily. As it claims, any reflective target up to 2800 yards can be calculated using this device.
It comes with a true ballistic range and wind measurements. With 100% waterproofing and rugged design it can be used in a variety of extreme environments.
For long range shooting up to 2800 yards, accuracy matter a lot. The accuracy of distance counts at ±1 yard. It has Lightening Alpha IQ technology which is an advanced engineered optics engine for a rangefinder. It has an increased amount of laser pulses for faster and accurate readings.
Compared to other Leopold rangefinders, it has proven to be the best with premium features at a reasonable price for an extended range. The modern optics combined with OLED red display improves overall focus and sharpness for long ranges, even for darker targets. The 7x magnification power is the cherry on top.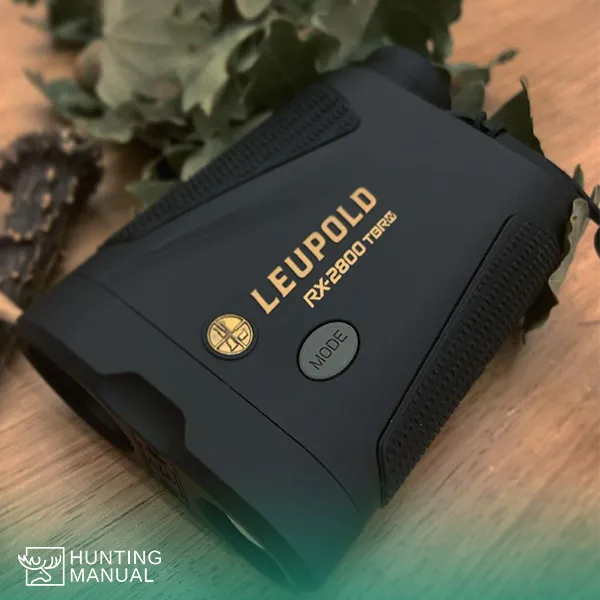 The TBR-W is a true ballistic range for angled shot plus taking wind into account. It is a necessary feature for long range shooters to pin the bullseye. The rugged and compact build comes with a CR2 battery, two years warranty, tripod mount option, a lanyard, and a protective case.
Pros
Most accurate for angle at short and long ranges.
Preferred for long range shooters and bow hunters.
Strong rugged built quality and extra ordinary performance.
Red OLED display for low light hunters.
Cons
Need to break the bank for some.
Consumes a lot of battery, need spare while in field.
4- Leica Rangemaster CRF 2400-R Gun Rangefinder
Key Specifications:
1000 yard for non reflective targets and 2000 to 2400 yards for reflective targets.
Aluminum material housing
Water proof and fog proof armor
Red OLED display
An ideal rangefinder for long range hunting or shooting with advanced angle adjustment feature, bright red display for low light and ergonomic water and fog proof built.
For starters, it is considered to be the best rangefinder in archery or rifle hunting equally. It comes with EHR (Equivalent Horizontal Distance) for angular range calculation from 10 yards to 1000 yards for non-reflective targets. For straight non-angular distance calculation, it can range up to 2400 yards.
The Red LED display is ideal for long-range low-light shooting. The waterproof ability with anti-fogging nitrogen filling inside improved durability and build quality.
It has a wide field of view, switchable between meters and yards. In addition, the display comes with auto-adjustable brightness. The sleek ergonomic black body fits in the palm perfectly and gives stability while ranging the target at a long distance.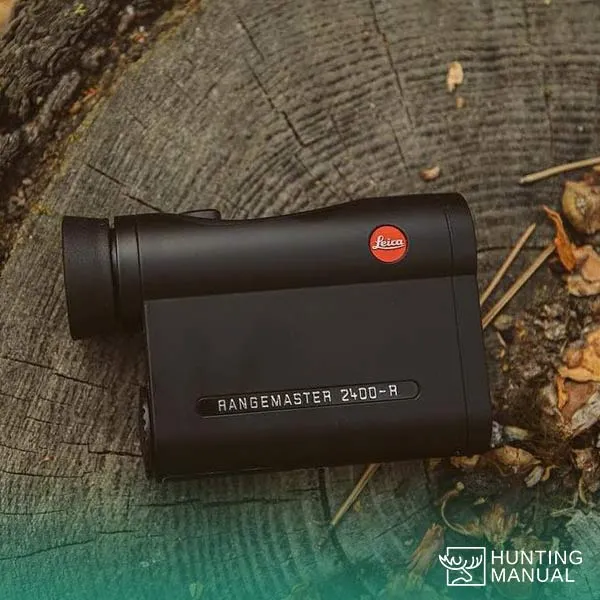 Leica Rangemaster CRF 2400-R is a versatile and quality rangefinder for starter bow and rifle hunters.
It comes with a CR2 battery, carrying cord, and case. The only downside we found is the absence of scanning mode, which is ignored if you are not targeting a super fast object. On the other hand, it can't be mounted on a tripod that is not necessary and is quite suitable for starter hunters.
Pros
Durable ergonomic built with water proofing.
Fast scanning up to 3 readings in a second.
App to customize as per weapon.
Auto brightness and red reticle for low light conditions.
Cons
A bit pricey.
Hard plastic built.
5- Vortex Optics Impact 1000 Arc Rangefinder
Key Specifications:
500 yards for non reflective targets like deer and elk. 1000 yards for reflective targets
6x magnification
Enhanced vision display in low light
HCD Angle compensation for archers, shooters and hunters
Lifetime warranty
Vortex Impact 1000 is an excellent combination of budget rangefinder and quality with lifetime support.
Impact 1000 is entry level optics from Vortex, excellent for rifle hunters, shooters, and archers in treestands. The targeting capability for elk or deer hunting is 500 yards with built-in ballistics.
Simply fantastic equipment for all hunters with all required features under 200$. Check the Latest Price on Amazon. The HCD mode gives angle corrected distance beneficial for archers in tree stands or hunters in hilly areas. The LOS mode provides a straight line of sight distance.
The minimum noted distance is 5 yards. The solid rock distance is 800 yards for vegetation, and for reflective targets (shining objects like metal), it can range to 1000 yards easily. The readings can be changed to either meter or yard with 6X magnification.
The scanning mode is used to scan an area or multiple targets by clicking the button once only. It comes with 15 mm eye relief for hunters wearing glasses. The typical household CR2 3-Volt battery is used for power.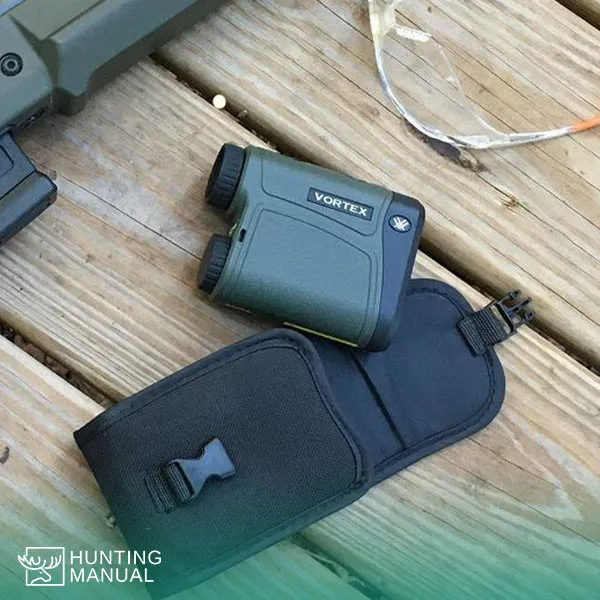 The only setback is the black display which is quite alright for most hunters. Also, the plastic housing with rubber coating; therefore, the utility clip can't be screwed into the unit and thus, can't be mounted on a tripod which is not necessary either.
Pros
Best rangefinder among rifle hunters with budget.
Angle calculation and scan features.
6x magnification, eye relief for eyepiece adjustment.
Multi coated objective lens for better view in low light.
Cons
May give varying yardage for dark smaller targets at 300 yards.
Black display not preferred by elite shooters and hunters.
6- Bushnell Engage LE 1700 Deer Hunting Rangefinder
Key Specifications:
1300 to 1700 yard range for reflective and 900 yards for non reflective targets.
Plastic and Metal made
Angle compensation
Exo Barrier, water repellent technology
An advance hunting rangefinder with arc technology. It comes with a bigger objective lens and provide clear display at given range. 
It is a Bushnell's rangefinder with a new and improved display and brightness auto-adjustment for varying light intensity. The rangefinder works accurately from 5 yards to 900 yards for deer hunting and 1300 yards for reflective targets.
The brush mode ignores tree branches and bushes for maximum target efficiency. The ARC or Angle range compensation mode made it beneficial for tree stand hunters and long-range shooters equally.
Pretty fast and lightweight rangefinder. It came with a CR2 battery and had 6X magnification. The Exo barrier coating is dirt, dust, and water repellent. The warranty is the lifetime for optics but not for electronics.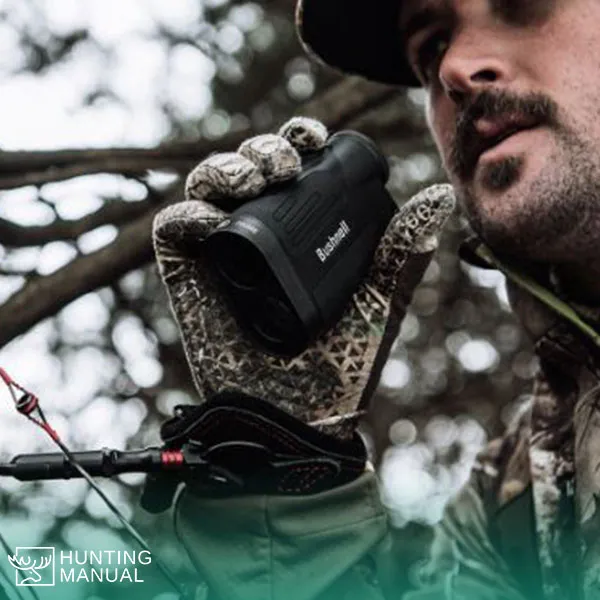 Once the initial setup is done, it is pretty intuitive and easy to use. It does not come with tripod mounting, which is not necessary.
Pros
Larger lens and clearer display.
Strong rubber built.
Angle or arc for terrain slopes.
Multi coated objective lens for better view in low light.
Cons
Black display might be irritating in dark/low light.
Need to go through manual repeatedly to use accurately for angled shots.
7- Simmons Volt & Venture Model Rangefinder Monocular
Key Specifications:
600 yards range for reflective and 400 yards for non reflective targets.
Rain proof (IPX4) housing
Aluminum and rubber built
A compact, rugged and ergonomic laser rangefinder suitable for golf and hunting at medium range. It is a great product for bow hunters and archers.
The volt and venture rangefinders of Simmons are great for the price. They come with Tilt and Standard versions. The tilt version takes angle into account for angled shots. For trees and bushes can range up to 400 yards and for reflective targets above 400 yards. Hard to hold steady for long-range shots.
The rangefinder uses both yardage and meter as units of measurement. The build is hard plastic and durable as well.
There are two models based on angle compensation. First, if you have a slightly different plane, or in other words, the height of the target from you is extra, you would need the one with angle compensation.
It does not come with a lanyard, but it has a hole and can be put in a thread. It has a CR2 battery, and 9V battery versions were older ones. The build is not very strong and feels a bit fragile. Branches interfere with reading. For golfers, if you are within 100 yards range, can pick golf; otherwise, grass or trees in the background will be focused. It works up to the mark with a warranty.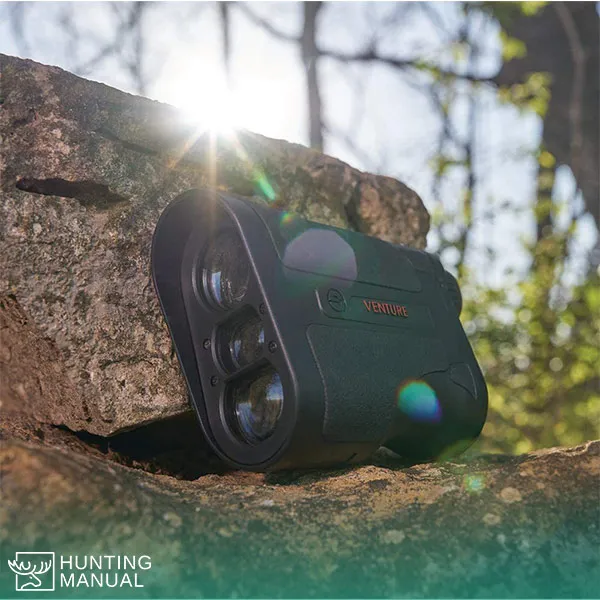 The only drawback we noticed was the need for daylight to get a correct reading. At night or in low light, it has not given excellent results. Since it comes with great features and no body hunts at night, this can be ignored.
Pros
Nice rangefinder for the price.
Light weight and ergonomic built.
Rain proof housing.
Take angle into account (Only in the one that costs more).
Cons
Not for strong hands feels like a thin built.
Not suitable in dark and dense woods area.
8- Nikon Prostaff 1000i R
ifle Range Finder
Key Specifications:
Up to 500 yards for non reflective and 1000 yards for reflective targets.
First target and distant target modes
Hard Plastic made
6x magnification
The best budget rangefinder for starter hunters and golfers. It comes with all necessary features including angle adjustment, eye relief and weather resistance.
Nikon Prostaff can measure targets continuously for up to 8 seconds in one click. Experienced hunters and golfers always complain that hands shake when the button is pressed, and the target point does not remain focused. This feature comes in super handy in this situation.
With multi layer coating on the objective lens, it provides extra action. In addition, a relatively new rain protection technology is used to make Nikon Prostaff rainproof.
The eye relief has 15 mm movement for people wearing eyeglasses.
The Nikon advanced angle calculation can calculate the range for up to 89 degrees incline or decline. With the 6x monocular magnification power. It comes with a soft carry pouch lanyard and cr2 battery. The Tru-target technology helps you calculate nearer object distance and far object distance via modes.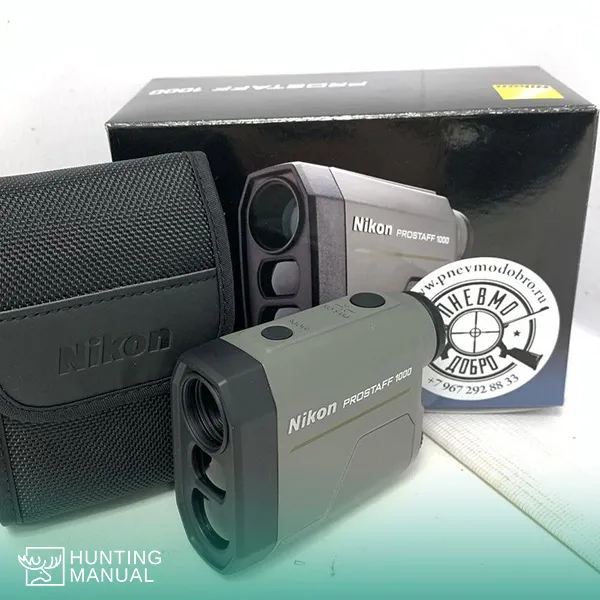 Any kind of target within 500 yards, including game animals, is accurately ranged. Reflective targets with shiny surfaces like metal or light reflecting bodies are targeted beyond 700 yards. Large animals are easily calculated within 500 yards. For small hunts like flying geese, and Turkey it worked fine up to 300 yards.
Pros
Multi coated lens.
First and distant object priority modes
Continuous scan mode and
Prostaff 1000i model take angle into account
Cons
Buy Prostaff 1000i model. Other one isn't for angle accuracy.
Difficulty in taking reading for small targets at longer range.
9- Leupold RX-Full Draw 4 Good Rangefinder for Archery
Key Specifications:
1100 yards range for non reflective targets
Advanced arrow customization ballistics,
Number 1 for archery and bow hunters
2 years warranty
Red OLED display
An essential laser rangefinder for professional bowhunters and archery players, providing maximum accuracy for angled shots from tree stands and slopes.
Leupold Full Draw 4 has a 1200 yards range for reflective objects and 1100 yards for non-reflective targets. The angle compensation accuracy is of the half yard up to 175 yards. Therefore, it is an elite and most advanced ballistic rangefinder in the market.
This rangefinder calculates ranges based on arrow weight, arrow velocity, and peep height by considering the archer's needs and gives unmatched results. At long distance and steep angle shots, Leupold RX Full draw will help you achieve complete accuracy using horizontal component distance measurement. It is a must-have whether you are hunting in high mountains, rugged terrain, or forest.
For anyone hunting in a wood or brush environment, this rangefinder is sturdy and tested. The flight path technology gives you the highest point in the form of a solid line on display. It will help you counter low-hanging branches while taking shots. Almost every archery hunter misses at least one shoot because of trees branches hanging in the path of arrow flight. It comes with an armored rubber coating and compact build with a pouch and a lanyard for safety.
The vital point to consider here is the red OLED display, which enables you to hunt at dawn and dusk when there are more chances of encountering game animals. With 6X magnification and night suitable red OLED display, it is one of the best rangefinders.
A software called archer's advantage counts custom calculations for you based on your hunting arrow qualities. Another mode called the "line of sight," or LOS mode doesn't calculate the angle and gives the straight distance.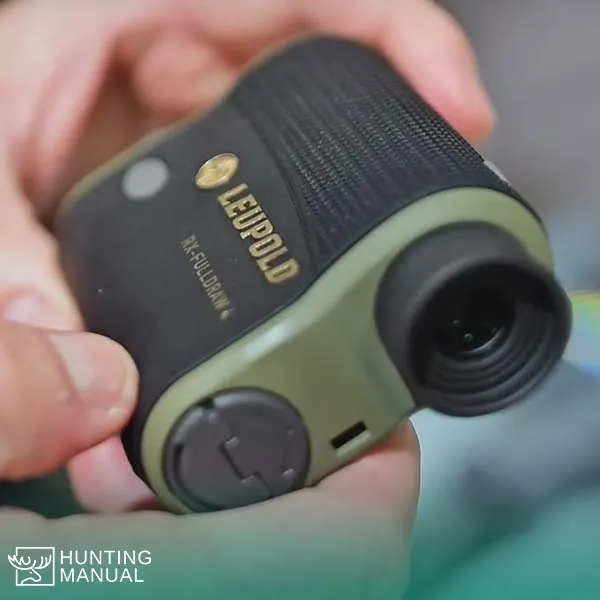 A rangefinder for bowhunters and archers in mind with the most advanced ballistics and custom reading for custom bows. Whether you shoot, hunt elk, deer, or mountain goat, or use a rangefinder for outdoor games like 3D archery, the Leupold RX Full Draw four is at the top of the list.
With 6X magnification and night suitable red OLED display, it is one of the best rangefinders. Buying Guide
Pros
Red OLED display.
Customizable for bow and archery hunters.
Extremely accurate for angled shots.
Prostaff 1000i model take angle into account.
Cons
Break the bank for some otherwise best one from Leupold specifically for archers.
10- Nikon Laser Force Rangefinder Binocular
Key Specifications:
1900 yards range for shiny targets, 1100 yards for deer and 1400 yards for trees
Advanced waterproof & fog proof
Red OLED display with 4 brightness adjustments
A multipurpose device and is used as rangefinder, binocular and a little bit of spotting scope.
Rangefinder binoculars combine a rangefinder, binocular, and a limited version of a spotting scope.
The new laser force rangefinder binocular comes with a crystal clear view. It has a range of 1900 yards for reflective targets and can easily range non-reflective targets above 1000 yards, including deers, elks, and more. The rubber eyecups give good eye relief. They come with objective lens caps attached to keep optics clean and dry. Both left and right eye diopters can be adjusted to focus the image easily as per the user's eye.
The 10/42 binocular are fog and waterproof with thick rubber coating and body armor single CR-2 battery power. The display is red OLED and shows accuracy within 10 yards, starting from 10 yards to 1900 yards. It comes with incline, decline technology that calculates angle for long-range shots. It is compulsory to have elevation figured to make an accurate strike at long distances.
Every rangefinder binocular is a bit heavier than ordinary ones because of the lens and technology used. But among the rest of the competitors, Nikon laser force is better with overall weight and ergonomics properties. The extra-low dispersion glass collects light based on daytime
The range is so good that sometimes, animals in other's properties are detected quickly. The rangefinder shows reading for up to 8 seconds and then powers down to save up battery until you click the button again. To scan in large open hunting areas at long distances, these are the best.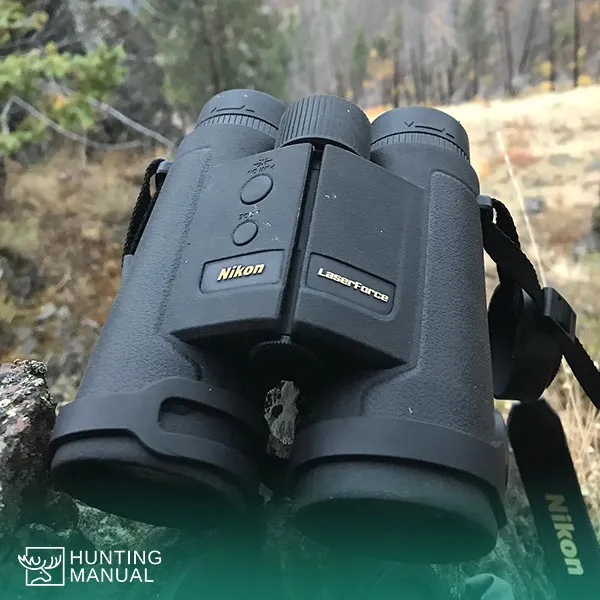 It comes with a lifetime warranty providing the best value for money on binoculars. The internal luminance comes with four brightness settings which users can select with a double click. It can calculate the distance in yards and meters. The scan mode enables you to take multiple readings in one second.
Pros
Two in one combination for binocular and range calculation.
Strong built with all the features for in rangefinder.
Purposely built for long range hunters and shooters.
Cons
Dim display on bottom part of screen.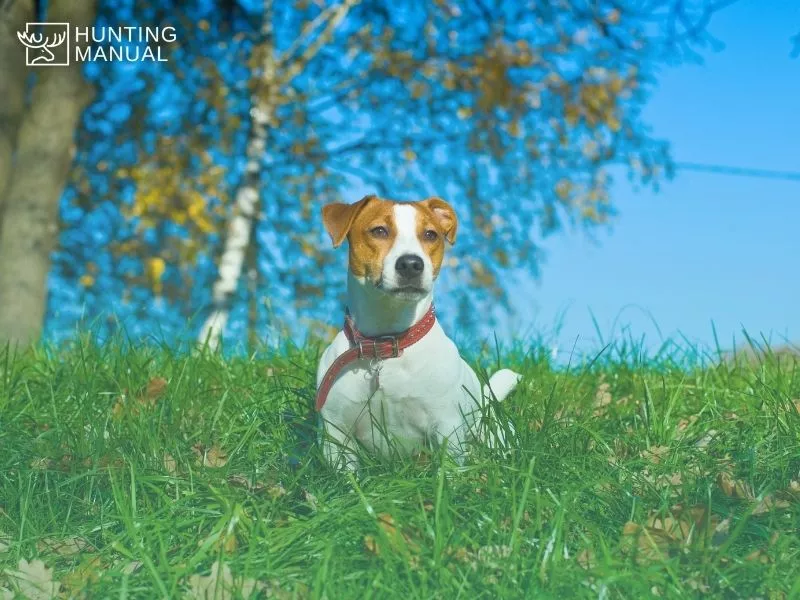 Buying Guide for Best Hunting Rangefinders
It is profoundly significant to understand your needs before buying a hunting rangefinder. It is important to note that certain units focus on golf and are generally categorized as golf rangefinders. Here is a buying guide that will help you distinguish requirements for hunting and make an informed decision.
Angle Compensation
It is a crucial part of hunting. The arrow of a bow or archery hunter drops with gravity, and it may not hit the bullseye. Angle compensation is especially important when hunting from elevation e.g. rifle hunting in hilly terrain or bow hunting via tree stand.(More on https://treestandranger.com)
Distance and Hunt Area
Higher ground will help you find targets quickly—the hunter's scan area with direct sunlight, visible ridge areas, and visible tree trunks. Usually, animals rest or graze on pastures. Look for greenish and herbaceous areas. Another valuable tip for finding deer or elk using a rangefinder is to look into trunks and ridges of mountains. Select your stronghold, which faces more blind areas and the face of a hill above the trees.
Stability of Rangefinder
An avid hunter take this factor into account and choose and ergonomic and easy to use range finder only. While pressing the button, the reticle on the screen of rangefinder shakes a little. If the switch is hard, it moves more with thus deviating from the target, giving a false reading. Therefore, an easy-to-click, soft button on top or side of the rangefinder is crucial in maintaining stability while focusing on the objective.
Tripod Mount
The short to mid-range rangefinders don't necessarily need a tripod mount. The aforementioned includes ranging targets up to 1000 yards. Hunting targets beyond 1000 yards is considered to be long-range and needs more stability to accurately measure distance and angle. Another critical factor that helps maintain stability and gather accurate data is scanning mode. The tripod stand might increase your carrying load but it is only carried by long range hunters with big guns.
Scan Mode
The scan mode enables the hunter and golfers to take multiple calculations of various objectives in a single click. This mode also allows you to take various readings of the same object and estimate the most accurate reading.
Bow Hunting and Archery
Bowhunting requires a lot of practice, silence, and patience in an ambush location without movement to avoid startling the hunt. The downside is, the beginner hunters might wound the animal, which is even painful. On the other hand, it is a lot quieter compared to different modes of hunting. Rifle hunting is beneficial for long-range shots. If hit correctly, the animal dies instantly without pain. Rifle hunting is a lot noisier, startling surrounding animals.
Anything beyond 1000 meters is considered to be a long-range target. Therefore, buying a piece of equipment based on target range is helpful in the field. In archery, even a slight difference in distance or angle can lead to a miss. Experts say that the difference between 30 yards and 40 yards in bow hunting could be a perfect shot or a miss/wounded animal.
Multi-Coating Optics
The coating on the objective lens protects the optics from harsh environmental effects. Protect from sun glare while taking readings.
Top Best UTVs for Hunting in 2023
Conclusion
An outdoorsmen loves rangefinder and keeps in the pocket. But, to decide which one you need is key factor. Rangefinder are great piece of equipment to hunt, shoot, play golf or archery and much more.
A our field tests revealed Sig Sauer 2400 to be the best hunting rangefinder. To get more details you can visit Sig Sauer website. The above list are the best ones we listed. Pick the one that you think covers your maximum range and you will be good to go.