With the rise of hunting sports, the demand for rangefinders is also increasing. It is challenging for beginners to choose from a variety of choices because some units are so expensive that people avoid buying them altogether. However, there are some of the best rangefinder under 200 for hunting and golf that we tested. 
After extensively researching and testing out different rangefinders we have selected  Bushnell Engage Hunting Laser Rangefinder as our top pick. It is one of the best rangefinder under 200 available today because not only is it affordable but has various unique features.
So, this article will help you choose from some of the best golf rangefinder under 200 dollars that are used for blood sports (hunting) as well. Not only are they budget friendly but are equipped with the latest features as well.
Best Rangefinder under $200 (Golf and Hunting)
We have tested, analyzed, and reviewed various rangefinders in a given price range. The following is a list of our top picks, their unique features, pros, cons, and related information. If you like the motto 'Pay less, Get more', then read below for our best value rangefinders: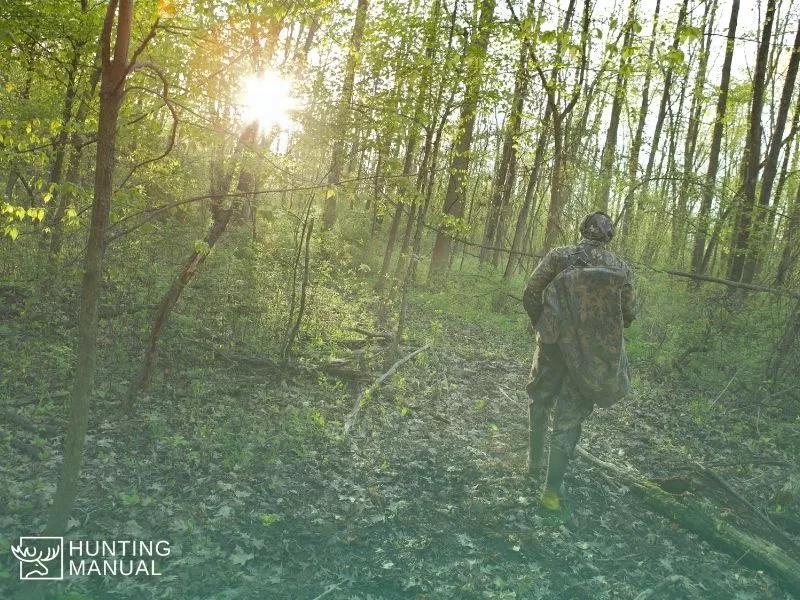 1. Bushnell Engage Hunting – Best Rangefinder under 200
Top Pick
The reason why Bushnell Hunting Rangefinder is our top pick for best rangefinder under 200 is its numerous features and ranging capabilities. It has both short and long-distance ranges, suitable for different targets. It comes with several unique features and modes.
If you are hunting at a close range or have a small target to focus on, the bullseye mode can be used. It will avoid all the unnecessary items near the target. For targets at a long distance, brush mode is preferred as it will give a clear view by avoiding all the trees and other obstacles.
This rangefinder has the ARC system and scan mode which helps the user to measure the accurate distances and various targets at the same time with ease. It has an EXO barrier coating which not only makes the grip secure but also protects the device from oil, dirt and dust. The coating also makes the device water-resistant and fog proof.
Its ranges include 1300 yards, 800 yards, and 600 yards for reflective, tree, and deer range respectively. It has an accuracy level of +/- one yard. The 6x magnification and multi-coated objective lens provide a bright and clear view on the LCD. It works great in low lights.
The only disadvantage we found was that it needs frequent battery changes. This can make it a bit unreliable at times.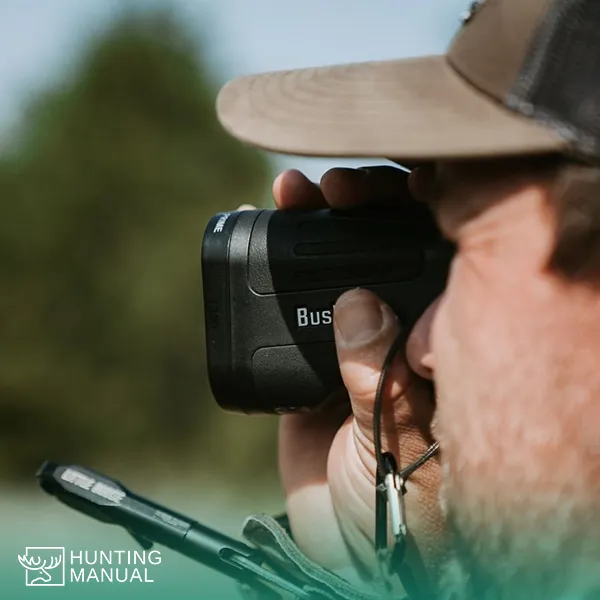 Overall it is an inexpensive and user-friendly product. So, if you are looking for a simple rangefinder that can provide accurate readings, this is an excellent choice for you.
Pros
6x magnification
Exo barrier
ARC system
Cons
Frequent battery changes required
2. Visiocrest B-3280-BL Laser – Best Bow Hunting Rangefinder Under 200
BEST OVERALL
Visiocrest rangefinder is among the many rangefinders that are multipurpose. Because not only is it good for hunting but can work very well for bowhunting and golf as well. It is budget-friendly as it costs you less than 200 dollars, while there are some models which can cost you a lot more.
This is a good choice for long-range shooting and hunting because its maximum reflective range is 1000 yards. It has an accuracy level of +/- one yard. Its non-reflective measurement ranges about 500 yards. Thus, it works with precision for both reflective and non-reflective targets.
This versatile rangefinder has about 5 different modes that enable you to have a good hunting experience. All of these modes help you get a clear shot at your target and you don't need to move forward. Stay as far away from the target and get a clear view with the modes; speed, scan, fog, flagpole, and ranging.
For outdoor adventures, we highly recommend this best bow hunting rangefinder under 200 with its sturdy build material. However, after analyzing all of its features we found that it is not a suitable choice for night time hunting. Though, most people usually prefer hunting in the daytime and for that this is a perfectly good choice.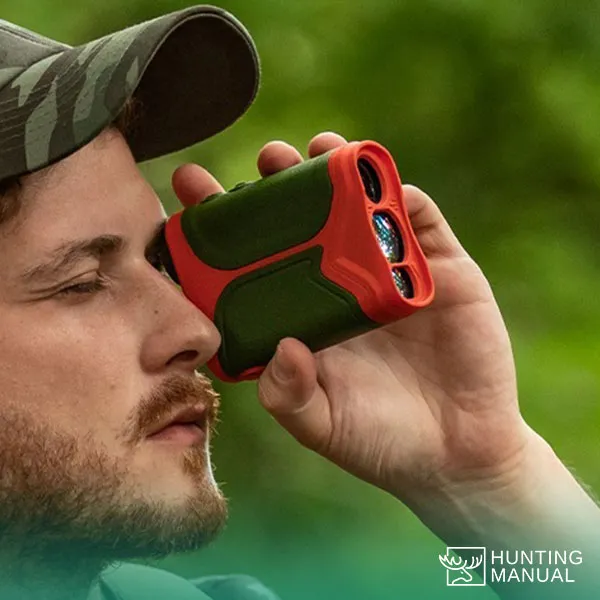 The fog mode makes this product unique. It provides accurate readings and views in hazy weather as well. You do not have to worry about its battery life because it measures about 5000 times per charge.
Pros
Fog mode
Under 200 dollars
1000-yards reflective range
Durable
Cons
Not suitable for nighttime
3. Anyork – Best Rechargeable Rangefinder
UNIQUE PICK
Anyork hunting rangefinder is one of the best rangefinder under 200. Apart from being equipped with hi-tech features, it is also pretty to look at. The exterior is made of durable material and hard, thus, prevents scratches. It also has a beautiful pattern with a picture of an owl which is quite realistic.
This high-precision rangefinder has a maximum reflective range of 650 yards, with an accuracy of +/- one yard. Its non-reflective range is about 300 yards, this range is for targets like trees, deer, etc. The battery life of this product is quite commendable as well. It can measure about 3000 times, once you charge it to the maximum. 
Its LCD shows clear and bright views. Not only can this rangefinder measure straight distances, but it can also easily measure angle and slopes as well. This is another reason why it provides such accurate measurements. It displays readings in both meters and yards. The hunter or shooter can easily switch between the 2 modes by pressing a button.
Even though this product is waterproof. Its accuracy is disturbed In fog or rainy weather. We noticed a few errors in the measurements when used long-term in bad weather. However, this error can be avoided. If you use this rangefinder on a clear and sunny day.
This is a good model to purchase because, in addition to all its hi-tech features, it also comes with necessary accessories, with 2 years warranty. 
Pros
5-650 yards maximum distance
Rechargeable
Advanced features
2-years warranty
Cons
Maximum range short
Measurement error on a rainy day
4. Simmons Volt 600 – Best Rangefinder Under 200 Dollars
EDITOR'S CHOICE
Simmons Volt 600 rangefinder has a user-friendly design and is really lightweight. It is mostly used for hunting. It is rainproof, aluminum built and has a non-slippery grip. We found this product to be an excellent choice for bow hunting.
A particular feature in this rangefinder is the tilt version which is a little similar to the angle compensation. This particular feature helps in determining horizontal distance accurately. It is also not available in most of the other rangefinders. The simple design makes it easy to use. It comes with a CR2 battery and a neck strap.
This product easily helps the users to measure precisely and get fast readings up to 625 yards. It has an accuracy level of +/- one yard. Its battery port is easy to access and operate. In order to save the battery, it automatically switches itself off after every use. This product can provide readings in yards as well as meters.
Although this rangefinder has an LCD which works perfectly fine in the daytime. But due to lack of backlight a minor inconvenience occurs that it does not work in dark or low lights. Also, it has a 4x magnification which is not bad as compared to the other features but can be enhanced to provide ease to the users.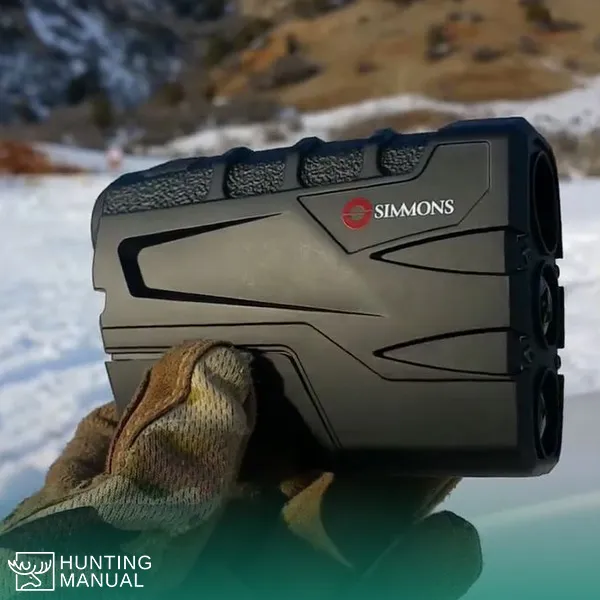 To conclude, if you are looking for a rangefinder that is not so fancy, compact and measures accurately. Simmons Hunting is the best rangefinder under 200 dollars.
Pros
Tilt version
Comfortable grip
Cost-Effective
Weather-resistant
Cons
Does not work efficiently in low light
5. Uineye Laser – Best Hunting Rangefinder Under 200
EDITOR'S CHOICE
Unieye Laser is one of the most inexpensive rangefinders which also come with very good specifications. It is mostly used for golf and hunting. It is convenient to use because of its lightweight, good design and easy grip.
One of the features of this product is that it powers off automatically if it is not used for more than 20 seconds. The characteristic that makes it the most reliable is that its body is water-resistant as it is made with high-quality material.
It has a scan mode that supports continuous ranging with an efficient slope technology. Apart from these, it allows the user to switch from meters or yards or vice versa in seconds.
Moreover, it has a reflective range of 1600 yards. Furthermore, it comes with an accuracy level of 0.33 yards with 8x magnification. Hence, making it an excellent choice especially for precise measurements.  Multi-layered optics, good lens display, and 8x magnification are the reasons that this device provides you with a crystal clear view.
It has an LCD but as it does not come with a backlight, it is hard to use in dark and low lights. So, something to deal with the low lights can be added and used to overcome this issue. 
This rangefinder does not include batteries, it does offer you a one-year warranty. So, if you are looking for an inexpensive but good deal on a rangefinder, the Unieye Laser is the best hunting rangefinder under 200 dollars which you can find easily.
Pros
8x magnification
Water-resistant
Light Weight
Fast switching of measurement units
Cons
Does not work efficiently in low light
6. AILEMON 6X Laser – Best Rangefinder for Under 200
EDITOR'S CHOICE
AILEMON is a multi-purpose product that can be used for different sports like golf, hunting and bow-hunting. It provides you with accurate and precise measurements. It is not only user-friendly but also best rangefinder for under 200.
A unique feature of this product is that it vibrates a little whenever the desired range is reached. Other than the vibration feature it also includes other various useful functions like pin-seeking, ARC and measuring speed. It has an accuracy level of +/- one yard with a 6x magnification. The reflective range of this item is 1200 yards which gives an accurate measurement.
A particular mode of this product which is the slope compensation mode helps the user to have precise shots. Another useful function is the flagpole locking feature which can support up to 150 yards. It can be used in both yards and meters. This product gives a clear view and also supports focus adjustments. It is a rechargeable rangefinder that holds up the charging for a relatively long time, making it a reliable device.
We found it to be a good product for bow hunting as compared to other sports. The accuracy of this rangefinder is dependent on the weather. So, one of the things which can be improved is that it should provide precise measurements in bad weather as well.
The warranty of this rangefinder is 1-year which comes with the option to either get a full refund or get another one. So, apart from the weather-dependent issue, it is a great product.
Pros
Camo exterior
Flag lock function
Slope compensation mode
Cost-effective
Cons
Does not give precise readings in bad weathers
7. USCAMEL 10×50 Marine – Binocular Rangefinder Under 200$
EDITOR'S CHOICE
USCAMEL 10×50 is a waterproof pair of binoculars that includes a built-in rangefinder and BAK4 prism for a clear image. Thus, it is used for bird watching and hunting and is considered best to be used for observing wildlife. It has a magnification of 10x and an objective lens of 50mm.
Since this device is manufactured to be used near water or any weather it includes nitrogen gas. The gas in the binoculars helps to avoid it from humidity and fogging up.  
It is weather resistant which means it can be used in any kind of weather be it rainy or foggy. Moreover, it is well sealed which keeps it free of dust and water.  The rubber coating makes it great to be used near water as it makes the product anti-slippery. 
An additional useful feature in this product is the compass. The visibility of the compass can also be switched according to the nighttime. It is easy to understand and operate which makes it usable. These binoculars are user-friendly and can be used in any kind of weather which makes it a great deal.
Unlike other products in the category, these binoculars display the distance in 'mils' which might be new and difficult to comprehend for some of the users.
The warranty of this product is 30 days with a refund. So, if you are interested in getting a weather-resistant and durable pair of binoculars, USCAMEL is proven to be one of the best rangefinder for under 200 dollars.
Pros
Waterproof
Fog Proof
Built-in compass
Pre-focused
Cons
Distance is not displayed in meters or yards
8. Sig Sauer Kilo 1000 – Best Hunting Rangefinder under 200
EDITOR'S CHOICE
Sig Sauer Laser rangefinder is one of the best hunting rangefinder under 200 that you can find in the market. It is used for military and tactical sports.
The reason for its maximum reflective range is the technology of Lightwave because it supports targeting the distances at long ranges. It comes with the angle range compensation (ARC) system and scan mode. The scan mode has two different modes which are HyperScan mode and RangeLock.  
It is water-resistant and compact in size. This rangefinder gives readings in both yards and meters. Operations on this product can be carried out easily because it has a simple design with only mode and range buttons. The simple interface of this product makes it user-friendly and increases its usability.
As this product comes with the eye relief feature, it has diopter adjustments. The diopter can be adjusted within the range of -3 to +3. It has a maximum reflective range of 1200 yards. The deer range is up to 600 yards and the tree range is up to 800 yards.
Sig Sauer rangefinder comes with 5x magnification and HT-LCD which helps to focus on the target easily. With the help of these features and high magnification, this device works perfectly fine at dawn. The only thing this product lacks is a rubberized grip.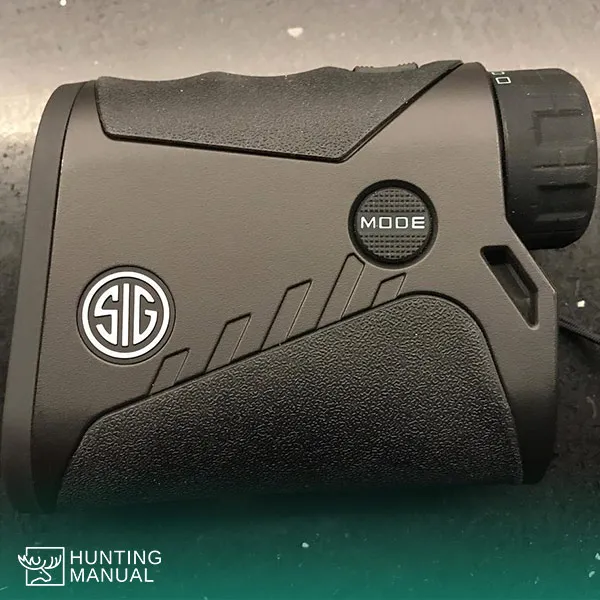 To conclude, if you want a rangefinder that is inexpensive, has a simple design and is easy to operate this might be a decent choice.
Pros
5x magnification
Compact
Waterproof
Eye relief feature present
Cons
Non illuminated black display
9. Raythor Pro GEN S2 – Best Golf Rangefinder Under 200
EDITOR'S CHOICE
Raythor Pro GEN S2 is one of the best golf rangefinder under 200 dollars with not only a fancy design but helpful features as well, that you can get in the market. It has a great battery life and several functions that are easy to use. Switching between modes is quick and effortless.
The slope technology gives an already balanced distance which makes this an efficient feature. Another vibration function gives a short vibration that informs the user about the desired target.
This rangefinder also includes the continuous scan feature that helps the users to get distance and measurements of several targets at the same time. The 6x magnification and fully multi-coated HD lenses are the reasons why this product provides a clear view.
This rangefinder has an accuracy level of +/- 0.1 yards and a maximum reflective range of 1000 yards. It has a flag-lock range of 300 yards and a pin-seeker range of 180 yards. It gives readings in both yards and meters.
This device could get even better with front and back target acquisition systems otherwise it is a complete package. This product is proven to be a useful device for all kinds of golfers whether they are beginners or experts.
It comes with a rechargeable battery and has a warranty of 2 years with lifetime technical support. Most importantly it is a tournament-legal rangefinder. So, if you are a golfer who is looking for a rangefinder with different features this is the best one you can get.
Pros
Switching slope button

6x magnification

Rechargeable

Rubberized grip
Cons
Lack of front and back target acquisition system
10. MOESAPU Rangefinder – Best Smallest Laser Rangefinder
EDITOR'S CHOICE
MOESAPU rangefinder is an affordable product that is portable and includes most of the fundamental features along with a variety of modes. It is used for both hunting and golfing.
This product has 3 particular modes that are golf flag lock mode, distance mode and speed mode. Golf flag lock mode works with the help of flag lock and pin-seeking functions. The distance mode measures precisely with an accuracy level of +/- one yard. At last, the speed mode can measure 18-300km/h.
Other than these modes, it also has the continuous scan mode. The mode memory function saves the previously used mode and settings in the device. This mode saves the time to re-adjust it the next time it is used, which makes it an efficient product to use.
It has a rotating eyepiece which can be easily set to the desired level by rotating. This setting helps to focus and see clearly without any visual aid. Due to the tube technology, the device shuts itself down to save power after 8 seconds of inactivity.
The maximum reflective range of this device is 650 yards. This rangefinder lacks the slope mode. Thus, it can be difficult to get an accurate measurement of the target in case an inclined or declined surface comes into the hunting field.
Weighing all the pros and cons of this product, we think it is safe to say that MOESAPU is one of the best smallest laser rangefinder that you can get.
Pros
7x magnification
Multiple modes
Rotating eyepiece to adjust focus
Cons
Lacks slope mode
Short reflective range
Buying Guide: Best Rangefinder Under 200 & Small Laser Rangefinder
A small rangefinder can make your sports easy and efficient. However, they can help you out only if you choose a suitable option. Bulky rangefinder may reduce your movement, make your hands heavy or less comfortable while ranging for long time.
Smallest Laser Rangefinder
From the above list, MOESAPU is the best smallest laser rangefinder with 5 x 3 x 1.57 inches in dimension and 6.35 ounces in weight. It is easy to carry and use.
Before you settle on a rangefinder, know that a small product is better than a large one. That, because it is easy to carry around and can fit in your palm easily. Moreover, while going out on a trip for hunting, you can carry it in your pocket without feeling overwhelmed. 
If you take a look, the smallest laser rangefinder is crafted with the best technological innovations such as laser or LCD. Such levels of sophistication will make it easy to find the accurate readings on their display. 
Other Factors
Here are all possible factors that you must look for in the best rangefinder under 200 before you buy it. To help you make an educated purchase we have selected smallest laser rangefinder. Make sure to go through this list so you can choose something that suits your needs:
First of all, you have to determine the purpose i.e. why do you need a rangefinder? Because today there are different rangefinders for different sports. Some have specialized specs for hunting while some are good for golf. However, there are some which are multi-purpose and can be used for different sports.
This is an important factor because choosing a rangefinder with zoom function will help you view your target clearly. You can zoom in on your target to enlarge it and make the perfect shot easily. Furthermore, having an adjustable diopter will help people with visual impairment.
If a rangefinder is not made of sturdy material, it is less likely to survive harsh environments, especially if you go hunting. It must be waterproof at the very least because you can never predict the environment. One minute it is sunny, the other it could be raining.
A rangefinder that is equipped with angle range compensation technology will provide a better measurement, with maximum precision. Even though it is more beneficial for hunters, golfers can also get aid from it. 
Depending upon the type of sports you want to indulge in, reflective and non-reflective ranges also vary. These ranges tell about the maximum distance a rangefinder can measure in yards or meters. For hunters, long ranges are more suitable (around 800-1000 yards) while for golfers short-range is acceptable (around 400-600 yards).
It goes without saying that a rangefinder with more battery life is a suitable choice, as compared to the one with low battery life. This factor directly affects the performance of a rangefinder. Thus, make sure to choose the product with good battery life
Simmons Volt 600 Rangefinder
In the category of under 200$, Simmons Volt 600 is the best you can find in the market. It packs a lot including small size, lightweight, extreme accuracy and a highly affordable price. This rangefinder uses an ergonomic design and has various modes to facilitate a good shot. 
Simmons is a well-known name in the rangefinder industry that has developed itself as a visionary leader. Not only do their rangefinders deliver spot-on accuracy, enviable performance and innovative attributes, but they are specially built to last.
When compared to other brands of the same category, Simmons effortlessly takes an edge over them. The reason for the dominance being its affordability paired with rugged durability. In contrast to other major brands, Simmons is recognized for its outstanding precision that lasts for an untold number of hunts.
Conclusion
As we know, a rangefinder is an important tool to have with you whether you go on hunting, archery, or golf games. Out of 10 best rangefinder under $200 available today, Bushnell Engage is on top of the list. We reviewed some of the best value deals for you and have listed important facts about each of these rangefinders.
We hope that going through these reviews will help you increase your knowledge about affordable and hi-tech rangefinders in the market. So do make an investment in this useful device if you are looking for best rangefinder for hunting and golfing.
There are some advanced rangefinder skills explained by realtree. Hopefully, our research will help you make an informed decision in the future.
Frequently Asked Questions (FAQs)
Which is the Best Rangefinder under $200 available today?
There are several options rangefinders available under 200 dollars, however, after testing out different rangefinders we have selected "Bushnell Engage Hunting Laser Rangefinder" as our top pick. This is because it has ultra-fast ranging speed, EXO Barrier coating to keep the vision clear, multiple ranging capabilities, and a 1300-yards maximum reflective range. In short, it is the best value deal.
How to change a Simmons rangefinder from meter to yards?
Simmons Hunting Rangefinder is among the ones that have distance readings in both meters and yards. As it works on a simple one-button design, all its changes happen with this single button. So, to change reading from meters to yards just press the button for 3 seconds, release, and then press once more. This way the distance will come up in yards.
Are rangefinders under 200 dollars worth buying?
Yes, they are worth investing your money in. Various people think that low price means low-quality products. That is not the case when it comes to buying rangefinders under 200 dollars. There are several good options available today that are budget-friendly and have good qualities. Just do your research before going to the market.
What should you look for in a budget-friendly rangefinder?
There are a few key elements you must look for when you are selecting a rangefinder. The following is a list of important features a good and affordable rangefinder must have:
It should cost less than 200 dollars.
Must have a reflective range of at least 600 yards.
It must be equipped with at least a 6x magnification.
Its design must be compact and easy to use.
A few essential modes, like angle, scan, gun, speed, etc. must be present.