Hunting enthusiasts are aware of the importance of a hunting device with several range finding capabilities. Binoculars are best known for their magnification giving clear image of far targets, while rangefinders are necessary to calculate ballistic angles and ranges. A hunter that needs to carry both want to carry less. That is where the best rangefinder binoculars come.
With best rangefinder binoculars, you get the best of both equipment in one. However, finding the best device for you is still an issue. Therefore, we have come up with our top picks for the 10 best binocular with rangefinder.
After reviewing 22 similar devices, we have concluded to give nikon laserforce rangefinder binoculars title of the best binocular rangefinder. Various professional hunters also recommend this model. Also, it stood out from other similar devices and fits our reviewing criteria which we will explain later in this article.
Our 10 Best Binocular Rangefinders of 2022
After careful consideration and analysis, we have come up with our top binoculars with rangefinder reviews. If you are new to outdoor sports, then know, having a binocular with advanced functions is the best decision you can make. Read on for our reviews on these products and see what suits your needs the best:
Here is a list 10 best binocular rangefinder combo for 2022: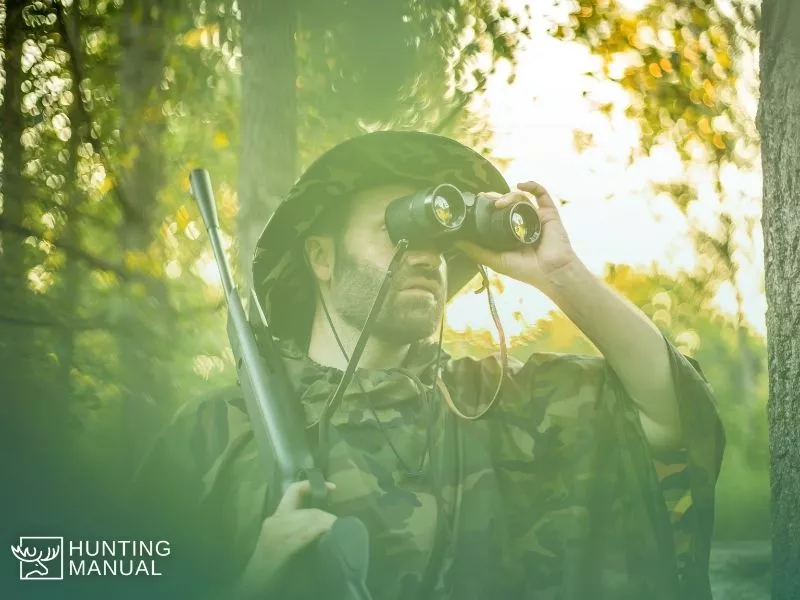 1. Nikon LASERFORCE 10×42 Review – Best Binoculars with Rangefinder for Hunting
A detailed nikon laserforce binoculars review made this the best binoculars with rangefinder for hunting due to its list of qualities. With a reflective range of 1900 yards range and 10x magnification, it provides a crystal clear view of the target. No matter how far away it is. Furthermore, non-reflective ranges are also quite great. They include 1400 yards and 1100 yards, for trees and deer, respectively.
During the nikon laserforce 10×42 review, we found the glass lens of rangefinder binocular is also different from other similar devices. Extra-low dispersion (ED) glass not only provides a high-resolution view but also gives colorful and contrast-rich images of the surrounding. The reflective multi-layer coated lens also aids in providing clear and bright images.
The nikon laserforce rangefinder binoculars also comes with angle technology. That means even if there is a horizontal distance between you and your target, still this device can accurately calculate the range. Even an angle of +/- 89 degrees (up or down the slope) will not hinder accurate distance measurements.
OLED provides a high visibility display and the brightness of it can also be adjusted according to your needs. Moreover, it displays the distance in both meters and yards, most devices cannot claim to have this feature. It is lightweight and easily portable.
Even though the material is highly durable, nikon laserforce binoculars review revealed the outer rubber coating is a little troubling. This rubber armor is soft and thus attracts unwanted dust. Other than this, it is a perfect tool for outdoor sports.
It even has an automatic shut-off feature which saves battery and is affordable as well. In short, nikon laserforce review declares it is the overall best binoculars with rangefinder for hunting.
Pros
1900 yards maximum range
Extra-low dispersion (ED) glass
10x magnification
Automatic shut off
Waterproof
Cons
Soft rubber coating
Outer rubber attracts dust
2. Vortex Fury HD 5000 Review – Best Rangefinder Binoculars
This range finding binoculars is preferred for certain sports. These include shooters, hunters and archers. Vortex Fury HD 5000 includes different modes but also has long and accurate ranging capabilities.
Two different target modes, the best mode and last mode are also available in it. The best mode is also considered as the primary mode as it displays the range result precisely. The second mode, which is the last mode, displays the range of any object that is either very far away or has some other obstacles near it.
Moreover, two other modes in this device help the user with distance and accuracy. HD mode provides the users with angle compensated distance. On the other hand, the LOS mode focuses on getting precise range of long distances. The vortex fury can also be used as best hunting rangefinder for long range shooting.
The vortex fury hd 5000 review is done in various environments. It is really easy to operate because of its simple design. Most of the operations are done by the buttons on the right side of the product. The ranging format of Vortex Fury is in both yards and meters.
Furthermore, this device is adaptable to a tripod which helps in stability. Its exterior makes it reliable and safe to use in extreme weather and any kind of environment. Thus, it is also waterproof, fog proof and shockproof.
Although this product is really great because of its multiple features and functionalities, there still is some minor inconvenience. The only thing which can be improved to make it even more impressive is to allow locking the dioptre on it. Otherwise, this product is one of the best rangefinder binoculars that you can find in the market which is durable and reliable.
Pros
10x magnification
Phase correction
Shockproof
Tripod adaptability
3. Bushnell Fusion 1 mile Review – Best Hunting Binoculars with Rangefinder
It is multi-purpose and one of the best hunting binoculars with rangefinder. Apart from hunting, Bushnell Fusion 1mile is used for outdoor activities, wildlife observation, travelling and army purposes. Its waterproof and fog proof coating makes it reliable to use in harsh weather conditions.
The bushnell binoculars with rangefinder has the maximum reflective range of up to 1760 yards and can measure with an accuracy of + / – one yard. Its deer range and tree range are up to 500 yards and 1000 yards, respectively.
Moreover, it also has a built-in ARC which ranges from -90° to +90°. ARC bow mode helps to shoot precisely with a horizontal distance of 99 yards or meters. On the other hand, ARC rifle mode provides the bullet drop up to 199 inches. The field of view can be measured up to 305 ft at 1000 yards.
Our bushnell fusion 1 mile review found the targeting system to be quite handy. It has 3 modes which are brush mode, bullseye mode and automatic scan mode. It has a fully multi-coated lens, 18mm eye relief, 10x magnification, BAK-4 prism which helps in providing a clear and bright view. This device is adaptable to a tripod which helps in stability and allows the user to shoot steadily.
Furthermore, bushnell binoculars with rangefinder is excellent with respect to its features but has some issues with its interface. The display is cluttered which makes it difficult to understand. Also, the focus knob and ranging button are difficult to operate, which can cause inconvenience while using it.
The company provides a limited warranty of 2 years. Moreover, the package comes with a battery, a neck strap and a carrying case as well.
Pros
Tripod Adaptability
ARC
Waterproof
10x magnification
Cons
The focus knob is tight
The ranging button is hard to operate
No custom ballistic profiles
4. LEICA Geovid 10×42 Review – Best Binocular Rangefinder Combo
The leica geovid 10×42 is one of the best binocular rangefinder combo. Its ergonomic design and rubber housing make it perfectly reliable to use in wet and cold weather conditions. The device is really easy to operate because most of the operations are done by a single button on it. The ranging format of LEICA is in yards only.
It comes with 2 modes which are spot mode and scan mode. Spot mode is used to measure the distance of stable and stationary targets. Scan mode is used to measure the distance of the targets that are constantly on the move or multiple targets at a time.
Moreover, the LED is automatically adjusted according to the light conditions which help to clarify the view. The leica geovid 10×42 has EHR ballistic functions which use the inclinometer to adjust the distance for either accurate holdover or to measure angle relative to the target. Furthermore, it can display a horizontal range of up to 600 yards. It is adaptable to a tripod. Lightweight aluminum housing and nitrogen help the device to stay afloat 5 meters in the water. Thus, it also makes it waterproof and fog proof. 
Leica binoculars with rangefinder have 10x magnification, fully multi-coated lens and compact roof prism. This helps to view even the smallest details of the target. Other than these, it also has dioptre adjustments from -4 to +4. It provides a very broad field of view which is 331 feet at 1000 yards. Colour and light transmission is also improved because of the high-quality optics and magnification.
We found overall leica geovid review to be great. The only con is that this product is really expensive for most outdoorsman. Otherwise, it has all the features anyone could ask for.
Pros
Waterproof
10x magnification
Tripod Adaptability
Ballistic functions
Rubber exterior
5. Athlon Cronus Binoculars Review – Best Rangefinder Binoculars 2022 with UHD Glass
After athlon cronus binoculars review, our experts listed it in best rangefinder binoculars. Because of their long-ranging capabilities, it is mostly used for hunting or for long-range shooting. This product comes in a variety of modes as well.
The ranging modes in this device include incline angle, horizontal and vertical distance. Other than these, the measuring methods are hunt mode, auto mode and golf mode. It is one of the best rangefinder for hunting and golf combined with binocular for interested individuals. The long eye relief feature in this product is helpful to people who wear glasses. It has 19.3mm eye relief which helps them to view the entire field without any problem.
The UHD glass gives clear and sharp images as it overcomes all the fringes and obstacles that can affect its view. A new E2ES system which is the edge sharpness system in this product allows the user to view even the smallest objects in the field with clarity. This device is argon purged which makes it waterproof and helps with thermal stability.
The maximum reflective range of Athlon Optics is up to 2000 yards and the deer range is up to 800 yards. Moreover, it provides a field of view 338 ft at 1000 yards. It uses advanced FMC, BAK-4 prism and phase-corrected prisms. Along with that, its 10x magnification illuminated ranging display and ranging capabilities help in viewing sharp details of objects with clarity and brightness. 
Apart from being a little expensive, athlon cronus binoculars review as a great choice for best binocular rangefinder combo. To conclude, if you are looking for a device that has accurate and long-ranging capabilities, multiple technologies which help in providing clear images. This is the right product for your use.
Pros
Illuminated display
Reflective range of 2000 yards
10x magnification
Thermal stability
We did swarovski el range 10×42 review and found the display and glass to be unbeatable. In harsh environment or low light it works equally great. SWAROVSKI rangefinder binoculars have some of the brilliant technologies and features which are great for hunting and scouting.
One of the best things about this device is that it allows the hunters to have custom ballistic functionalities. By using the application, users can easily set the ballistic data as desired. Along with that, it also gives the user the number of clicks for the rifle scope. This helps the user to shoot their targets with precision.
Swarovski el range review is done in various environmental conditions. The tracking assistant technology in this device keeps the track of the last shot target by the user which helps in estimating the covered area quickly. Moreover, it also has a tilt indicator that displays the adjusted angles or shooting distances.
It has 10x magnification with a 42 mm lens, 90 % light transmission and a 6.8° field of view. Along with these, this product has edge-to-edge sharpness which allows the user to shoot accurately and also get clear and brightest views.
The only con is that this product is extremely expensive. But keep in mind, it provides you with unique and newest features that aren't available in many of the other expensive devices. Furthermore, it can be connected with your smartphone, to transfer ballistics data through a configurator app.
After various other binoculars with rangefinder reviews and testing, swarovski el range 10×42 rangefinder binoculars reviews as the most innovative products with maximum functionalities in the market. Swarovski has latest products and with long list of advanced features of El Range, it will soon be on top.
Pros
Tracking assistant
Customized ballistics
10x magnification
7. Hooway 7×50 Waterproof Review – Best 7×50 Binoculars Rangefinder for Watersports
It is a multi-purpose binocular which can be used for several different sports. These include bird watching, hiking, navigation and water sports etc. As Hooway 7×50 is waterproof and can also float in water, it is safe to use for outdoor activities. That is why it is one of the best rangefinder binoculars for watersports.
Other than that, it is also filled with nitrogen which makes it fog proof, avoids clouding and moisture. This device is great to use in any kind of weather and environment. It comes with an internal compass and rangefinder. They are used to direct locations and get precise measurements of any object at a distance respectively.
This product also has diopter adjustments which can be adjusted according to the desire of the user. Its range is -5 to+5. Also, it can measure up to 396 feet at 1000 yards. People who wear glasses might like this device better because it comes with an eye relief feature of 22 mm. 
The grip of this device is non-slippery and rubberized which is secure to hold and operate. Fully multi-coated optics, BAK4 prism and 7x magnification are the reasons that Hooway binoculars give bright and clear images as well as a broad field to navigate through. Also, these are the best rangefinder under 200.
As compared to the other specifications of this product, it has a mediocre quality and lacks ARC technology which can be improved to make it an exceptional device. Otherwise, it is affordable, comes with a variety of advantages and is highly durable. Along with the device, the company also provides an instruction manual, lens and eyepiece caps, cleaning cloth and a carrying bag. 
Pros
Waterproof
Fog proof
7x magnification
Rubberized grip
Cons
Poor construction quality
Lacks ARC technology
8. LAKWAR Marine 10×50 Review – Binoculars with Compass and Rangefinder
These are the best binoculars with compass and rangefinder. Apart from hunting, LAKWAR Marine 10×50 can also be used for bird watching, marine, camping, concerts, hiking and wildlife etc. Not only is this product waterproof, but is also fog proof which makes it exceptional to use in bad weather.
The most important features of this binocular are that it comes with an illuminated compass and a built-in rangefinder. The compass is used for directions and the rangefinder is used to get accurate measurements of the size and distance of any object. There is a switch in this device that is used to brighten up the scale of the rangefinder.
Moreover, it allows the user to adjust the eye focus of both eyepieces individually. Tripod connector and adapter in this device help with stability in certain sports. Like bird watching and hunting require steadiness so, this feature allows them to navigate easily. The best feature of this product is its 10x magnification which helps the users to get a close view of each and every object precisely.
An issue that was found in this product was that it lacks the night vision feature and ARC technology. Because of that, this device is difficult to use at night and in case you encounter a slope. Aside from this drawback, this tool is multi-purpose and affordable for people who are looking for a simple binocular.
The company provides the buyers with a lifetime warranty and a return policy of 30 days. Along with the device a harness strap, a tripod connector, a carrying bag and two lens covers are also provided. Overall, this product is user-friendly and reliable to use.
Pros
Waterproof
Firm grip
Tripod connector
Separate eye focus adjustment
Cons
Lacks night vision
Lacks angle compensation technology
9. AOMEKIE Binoculars Reviews – Floating Waterproof Binoculars with Compass
These are used for multiple purposes like birdwatching, archery, shooting, hunting and all kinds of outdoor activities. AOMEKIE binoculars are safe to use in harsh environments because of its strong rubber housing. Also, it is waterproof and fog proof which also makes it an excellent choice to use in extreme weather.
Using this device at dusk or dawn is not even an issue because the compass and scale in it can be illuminated by the button. Moreover, it does not require calculating the distance manually, because the dial automatically estimates the distance up to 290 meters. These are also floating waterproof binoculars with compass.
It is light in weight, durable and easy to carry around. Even though it is small in size, it still has the best features that any binocular can have. These include 10x magnification, eye relief of 22mm, fully multi-coated lens as well as BAK4 prism. Other than these, it also has dioptre adjustments from -5 to +5. It provides a very broad field of view which is 396 feet at 1000 yards. Color transmission is also improved because of the high-quality prism and FMC lens.
The only con is that even though it has a rangefinder, it is not equipped with angle compensation technology. Thus, you have to calculate the distance manually in case of an incline/decline slope. This can be a bit time-consuming.
After evaluating various other binoculars with rangefinder reviews, we have observed that this is one of the most affordable products with maximum functionalities in the market. The package includes the device itself, a bag, a cleaning cloth, a strap and an instruction manual for the user's ease.
Pros
Illuminated compass and scale
10x magnification
Rubber housing
Waterproof
Cons
Lacks angle compensation technology
10. USCAMEL Binoculars Review – 10×50 Rangefinder Binocular 2022
These ultimate marine binoculars are suitable to use for travelling, concerts, sailing and for watching games etc. It comes with a strap that allows the user to carry it around easily without any difficulty. Another convenience is that it allows tripod connectivity which helps with stability. Using this assistance, users can shoot or view steadily.
Other than that, the nitrogen gas keeps it up from fogging internally. It also resists all kinds of contaminants like dust and dirt etc. They are also waterproof so it is safe to use them in all kinds of weather.
The broad field of view of 396 ft. at 1000 yards, 10x magnification, and FMC lens provides an excellent and bright view to the users. The exterior of this device is strong which makes it reliable to use outdoors, in harsh weather and can also float on water.
Along with the device, some other accessories are also provided to the buyers. These include; a carrying case, lens and eyepiece cover, cleaning cloth, tripod connector, and an instruction manual.
Some drawbacks of this device are that first of all its rangefinder does not have angle compensation technology. This can be an inconvenience to many people because you will have to calculate the angle manually in case you encounter a slope.  Secondly, it does not work properly at night time. Both of these cons can be improved to resolve the problems caused by it to the users.
The company provides a lifetime warranty and also an unconditional refund within 30 days of purchase. Overall, this is one of the best rangefinder binoculars 2022.
Pros
Durable
10x magnification
Tripod connectivity
Cons
No angle compensation setting
Lacks night vision feature
How to choose "Best Binocular Rangefinder"? (Buying Guide)
If you ever go to the market to buy a binocular, then make sure to go through the following list of factors. Moreover, it is important to gather as much knowledge about a product before purchasing it. 
There is a certain criterion that every product must fall into, so you can have a good experience on your outdoor adventure. So, this list will help you make an informed decision.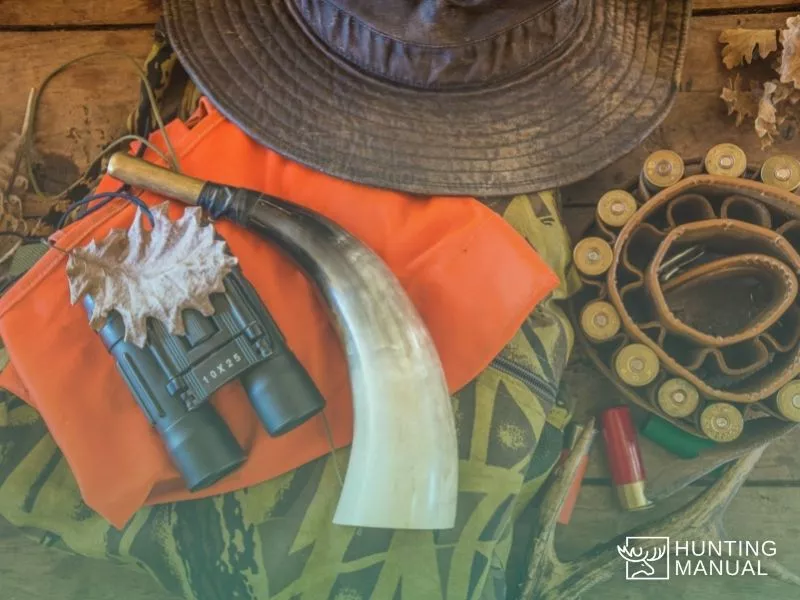 1. Magnification
High magnification can either be extremely helpful to you or can affect your hunting. You should keep in mind the purpose of buying the device. Along with the magnification, the field of view is also necessary to consider. If you are hunting in broad and clear areas, higher magnification would be great. 
But on the other hand, if you are hunting in limited yards, you should consider the magnification with respect to the field of view. An 8x magnification is great for hunting within a limited area. For areas that are open, above 10x magnification is preferred. Thus, look for some suitable rangefinder binoculars according to your needs and sports preference.
2. Equipped with Rangefinder
There are many expensive binoculars that come with a variety of functionalities but they do not have a built-in rangefinder. The lack of a rangefinder in binoculars limits its use in some activities. It can also cause inconvenience to people in certain types of sports like hunting and shooting etc. 
Rather than carrying a pair of binoculars and a separate rangefinder, make sure you buy a decent binocular which also comes with a built-in rangefinder. You can buy several rangefinder binoculars in the market for really affordable prices.
3. Durability
Binoculars are mostly for outdoor activities. It means that you might face some harsh weather conditions and environment unexpectedly. So, in order to protect your device from any kind of damage, it must be durable. 
Most of the rangefinder binoculars that you will find in the market today are waterproof and fog proof. This protects the device against fog, humidity and moisture. 
The exterior of your device must be durable as well so it can survive falls. Most of the reliable binoculars either have rubber housing or are of steel or aluminum. So, it is really necessary for you to choose a durable binocular for your outdoor adventures.
4. Angle Compensation
Most people might not realize the importance of angle compensation technology because there is no need for it for flat grounds. But if you are a hunter, you would surely know how useful and necessary this feature is. 
There might be some times where you are aiming uphill to hunt and shoot. This angle compensation feature helps the user to get a precise angle and distance measurement for your perfect target and shot. Not having this feature can definitely have an effect on your shots. Not all of the binocular rangefinder includes this feature, so make sure you are choosing the right device for your purpose.
5. Weight and Size
While buying binoculars, people tend to focus on the functionalities of the device only. But they are actually missing out on a very important part of buying a device. They should focus on the weight and size of the product as well.  
Binoculars are generally for entertainment purposes like concerts, sightseeing or hunting etc. During these activities, a person would definitely like to easily use the device rather than carrying around a heavy and big pair of binoculars with them only to exhaust themselves. Therefore, instead of just looking for multiple features only, look for a compact device for your own ease as well.                                                                        
6. Water-poof and Fog-resistance Features
Hunters mostly find themselves in moisture-heavy environments. Also, the weather of various hunting grounds is quite unpredictable, one moment it may be sunny, the next it could be raining. 
Thus, it is important to choose a rangefinder with either water or fog resistance quality or even both. This will prevent any obstructions by moisture and help you get a clear shot at your target. Moreover, there are various marine binocular rangefinders that are specially for waterproof technology. They help you to enjoy outdoor water activities.
7. Price
You might wonder if you have to buy an expensive device in order to have multiple features and technologies. But, that is not the case. You can buy affordable military rangefinder binoculars with a variety of functionalities today. So many companies make the best value products. However, if you are a sports enthusiast and want to go all out, even then you have a variety of options to choose from.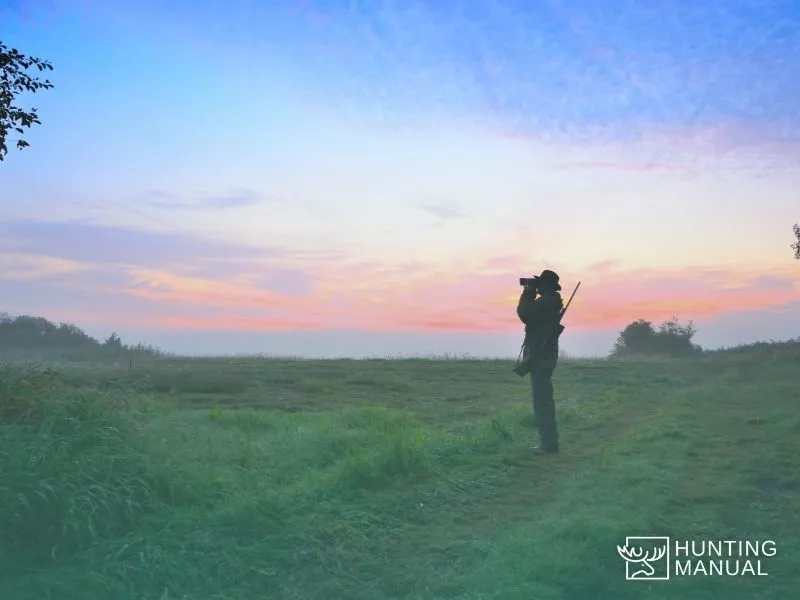 Rangefinder vs Binoculars
It is a common question among newbie hunters. Primarily rangefinders determine range of the target along with angle. The angle feature comes in various names, i.e. slope, ID technology, ARC or ballistic calculator. But they all have same meaning.
On the contrary, the binocular is more of getting broad field view of huge terrain on front. It doesn't give exact angle calculation.
Frequently Asked Questions (FAQs)
1. How to use rangefinder binoculars?
Adjust the eye cups as seem fit. Turn on the rangefinder. Input your ballistics information. Select the mode that incorporates angle adjustment (for hunting and shooting). Adjust scope turret and you are good to go.
Using menu buttons change settings as you like for various modes, brightness and ballistics. Range on couple of targets and take practice shots if range is known. Go through instructions manual if problem arises.
2. How are rangefinders and binoculars different?
Binoculars are popular for their magnification abilities like they have about 10x (even 15x) magnification. While rangefinder magnifications have a limit of up to 6x or 7x maximum.  On the other hand, rangefinders are helpful to calculate ballistic angles and ranges and binoculars lack this feature.
3. Which is the best binocular with rangefinder available today?
After careful examination and analysis of a dozen products, we have decided to give the "Nikon LASERFORCE RANGEFINDER Binocular" the title of the best rangefinder binoculars 2022. It fits our criteria perfectly because not only it has hi-tech features but is affordable as well.
4. What is a rangefinder binocular?
Rangefinders and binoculars are 2 independent devices, but when we combine them, we get a very powerful product. One measures the distance to your target while the other provides a close-up view of your faraway targets. Combining them you get the best of both worlds i.e. a binocular rangefinder.
5. Can you use a standard rangefinder as a binocular?
Yes, it is possible to use a standard rangefinder as a binocular but the results will not be as good with a rangefinder binocular. Using the best binoculars with a rangefinder for hunting will provide a clearer and brighter view of the target. This way instead of buying 2 different devices you can buy the 2-in-1 product.
Conclusion
To sum it all up, this was our take on the top 10 best rangefinder binoculars 2022 available today. With Nikon LASERFORCE taking the place, followed by Vortex and Bushnell Fusion binocular rangefinders as runner-ups. Each of the products mentioned here is unique in its own way and worth buying. Make sure to go through the reviews and the buying guide thoroughly to have a better understanding of this product. 
Going on outdoor adventures can be a lot easier with the right hunting gear and devices. They can make your trip memorable and easier as well. Thus, we have tried to help you out to the best of our abilities. Hope this article helps you make an educated purchase. Happy Hunting!