With approximately 15.09 million Americans participating in hunting alone, the market for rangefinders has skyrocketed. However, many hunters share common grief: Why are rangefinders so expensive? Thus, to ease all of your troubles, we have carefully tested and evaluated the best rangefinder under 100, which deliver in both quality and budget-friendliness. 
After considerable analysis, we have crowned the Halo XL 450 as the best rangefinder under 100. It is equipped with the most advanced, and technological features. While it provides you with the best bang for the buck. It is even endorsed by experienced hunters and some stars of the hunting reality show, 'Addicted to the Outdoors'. 
Here's our list for top 10 rangefinders under $100
Our Top Picks for the Best Rangefinder under $100
Whether it's shooting game among the spruce trees in Alaska, or scouting white-tailed deer in the coastal marshes of Georgia, we have field tested several rangefinders. To read in depth details of top 10 list, click on the link in the list below.
To compile our list, we have assessed various budgeted rangefinders and put them to the test. Hence, if you are searching for a suitable, budget-friendly rangefinder, then keep on reading.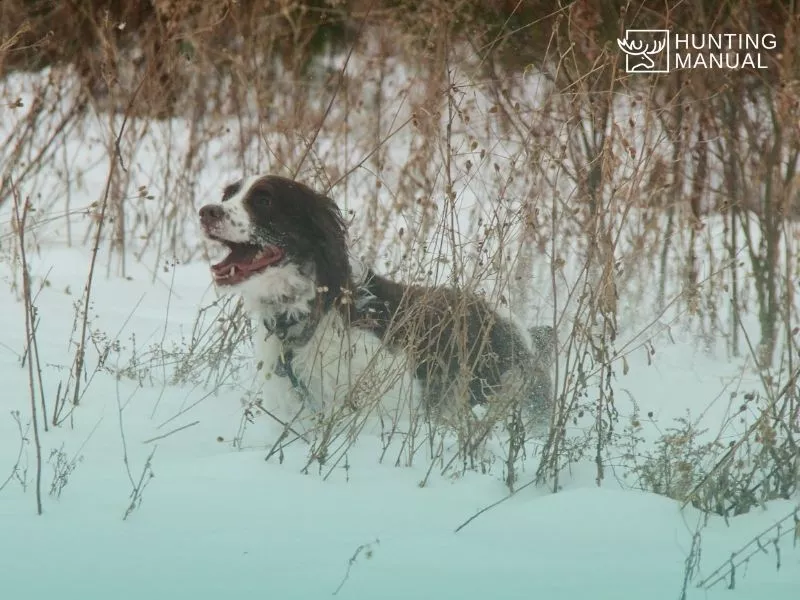 Halo XL450 – Best Rangefinder under $100
TOP PICK
The Halo XL450 ranks on the top of our best rangefinder under 100 list. Because of its advanced features at an economical price. For $100, it can accurately measure distances up to 450 yards. Its precision is further enhanced by its 6x magnification feature. It is also equipped with a Class IIIA laser, which is the most powerful laser available in the market. 
However, what truly sells the Halo XL450 is its Angle Intelligence (AI) technology. The AI displays an accurate calculated distance between you and the prey if you are on different levels of elevation. It takes into account angle compensation for both inclines and declines. That, to provide as much precision as possible. 
Moreover, this rangefinder was designed to take the user's comfort into consideration. The Halo XL450 is ergonomically engineered which makes it easier to handle. We truly appreciate this feature because it prevents your hand from cramping. 
The Halo XL450 also has a scan mode that allows the user to range multiple targets even if they are in different locations. The rotating eyepiece of this rangefinder can adjust the brightness settings that can help hunt at night.  
The only disadvantage we found was that it does not have an autofocus feature. However, it takes less than 5 seconds to accurately measure how far you are from the prey.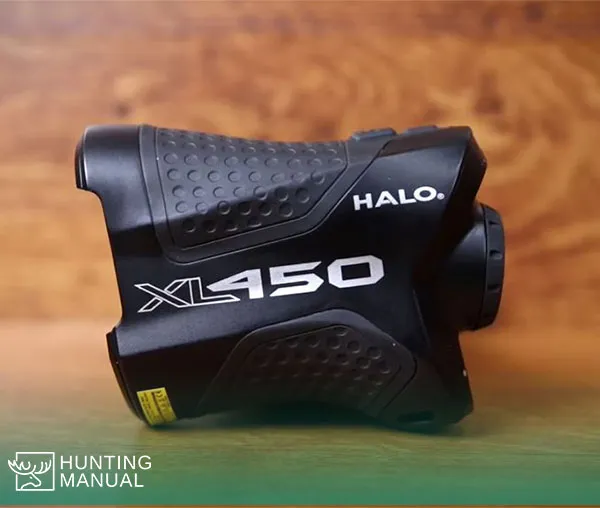 Overall, the AI technology gives the Halo XL450 an edge over its competitors. Especially since it is priced so reasonably. 
Pros
6x magnification
Angle Intelligence Technology 
Water-resistant 
Adjustable brightness/dimness 
Measures in both yards and meters
AOFAR HX-700N – Archery Rangefinder under $100
EDITOR'S PICK
The AOFAR HX-700N is a renowned entry-level rangefinder in the hunting community. It can measure up to 700 yards with an accuracy level of +/- one yard. Its dependable precision is assisted by its 6x magnification. This makes it ideal for hunting and archery. The magnification is further supported by a 25mm objective lens. The lens provides a clear view when focusing on the target. 
The AOFAR rangefinder has four modes. The Speed Mode allows perceiving the speed of any moving object up to 300 km/hr. The Range Mode shows the distance to any target that you select. Moreover, the Scan mode allows you to easily identify your target. Even in foggy conditions, you can use the Fog Mode to improve detection. 
 The design of this rangefinder is also quite convenient for users. It is compact, lightweight, and portable, weighing only 180g. It has a sturdy build. And it is engineered to be dustproof and water-resistant due to its IPX4 waterproof structure. Included with the rangefinder itself are one lithium battery, a carrying pouch, a portable rope, a carabiner, and a microfiber cleaning cloth. It also offers a two-year VIP lifetime customer support feature. 
However, the only disadvantage, in our opinion, with this rangefinder was that it does not compensate for elevation by having a tripod screw facility.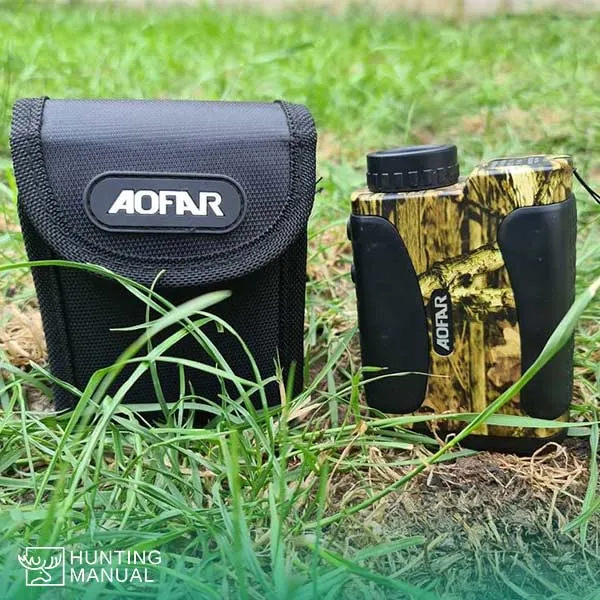 Overall, if you live in an area affected by thick fog and are searching for a high-quality and affordable rangefinder to combat that, then the AOFAR HX-700N is the ideal product you can select. 
Pros
4 different modes
Auto shutoff
Addition of compass 
Waterproof 
Cons
Does not have tripod screws
Gogogo Sport Vpro – Best Golf Rangefinder under 100
EDITOR'S PICK
If you are a crossbow hunter, then the Gogogo Sport Vpro is the best rangefinder under 100 that you can find. This rangefinder has the ability to measure a range anywhere from 5 to 650 yards with +/- 1m accuracy. Moreover, equipped with 6x magnification, this rangefinder aims for precision. 
The Gogogo Sport Vpro carries the latest functions. It supports an angle range compensation (ARC) for more effective accuracy. Additionally, it has three modes. The Normal Scan Mode for continuous scanning. If you're aiming for a racing doe, the Speed Mode will allow you to measure its speed, or for any object up to 300 km/h. The JOLT technology will also assist you in keeping your target locked at all times so you can receive the exact distance measurement. The third mode has a slope function, which can be deactivated. That does the math for you in correcting your distance based on the angles. 
Moreover, this rangefinder has a multi-coated optics lens. It comes with a diopter to adjust the level of brightness according to your preference. An additional plus point of this rangefinder is that it has a bright view screen that shows the readings clearly. 
However, it should be taken into consideration that the Gogogo Sports Vpro is not waterproof. Thus, it will not operate accurately in rainy weather. Nevertheless, this can be overlooked as hunting is not normally practiced in the rainy season.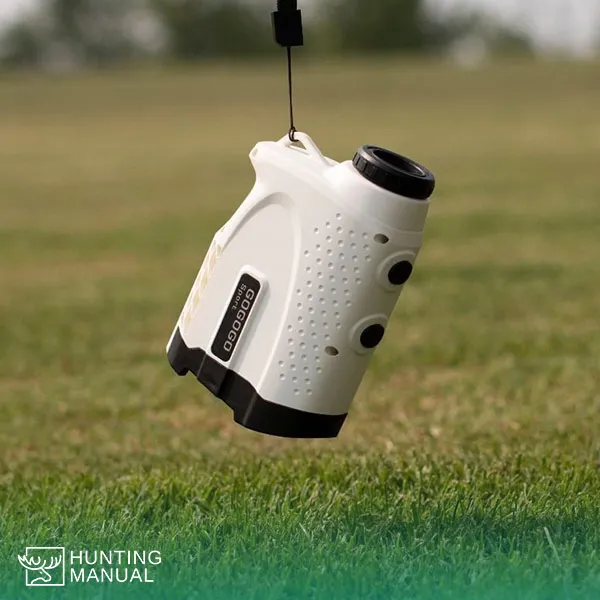 Conclusively, this is a great rangefinder as it is multipurpose, and has excellent technological features that can assist you during hunting season in accurately coursing large game. 
Pros
Auto shutoff 
JOLT technology 
slope feature 
TIDEWE Hunting Rangefinder under 100
EDITOR'S PICK
The TIDEWE Hunting Rangefinder is a compact, portable, and easy-to-use rangefinder that weighs in at 0.35 lbs. We found it quite convenient to use due to its ergonomic design. Moreover, its buttons are placed precisely where your thumb and fingers are naturally positioned while holding the rangefinder. Hence, we operated it with ease with an effortless click of a button. 
This rangefinder can measure up to 1000 yards with a +/- 1 accuracy level, completely changing your hunting experience for the better. It is further supported by the 6x magnification with a clear lens, and swiftly displays the readings in less than 0.5 seconds. Thus, ensuring that your target is well within your focus. 
Furthermore, this rangefinder also displays the vertical, horizontal difference, and straight-line difference, assisted by an automatic 1-second rotating display change. It also has a scan mode that can be accessed by pressing the power button for a few extra seconds. The scan mode allows you to scan your terrain and objects while hunting, improving your game. 
The TIDEWE Hunting Rangefinder also has special features such as a rechargeable battery. Additionally, it is engineered with a clear and bright LED screen where the readings can be viewed even in low light conditions. 
However, the only shortcoming we experienced with this rangefinder was that the readings fell slightly short in the foggy weather. In clear weather, this would not pose a problem. 
Generally, if you are searching for an affordable rangefinder with speedy and accurate measurements, this will be right up your alley! 
Pros
Durable material
IP54 waterproof 
Camo design 
Cons
Measurements are not accurate in foggy conditions
AILEMON Laser Rangefinder under 100
EDITOR'S PICK
Although this rangefinder is specifically made for hunting, its universal and high-quality features can also be used for golf. With the ability to measure anywhere between 5 yards to 1200 yards, no prey whether big or small can escape the range of the AILEMON 6X. Hence, we found this rangefinder most suited for bow hunting. Its performance is further heightened by its +/- 1 accuracy rate and can revolutionize your hunting experience with its 6x magnification. 
Furthermore, this rangefinder is devised with 3 modes to assist you in achieving as much accuracy as possible. The Scan Mode allows you to range measurements of all objects within the scope of your rangefinder. The Speed Mode enables you to measure the speed of your prey between 20-300 km/hr. It is also equipped with a Slope Mode that calculates the angle of elevation to a horizontal target, for a more precise shoot. 
The rangefinder is also integrated with Angled Range Compensation (ARC) which takes into account the actual distance and angle of a shot for a more precise value. It is also equipped with a Fully Multi-Coated lens that allows you to rotate the eyepiece to achieve focus. 
The only disadvantage we could pick out for this rangefinder is if you purchase the green rangefinder, you will not be able to deactivate the Slope Mode. However, this is only an issue for golf players.
Other than that, the AILEMON 6X is the best hunting rangefinder under $100 for its impressive integrated technology, features, and fast precision, especially if you are an archer or crossbow hunter.  
Pros
Accurate readings
USB charging 
Easy to read display 
Cons
Unable to deactivate slope mode on the green rangefinder
WOSPORTS Bowhunting Rangefinder under $100
EDITOR'S PICK
The WOSPORTS Hunting Rangefinder can measure the distance from 5 to 800 yards which suffices for most hunters at a +/- 1 accuracy level. Its 25mm objective lens is assisted by its 6x magnification function for additional clarity. It is an ideal rangefinder for bow hunting and archery.
Moreover, its multifunctional features also consist of a Speed Mode that allows you to accurately measure the speed of a moving target between 20 to 300 km/hr. at an accuracy level of +/- 5 km/hr. Its Scan Mode ensures that its range is able to capture every factor in the terrain within its scope. Consequently, it also features a Continuous Scan Mode that can be activated by pressing long enough on the Power button of the rangefinder.  
The WOSPORTS Hunting Rangefinder armour has a rubber design. It is durable and non-slip material. Therefore, it can go scratch-free if it drops while hunting. It has an ultra-clear LCD display that displays range readings and pictures in clarity. Thus, being quite useful in low light conditions and areas.  
The only complaint that we have about this rangefinder is that it's not suitable in varied weather conditions. It can display inaccurate readings if used during rainy or foggy weather. However, if you are a beginner in hunting, we would not recommend you to hunt in those weather conditions anyway.
We strongly recommend the WOSPORTS Hunting Rangefinder for its ideal performance featured at an economical price as it specifically measures range and speed with applaudable performance.
Pros
Water and dust resistant 
Provides lifetime customer support 
Multipurpose 
Cons
Inaccurate measurements in adverse weather
BIJIA Hunting Rangefinder Under 100
EDITOR'S PICK
The BIJIA 6X is a multipurpose laser rangefinder that is mainly for hunting but can be used for golfing or any other outdoor activity. Thus, due to its reasonable versatility, it is one of the best rangefinders under 100.
Performance-wise, this rangefinder can measure range from 5 to 650 yards with a precision level of +/- 1, and an angle of +/- 45 degrees. It also displays readings in a matter of seconds, ensuring that you receive results as swiftly as possible to maintain focus on the game. 
Moreover, this rangefinder has pin seeker technology that enables you to accurately acquire your target via target isolation, completely shutting out the background. The readings are on BIJIA's ultra-clear LCD display. Additional features that this rangefinder has is continuous scan mode that displays the readings of various targets as they enter your range. 
Furthermore, this rangefinder has multilayered optics and is constructed from safe, durable material. Thus, it is ideal for a rough physical sport such as hunting. We did not even feel the rangefinder in our pocket as it is also quite lightweight, owing to its 180g weight. 
The only flaw that we could pick with it is that it does not include a screw-in tripod mount. However, while you're moving on the hunt, a tripod isn't a major requirement.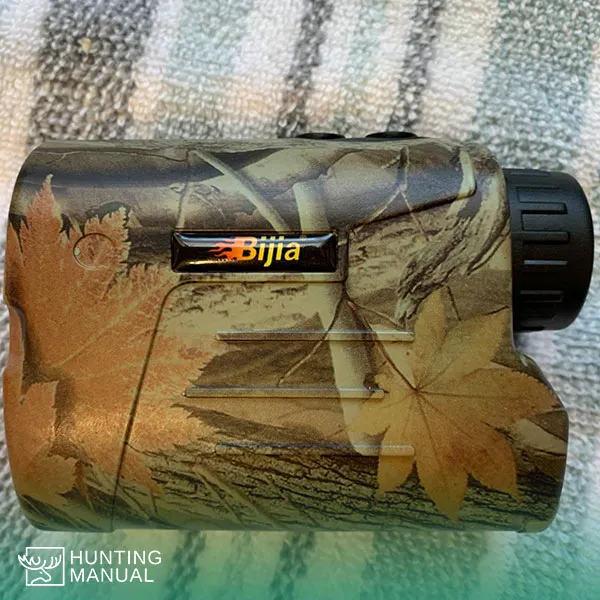 In conclusion, for the price point, the BIJIA 6X offers more technical features than most expensive brands and is a great rangefinder to add to your hunting kit. 
Pros
Measures in yards and meters 
Light-weight 
Ergonomic 
TecTecTec ProWild – Best Hunting Rangefinder under 100
EDITOR'S PICK
If you are searching for an economical laser rangefinder that displays fast and accurate measurements, then look no further. The TecTecTec ProWild Hunting Rangefinder can persistently scan up to 540 yards with a +/- 1 measurement of yard accuracy. It is able to read distances fairly quickly while you have your eyes on your prey. Moreover, with 6x magnification, even the smallest of the game would not be able to evade the laser focus of this rangefinder.
Additionally, this hunting rangefinder has multilayered optics that enables through-the-lens display for an easy read of fast distance measurements that barely take a few seconds. Furthermore, the multilayered optics also sports a feature of adjustable display lighting that can diminish the loss of light, and also increase brightness for dim conditions. 
It is also durable and lightweight, weighing only 185g. Thus, provides no extra burden to you while hunting, which we were quite pleased with. Moreover, its built is both water and dust-resistant. Hence, you can operate it even in the harshest of conditions with ease. 
The only problem that we faced with this rangefinder was that its battery ran out faster than we were expecting. However, lucky for us, we always keep a spare battery in our hunting kit for the rangefinder that enables us to hunt for longer.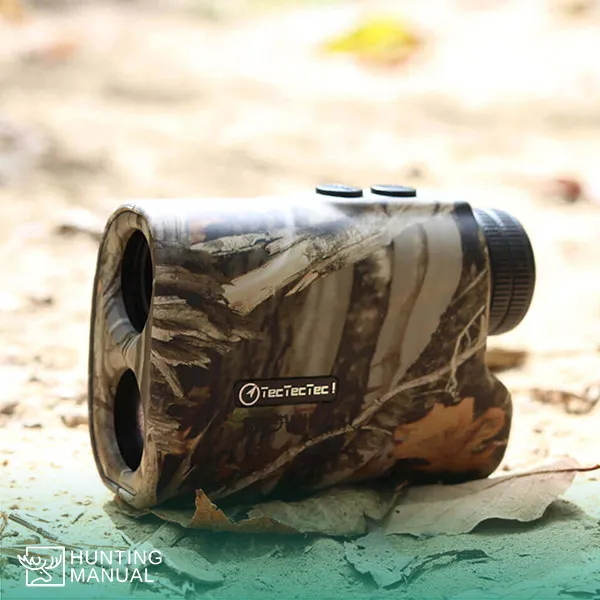 In conclusion, if you are looking for an entry-level rangefinder that can deliver in both quality and pocket-friendliness in extreme weather conditions, then the TecTecTec ProWild Hunting Rangefinder would be the best rangefinder under 100 for you. 
Pros
Lightweight and ergonomic
Reads yardage instantly 
Auto shutoff
Multipurpose
Multilayer optics 
Cons
The battery does not last long
AIRSSON Laser Rechargeable – Best Golf Rangefinder under 100
EDITOR'S PICK
A unique rechargeable rangefinder which is almost rare in the market with only some companies producing. AIRSSON produces this model for golfing as priority and hunting as secondary feature.
The maximum range for the AIRSSON rangefinder is 650 yards with accuracy of up to 5 yards when tested to 100 yards shot The flagpole locking is 200 – 250 yards. Similarly, the scanning mode provides continuous scanning of multiple targets in given range.
The good thing is slope mode which quite useful on uphill or downhill sloppy lands. At this price, these features looks premium. It comes with 6x magnification, flag locking, adjustable eye piece for golfers and hunters wearing eye glasses, transition between meters and yards, and above all recharging option.
The major drawback we got is inconsistent readings to same target from same position. Although the variation was slight, a starter can work through it easily.
A pro golfer or hunter, on the other hand, who is going to spend a lot of time in the activity will obviously pass and buy a more accurate and expensive rangefinder.
Pros
Slope mode with 6 other modes
Rechargeable 500mAH battery
Multipurpose
Best for golf under 100$ 
Cons
Give inconsistent yardages within its accuracy
Borbede Telescope – Best Rangefinder for Golf under 100
EDITOR'S PICK
There are a number of features that make the Borbede an excellent choice. Not only for golf, but you can use it for hunting as well. These features include fog mode, pin seeker mode, speed finder mode, and accurate distance measuring. You can find a reflective range of about 600 yards with an accuracy of up to 1 meter. This makes it perfect to find targets efficiently and lock on to them as well.
The speed accuracy of this model is about +/- 5km/h. Therefore, it works at a perfect speed by providing you with distance measurements in mere seconds. A target rarely stays stationary and is almost always on the move. That is where the continuous scan feature of this model comes into the picture. With this scan mode, get live updates of the target, no matter how fast it is moving. 
Furthermore, it is one of the lightest and easily portable models available in the market today. You can easily carry it around because of its small design. It is skid-proof and has a strong exterior as well.
What we did not like in this rangefinder was the lack of angle compensation technology. This ARC (Angle Range Compensation) technology comes in handy in case there are slopes and hills. It does not work very well in low light. However, nothing is perfect. You should focus on the positive side of everything. In this case the pros of this rangefinder under $ 100.
The reason why this Borbede laser rangefinder is different from others is its high accuracy and efficient measurements. This is such a good tool to have. Especially for golf because it can easily pick up background targets, like golf flags, trees, and bushes, etc. Thus, it is a good rangefinder to have with you.
Pros
Easily replaceable batteries
6x magnification
Budget-friendly
Good for hunting and golf 
Cons
No ARC technology
Not efficient in low light
Conclusion 
By carefully analyzing and evaluating our experience with various rangefinders, we are certain that we have covered all of the best hunting rangefinders under 100, which deliver in both performance and affordability.
We have provided our readers with a detailed analysis of each rangefinder, by discussing their nuances, highlighted features, and pros and cons to give you our honest feedback. We are sure that you will find your suitable rangefinder on our list. Any of these rangefinders will make an excellent addition to your hunting kit. 
Generally, for us, the three rangefinders are the best value for money as they tick all the boxes of accuracy, technological features and performance. These include the Halo XL450, the AOFAR HX 700-N, and the Gogogo Spot Vpro.
You would be surprised how such an economical and compact device can alter your hunting game for the best. Thus, in the next hunting season when you observe a 'gang of elks' yards away, don't forget to utilize your under $100 rangefinder for additional accuracy.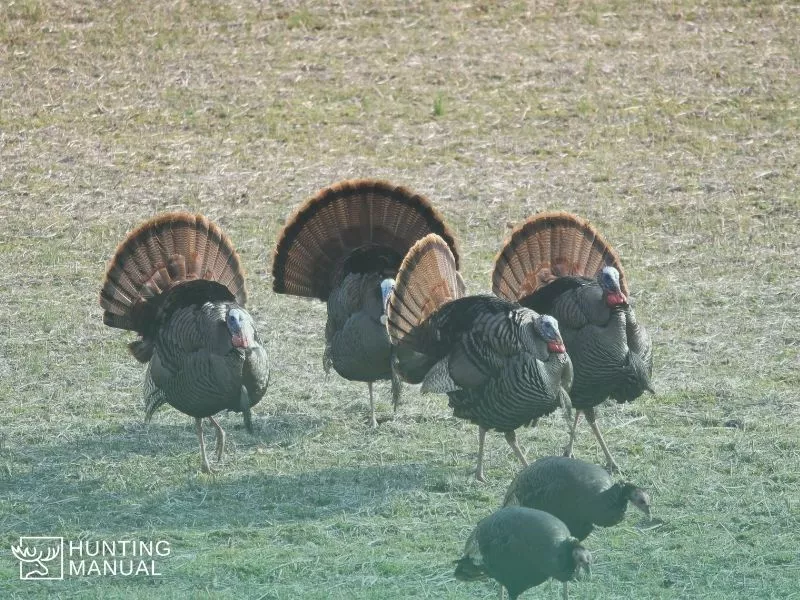 Halo XL 450 owner's manual
Often the manual is provided in the package. If you can't find one, visit halo website to download it or contact customer support and they will send you soft copy immediately.
Battery
Halo XL 450 requires a battery in order to operate. To insert the battery, locate its compartment situated at the back of the rangefinder. Open it, proceed to pull up at the tab and turn it to the left. 
To remove the cover, follow the arrows marked on the door. After removing the cover on the battery compartment, proceed to insert a CR2 battery. Additionally, be mindful that the plus (+) side is facing down. 
When closing the battery compartment cover, ensure that the arrows align for it to properly seal. Push the battery down by turning the tab to the right. 
Installing the Lanyard Strap 
To install the lanyard strap
Locate the hole at the bottom of the rangefinder. 
Insert one end of the lanyard through the hole. 
Then, pull the other free end of the lanyard through the loop that has been created by the first end to make it taught. 
Turning On the Halo XL 450 
To switch on your Halo XL 450, identify the Power button and briefly press it.
Adjusting Focus  
The user can adjust the focus on the Halo XL450 by locating and turning the adjustable eyepiece left and right. Do it until the image focuses according to the user's preference. 
Switching Modes 
Locate the 'Mode' key on the Halo XL450 and press it. The LCD screen will display four options:
Yards Measurement in Normal Distance: Generally, this mode will only display the Track of View Space in Yards, which will be an accurate distance from the target. 
Yards Measurement in AI Distance: This mode displays the Factual Space in yards. That is done by compensating for the direction of gradient or drop in the ground to calculate an accurate distance to the target.
Meters Measurement in Normal Distance: This mode also displays an accurate distance to the subject in Mark of Vision space in meters. 
Meters Measurement in AI Distance: This mode displays the True Distance in meters. By compensating for the rise and drop in the landscape it calculates an accurate distance from the target. 
You can learn more about our top pick at halo optics website.
Frequently asked questions
How to choose a rangefinder?
Rangefinders mostly concern themselves with distances. To know what rangefinder is suitable for you, you need to decipher what distance you will be mainly shooting at. Most rangefinders are associated with a number. For example, the "HALO XL450" or the "AOFAR HX-700N." These numbers indicate the rangefinder's maximum ranging capabilities on reflective targets. 
You can also choose a rangefinder based on the following factors:
Non-reflective targets distance
Your preferred sport: hunting/golf
Additional features i.e. angle, illuminated screen etc.
Who makes pursuit rangefinder?
The Pursuit® company makes the pursuit laser rangefinder. You can find this rangefinder in independent sports and outdoor recreational retailers such as Bass Pro and Cabela's.
How to build a laser rangefinder?
To build your own laser rangefinder, you require two lasers. After that, follow these steps:
Measure the distance
Adjust the distance measured between the subject on every lens barrel from the 'film plane' to the 'rangefinder plane'. 
Finally, note that the more distance there is between two lasers, the more accurate the focus will be. 
What is a tournament legal best golf rangefinder under 100 dollars?
Even though it depends upon the tournament community whether to allow golf rangefinders or not. The Gogogo Sport Vpro is legal to use in most tournaments. It has all the necessary features, such as:
700 yards reflective range
6x magnification
A switching slope button. 
These features will help you make a good shot and increase your chances of winning the game.