Hunting is a sport that requires composure and the right hunting gear. It is frustrating to calculate proper angel and distance/range when prey is nearby. Similarly, you don't want to miss the shot due to mismeasurement in distance or angle between you and your prey. Especially, if you are hunting with a bow instead of a gun. However, with one of the best bow hunting rangefinder, this can be avoided.
After carefully reviewing and analyzing a dozen products. We have concluded that the Halo XL450 is the best rangefinder for bow hunting overall.
10 Best Archery Rangefinders 2022
To find out more about bow hunter rangefinders, keep reading as we have given a detailed review about some of our top picks, after using and analyzing them carefully. This will allow you to make an educated purchase.

With bow hunting rangefinders you can get closer to your prey without physically moving forward. Furthermore, with their scan functionality, long-range detection, and accurate readings you can hit your target every time. However, finding the right rangefinders for bowhunting could prove to be challenging.
1- Halo XL450 Range Finder for Bow Hunting and 3D Archery
Best Overall
Key Specifications:
Angle compensated and accurate range.
Adjustable eye piece.
Premium product within affordable price.
Unlike, other companies that exaggerate the ranging capacity, the Halo XL 450 measured to 450 yards completely. To be on safe side, 350 yards is considered ideal for non reflective beating expensive brands. Also it is considered to be the best rangefinder for 3d archery given angle calculation with sufficient range in a reasonable price
Halo XL450 Range Finder is also among our top picks because it is a complete package of quality and cost value. In addition to being a smart choice, it contains all the best features. This model comes with powerful laser light that helps with getting a clear shot even if the weather is bad like rainy or hazy.
As the name indicates, it can provide clear vision up to 450 yards. This helps in giving fast as well as accurate readings. Moreover, it provides readings in both meters and yards, allowing it to become easy to use. This model also comes with a battery of CR2 and is functional for over a year, depending upon its use.
With its scan mode, you can scan for nearly all nearby targets at different yards, with just a click of a button. The body of this rangefinder is waterproof, which allows for a strong and non-slip grip in the rain. To give you a bright view of the surroundings, the lens provides up to 6x magnification. This is possible with the help of premium quality glass lenses.
Another added feature that it has is that the eyepiece is moveable, you can twist it to get a clearer view. This angle calculation is helpful and adds to the precision of the shot.
Pros
Cost-efficient

6X magnification

Waterproof

Angle calculation
Cons
Back object selection unavailable
One thing that can improve in this model is it lacks an option to select the back objects. However, it can be ignored, considering its other benefits. Some even call Halo XL450 Range Finder the ultimate hunters' rangefinder with angle because it gives an accurate estimation of the distance between you and your target. From small to large animals, it is good at detecting both.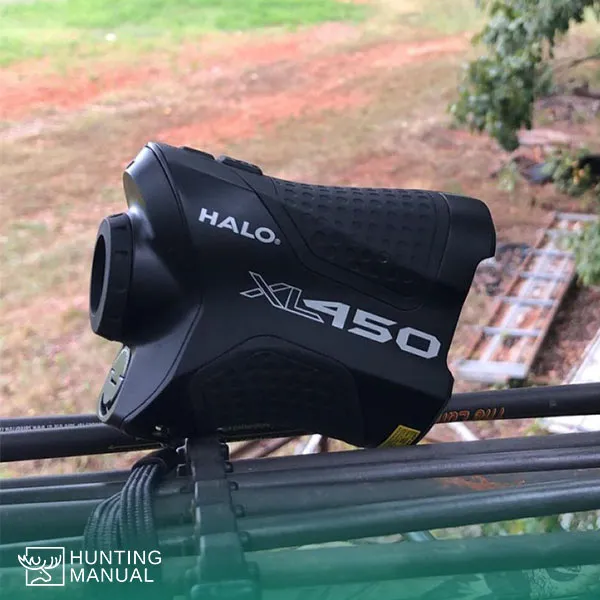 2- Bushnell Bone Collector Bow Hunting Rangefinder Cam 202208
Editor's Pick
Key Specifications:
Lightweight easy to handle without noise.
Best in daylight and legal hunting hours.
Made for bow hunters and archers specifically.
It ranges up to 600 yards for reflective targets, 300 yards for non reflective bigger targets (like trees) and 200 yards for small targets (animals) at distance.
With bow, this best hunting rangefinders you can get closer to your prey without physically moving forward. Furthermore, with their scan functionality, long-range detection, and accurate readings you can hit your target every time. However, finding the right rangefinders for bowhunting could prove to be challenging.
Bushnell Laser Rangefinder is among our top picks because of its diverse and valuable features. Its in-view LCD display allows a clear view of the target from about 10 yards up to 600 yards. You can plan your shot accurately with the 4x 21mm magnification and objective lens of this model. It also has a digital laser option that helps you calculate the distance instantaneously.
By testing, we figured out that the LCD provides a thorough and bright view of surroundings. The high-definition view of the screen also supports vision in the dark. The battery life sign is always on display on the viewscreen. Thus, you can always know when you are going to run out of battery.
One of the most prominent things that can make it a good choice in the wild is its real tree Xtra camouflage. With this cover, blends into the surroundings and is not prominent to others. Not only does this provide camouflage but it also makes it water-resistant, a perfect choice for a rainy environment. You cannot trust the weather, so it is better to be prepared.
The quality of this product is unmatchable when compared with other bow rangefinders. You can easily carry it around based on your convenience. Even with so many useful features, it is lacking some things. The one thing that this model is missing is the angle calculation feature.
Pros
In-view LCD display

Digital laser

Calculate the distance efficiently

Water-resistant

Durable
However, the pros outweigh the cons for the Bushnell Laser Rangefinder Bone Collector Cam 202208. This is the perfect choice for passionate bow hunters. This Bushnell archery rangefinder can prove as a perfect companion for you in the wild.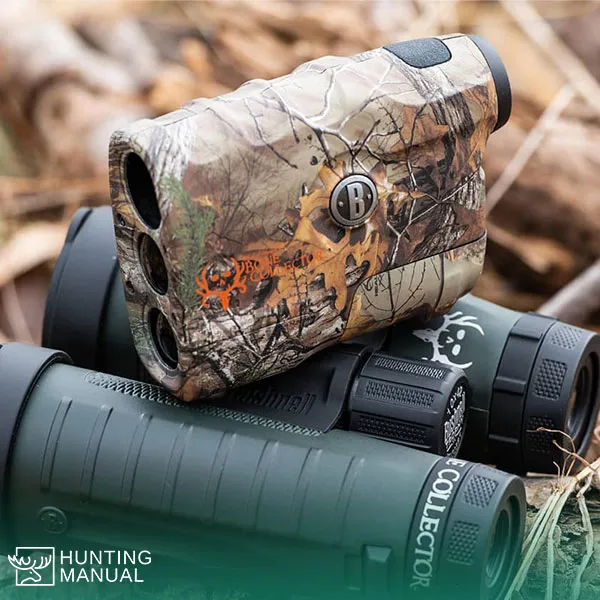 3- TecTecTec Pro Wild Hunting Rangefinder
Best For Money
Key Specifications:
Best choice for price
Scan mode for quick reading on multiple targets at once
2 years warranty and lifetime customer support
Our tests conclude that TecTecTec Pro Wild ranges easily up to 500+ yards for reflective targets and 400+ yards for non reflective targets.
TecTecTec ProWild Hunting model is one of our favourites and it was fun testing it out. It has a longish list of qualities that are all helpful when it comes to hunting. Despite being of premium quality, it is highly affordable as well. It provides a good long-range screen view, albeit 540 yards is not that long but it gets the job done.
An advanced feature of this rangefinder is its lens and the display screen. The view screen on the other hand displays all necessary alerts including the battery percentage, distance, and speed of the target, and also provides continuous measurements. This keeps you aware at all times and is easy to read too.
It is especially known for its speed to scan the surroundings and falls under the advanced hunt technology. It weighs next to nothing, just shy of 200 grams, and thus is easy to travel with. Not only is its body durable and water-resistant but is dust resistant as well. A perfect portable package for your hunt in the woods.
Another thing that makes it the perfect package is that it comes with a pack of add-ons as well. This additional package includes things like an extra CR2 battery, a strap to attach to the rangefinder, a quick guide on how to use it correctly, a cleaning cloth, and a pouch to keep all this in.
Pros
Range capacity up to 540 yards

Waterproof and dust resistant

Great Add-ons package

1 year warranty
Cons
No option to select back object
The only thing missing out in this complete package is the rechargeable battery option and the angle calculation feature. But they sure can be ignored when we take a look at all the good things about this TecTecTec ProWild Hunting Rangefinder. To date, we consider it to be one of the best rangefinders for bowhunting in the market.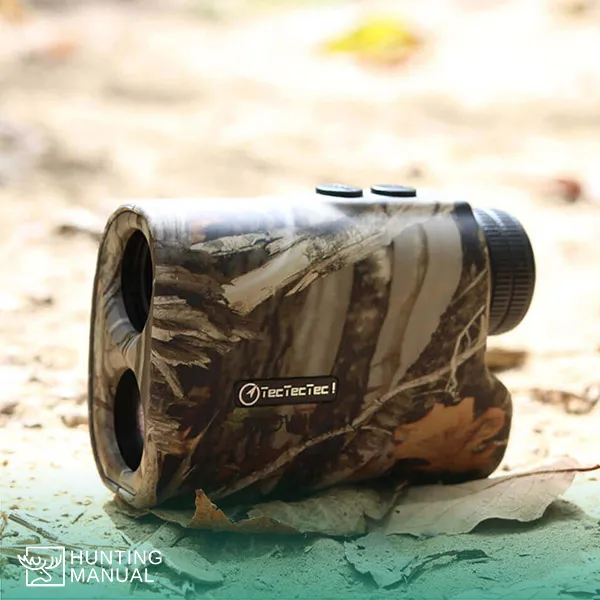 4- Gogogo Sport Vpro Archery and Golf Rangefinder
Key Specifications:
Auto angle measurement
Excellent for short to medium range hunting with golfing.
1 year warranty
A win for hunters who do golfing as well. The longest it can range is 650 yards, for pin seek up to 150 yards and for flag lock up to 300 yards. For non reflective objects, great up to 200 yards.
Gogogo Sport Vpro Laser hunting rangefinder is a good product for newbie hunting enthusiasts. With its 6x clear and bright magnification, it makes a good tool to look for targets. Even though its scanning range is up to 650 yards, it also has multiple and quick scan modes. It allows you to see and measure your target clearly at 3 different distances with 3 different modes.
The adjustable eyepiece makes it easy to use by everyone. With its accurate and efficient measurement speed of about 20-300km/h, you can spot the target clearly. It is very user-friendly as well. There is nothing technical about this model, it also weighs about 200 grams, which makes it easy to carry around.
It also comes with different add-ons like a strap to hang it around your neck, a small waterproof pouch, and a microfiber cleaning cloth as well. This model is sold by a renowned brand, thus, it also has reliable customer service after you have bought it. They also provide a one-year warranty because they are confident about the quality of their product.
Pros
Range up to 650 yards

6X magnification

Great after purchase customer service

Valuable Add-ons package
Cons
Laser interfere giving short reading sometimes

No option to select back object
The one problem with this model is its laser. It is not reliable when it is raining or the weather is a little hazy. Since you can never trust the weather of a forest, one minute it is sunny the other it could be raining. In that case, this rangefinder can cause a problem. But other than that this is a good model and you can think about buying this bowhunter rangefinder for other sports events as well.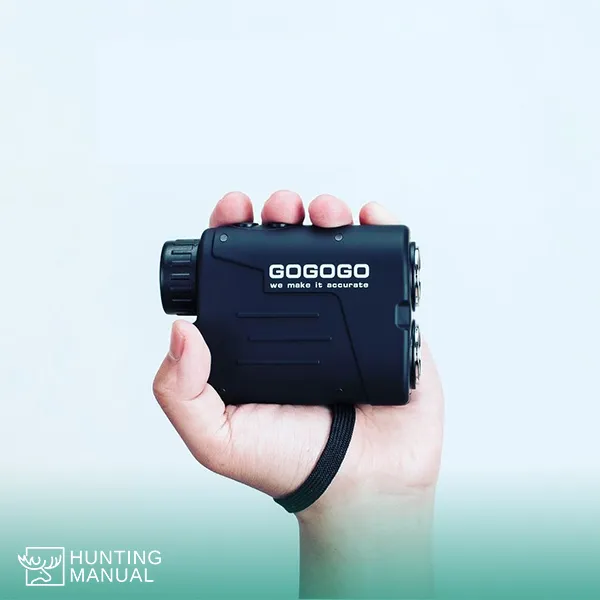 5- TIDEWE Hunting Rangefinder with Rechargeable Battery
Key Specifications:
Stands out with 750 MAH rechargeable Lithium battery as this feature is rarely available in rangefinders
Scan mode and switching between yards and meters.
Accuracy within 1 yard and 2 readings in one second.
An ergonomically built rangefinder. The claim of 1000 yards is overdo as we found it ranges up to 600-700 yards for reflective objects and 400 yards for animals and dark targets.
This rangefinder comes in real tree camo color, making it perfect for blending in while hunting. Its screen view is multi-purpose as it displays both vertical and horizontal distances. Additionally, it also showcases the speed of your target. All this will facilitate you in making the perfect shot with your bow.
The advanced technology it comes with allows perfect measurement and makes it a best rangefinder for 1000 yards. This long-range makes it a good tool when open fields. With it being portable and small, it will not become a hindrance during your hunt. Along with being weather-resistant, it is composed of high-end quality stuff. This will allow it to endure a drop on the mountains or any place without breaking.
After trying and testing, we drew a conclusion that the ergonomic design makes it easy to use. Another excellent feature that this rangefinder has is that it has a 750MAH rechargeable battery that is made of lithium ions. Once fully charged it can measure 20,000 times. Furthermore, with its built-in screen view, the results are bright and clear views.
Durable, easy-to-use, and user-friendly are some of the most prominent features. The only thing this model lacks is the angle correction feature. With that, this would have been a complete package. But we cannot focus on that one lacking point. Some experts do not even need the angle correction feature.
Pros
Rechargeable battery

Real tree camo color

IP54 water proof housing

Displays both horizontal and vertical views

Range capacity to 1000 yards
Cons
No angle correction feature
Thus, it still is a good choice if you are looking for easy-to-use bow hunting range finders to take with you on your hunt. It is better to focus on all the other useful features this TIDEWE Hunting Rangefinder with Rechargeable Battery has. It is bound to help you make a good shot and even help you blend in with its camouflage look.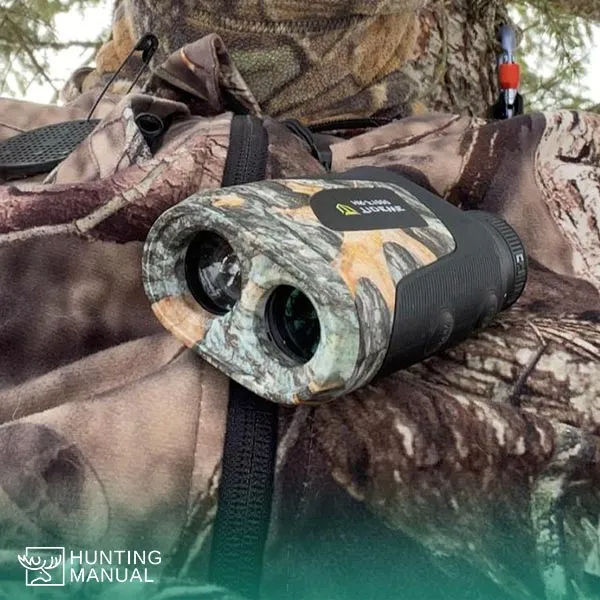 6- BIJIA Golf and Archery Rangefinder
Key Specifications:
Made for hunting as well as golf
Angle correction feature made it equally suitable for medium range rifle hunting, archery or bow hunting and golfing
2 readings in one second
A compact and portable range finder with maximum range of 650 yards, pin seek and flag lock up to 150 yards. It calculates to 300 yards and 150 yards for large and small animals respectively, with ±1 yard accuracy
This is a multi-function model and has some very interesting features. It has all the necessary features that are essential to take a good shot including slope correction, angle correction, and calculating the speed of the target. Furthermore, the things facilitating its accuracies like 650-yard ranges, 45-degree accuracy, and accurate measurement of +/- 1 yard are also available with this model.
Its lightweight and compactness makes it easy to carry around and helps you find your target easily. Changing between meter and yards takes about 2 seconds, all you have to do is press the lengthy mode button. It also has a laser option which makes things easier. This is a cost-effective product as well.
A few things that we found missing in this model include the slippery plastic case as it is not waterproof, things can get worse when it rains. The range is not long enough for distant objects. Even though the screen displays multi-functions, the visibility through that screen is not very clear. Furthermore, it does have a back-target priority.
However, even with a few things lacking, this is a very good rangefinder. Especially if you are hunting in the low-range areas. Like you are more focused on nearby targets instead of the faraway ones. Furthermore, when bunting with a bow, you need to stay within 30-60 yards to get a clear kill shot and that can be achieved with this rangefinder.
Pros
650 yards range

Cost effective option

Continuous scan

Can detect speed of the target
Cons
Plastic casing

Visibility issue with no priority for back target
Do consider this as an option when you are out in the market for a rangefinder for bow hunting. Preferably if you are looking for best budget rangefinder because even with a few things missing, you can still have a good experience with it. Moreover, if you are an experienced hunter, you might not even need all these high-tech features. Only the speed detection and the 650 yards range features would be enough for you.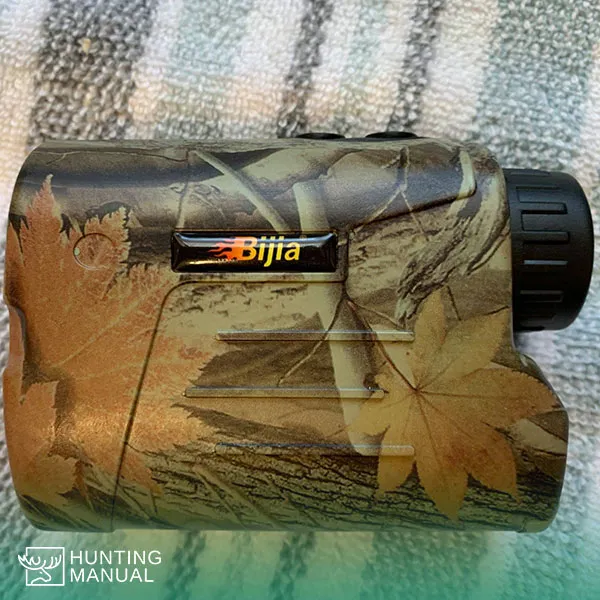 7- Vortex Optics Impact 1000 Arc Rangefinder
Top Pick
Key Specifications:
Red illuminated display for better low light vision
Built for archer, bow hunters and rifle shooters.
Water and shock proof built for extreme outdoor environment
Lifetime warranty and support as Vortex stands behind the product.
A compact angle compensated (stated HCD=Horizontal Component Distance) device and is 100% accurate on extreme slope and mild slope up to 400 yards and 800 yards, respectively.
Vortex Optics Impact Laser rangefinder can provide a range target to as low as 5 yards and as far as 1000 yards. This way you can accurately look for a target when it gets up and personal or stretches far away. This device also has a magnification of 6x which facilitates an accurate shot of the target.
It also has an eye relief that cannot be adjusted but the diopter in it can reduce strain on the eyes. This feature is particularly useful for those who have differences in their eyesight. This is an example of one of the most useful range finders with arc. As it pinpoints the speed of the target with precision.
The HCD mode displays a built-in angle compensation. It also displays the battery life all the time, so you can be aware when it needs changing. This way you will not be disappointed in the middle of a hunt. The line of sight (LOS) is always displayed on the HCD screen, this helps in slope correction which is very helpful if you are taking a shot from a higher ground and your target is below you. Like, if you are shooting from a hill.
This is a very user-friendly model, with an easy-to-use menu. It works better at low operating temperatures. A scan feature is also a good option in this model. It helps you lock on a still as well as moving target easily and also helps you scan your surroundings instantaneously. The modes can be displayed in both yards and meters.
Pros
Compact structure

Easy scan modes

Built in angle compensation

Easy to understand menus
This model just lacks 2 things, firstly it cannot work as efficiently at higher temperatures as it can at low temperatures. Secondly, there is no zoom function. However, these cons are not worth pulling away from the attention from the several pros this Vortex Optics Impact Laser Rangefinder has to provide. Without a zoom function, it still gives a clear display. Moreover, it also comes with a carrying case.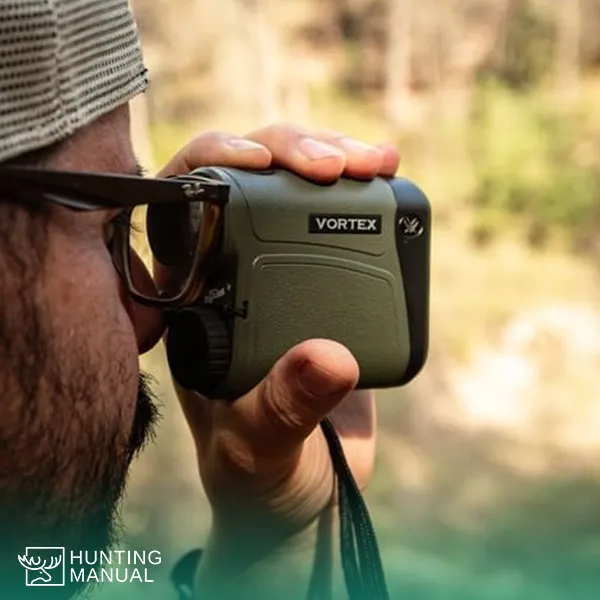 8- Leupold Laser Rangefinders with angle
Long Range + Archery
Key Specifications:
A long range hunting device for snipers.
Red OLED with improved night vision
Aluminum fog proof and water proof housing
Lifetime warranty and support as Vortex stands behind the product.
An rangefinder for expert hunters with superior ballistics also known as TBR-W (i.e. angle calculation over long distance).
Leupold 2800 is equally suitable for archers, bow hunters and snipers ranging from 7 yards to 2800 yards for reflective objects. For trees and game animals, it ranges perfectly over 1000 yards.
Leupold TBR Laser rangefinder is among our premium choices because this is one high-powered rangefinders that can be bought with just a little extra money. Not only is this model water-resistant but the lens is fog-proof as well because the lenses have a multicoated design. The continuous and instantaneous scan mode puts forward an up-to-date and accurate position of your target.
It has all the necessary features that make finding the target easy, these features include; a target range of 1600 yards, an eye relief of 17.5 mm, a 7x magnification, and an OLED display. These have both short and long-distance-range options and are accurate in both as well.
The outer covering of this type of Leupold laser range finders is made of polymerized stuff and includes a rubberized armor that facilitates a secured grip. It has a +/- 1-yard accuracy rate and can reflect on a target that is 1800 yards away to 2800 yards away as well. It also has an adjustable eyepiece as well as good compensation settings.
Its lightweight and compact structure make it easy to carry around. The battery in this model is rechargeable and is of CR2 nature. And it is overall a durable and good option, as compared to the others in the market.
Pros
1600 yards range

Angle calculation available

Rubber non slip ergonomic grip

Adjustable eyepiece
Cons
High priced due to long range and advanced features
The only problem with this model is that it is an expensive purchase. But if we see it from another angle, paying for all these premium quality features the price is worth it. With this amazing Leupold TBR Laser Rangefinder make the best of your hunting and face no issues.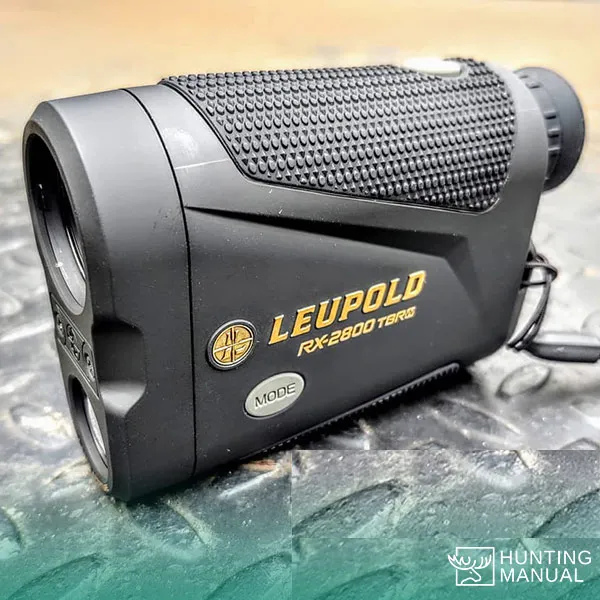 9- AOFAR HX-700N Rangefinder for Archers and Bow Hunters
Key Specifications:
Two years warranty
Portable and cost effective device for golf and bow hunters/archers
Accuracy of ±1 yard
Just like most rangefinders, 700 yards is overdo and will work only in perfect weather and light conditions that too for reflective targets. For deer hunting, it will range to 300 yards and for larger non reflective target up to 450 yards max.
AOFAR HX-700N Hunting Range Finder is a good option if you are planning to go hunting in rainy weather or a foggy environment because not only is it waterproof but its functionality is not disturbed in an unsuitable climate. If this device remains unused for about 8-10 seconds, it turns off automatically, saving battery life.
It has 4 modes, which are all helpful in hunting your target smoothly. These modes include a 700-yard range, fog, quick scan, and measuring the speed of the target. You can seamlessly switch between the modes. It also has 6x magnification.
Apart from being durable, it is lightweight as well. This is a good tool for hunting, especially when hunting with a bow. This rangefinder comes with a whole package of things like a carrying bag, carabiner, lanyard, microfiber cleaning cloth, CR2 battery, and a users' manual. Overall it is a complete package and a good rangefinder for bow hunting.
Now for the thing that we do not like about this model is the dim view screen. The fog mode is helpful but it cannot be useful in long-range hunting. Furthermore, there is no angle calculation setting in it as well. These are just a few cons this model has.
Pros
Waterproof IPX4 housing

Four different mode adjustments

Durable and lightweight

Fog mode with enhanced visibility
Cons
Angle calculation not available
Nevertheless, the AOFAR HX-700N Hunting Range Finder is a good choice and is among our top 10 picks. It is still way better than most of the other rangefinders available today. When considering purchasing rangefinders for your hunting, do think about this model as well, it is cost-effective too.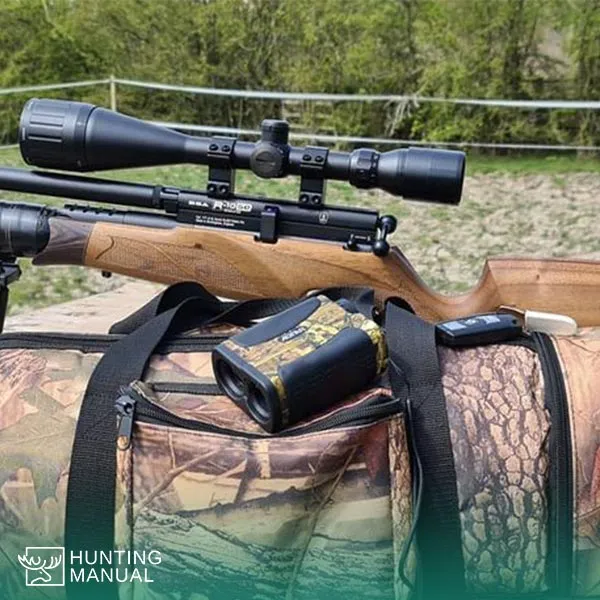 10- Nikon Bow Hunting Laser Rangefinder prostaff 1000i
Key Specifications:
Angle calculation
Excellent for short to medium range hunting with golfing.
5 year warranty
A light weight and budget friendly rangefinder. It will target any non reflective object at 600 yards and works even beyond for reflective targets.
This model comes with the Nikon ID technology that means it has both incline and decline features. This helps in estimating the distance to the target more accurately, even if the shooting angles need to be inclined or declined. This increases the accuracy of both vertical and horizontal angles.
Not just this, it also has a dual-target mode that allows you to choose between both of them. You can switch between these 2 modes simply by holding 2 buttons for 2 seconds. The engineer of this model had a hunter enthusiast in mind because it has almost all the necessary key features that make it the best.
Apart from being waterproof, good for unexpected rain, it also has a long eye relief feature. About 20 mm eye relief viewer makes it easy to spot on your target easily. It is very user-friendly as it takes only a few seconds to do a scan of the perimeter, which helps you pick out your target and the nearby landscape instantaneously.
Among so many different features, what we did not like about it was the expensive price tag it came with. Furthermore, the laser light does not work so well in the case of a foggy environment. Thus, it has poor fog resistance which can cut back the accuracy of the range measurement by 100 yards.
Pros
Front and back target selection

8 second continued scan

Incline and decline function

2 years warranty
Cons
Laser problem in fog sometimes

A little pricey
However, apart from these 2 things that are lacking, it is a complete package. The Nikon 16224 Arrow ID 3000 Bow Hunting Laser Rangefinder is a great tool to take with you while you are out hunting. Because this Nikon bow hunting rangefinder is tailor-made to do so.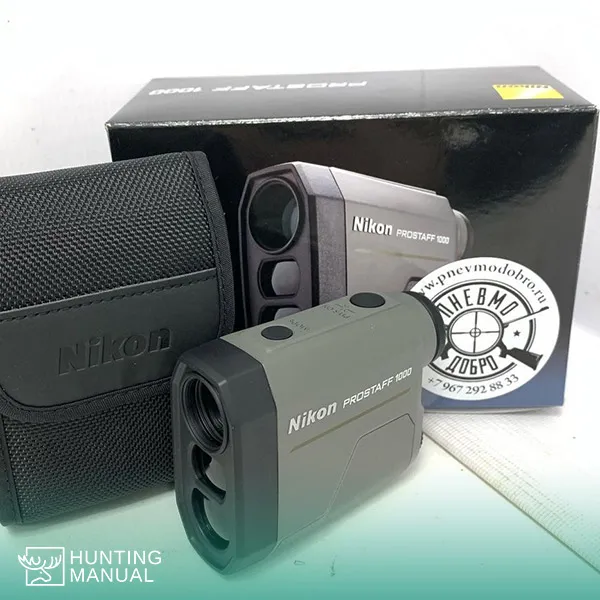 Buyer's Guide for Archery & Bow Hunting Rangefinders
When you are in the market to look for the best rangefinder for bow hunting, there are a few things you need to check. The following is a list of essential features that you must focus on: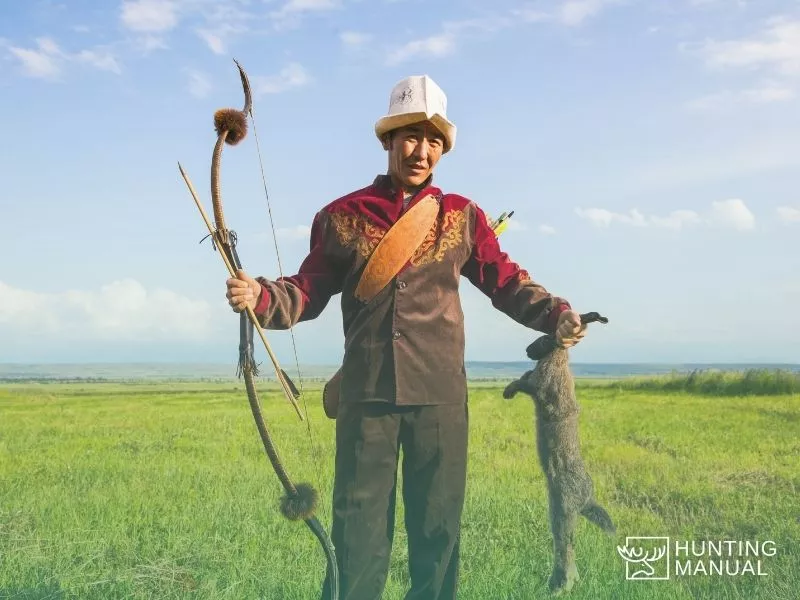 Magnification
This is an important feature to be present in a rangefinder, especially the arc rangefinders. It helps in the initial spotting of the target. You do not have to look for very high magnifications. 5x or 6x must be enough to get a good look at the target, without image distortion.
Scan modes
A quick scan of the area gives you an idea of what is in front of you. It also helps you analyze the slopes between you and your target. It is usually present in the expensive rangefinders. Nevertheless, it is an important feature for bow hunting.
Angle compensation
Angle calculation settings are a must when it comes to choosing rangefinders for bowhunting and archery. This gives you the perfect estimation for a kill shot, after calculating the distance and angle of the target. Because sometimes you are on ground level and the target is on an upper level. Shooting above you needs skills and a perfect angle.
Range (yards)
Some prefer a long-range while some prefer short range, though the ideal shooting range is about 500 yards. So when you are in the market, choose a rangefinder that approximately has about 600-700 yards to be on the safe side.
Bow hunters usually don't need long range units, but it is great to be on safe side. I collected and analyzed data with the help of bow and archery experts from Bowmastery.com to find suitable ranges. For that we used ground blinds and tree stands in varying terrain and gravity. As per my experience, 500 yards non reflective range units are efficient, budget and wider usability wise.
Durability and craftsmanship
This is also an important feature because going hunting can be a little rough. Breaking your rangefinder on a hunt can be frustrating. You might drop it from a height or bang it in a tree, unintentionally so it is better to look for something durable and excellent material.
Water Resistance
The weather of a forest or similar hunting grounds cannot be trusted. One minute it might be sunny, the other it might start raining. Choosing a rangefinder with waterproof or at least water resistance qualities is a safety measure. Moreover, with unexpected puddles, it is better to make a wise choice.
Target sensitivity and priority
Close target sensitivity is how a rangefinder can spot the prey from a short distance like about 10 yards. While far target priority includes focusing on 2 targets at once. In this, the priority target is the one nearest to you. Having a rangefinder with these features could be helpful, especially when hunting in an open field.
Ergonomic Design
For archers and bow hunters especially on tree stand, a one hand usable, ergonomically designed monocular rangefinder is necessary for quick range measurement. Therefore, rangefinders built equally useful for left and right handed person are way better in wild.
Noise Free
The rangefinder along with all its acessories should be noise free. Mostly, the button of a rangefinder or velcro on cover create noise which might startle the hunt in close proximity especially for bow hunters. Avoid hard buttons and velcro in wild.
Others
There are other features present in a rangefinder as well, like a fog-resistant lens, night mode, speed calculation, back target priority, laser light, horizontal and vertical views, etc. Though they are not as essential as the ones mentioned above, it is better to consider all factors when buying a rangefinder. It is an important hunting gear to have with you when you go hunting, thus, make a wise choice.
Conclusion
To sum it all up, each rangefinder is good in its own way. Though we stand by our top picks for the best rangefinder for bow hunting, Halo XL450 Range Finder, is the first pick because of cost-effectiveness and best rangefinder with angle compensation.
Then followed by this is Bushnell Laser Rangefinder Bone Collector Cam 202208 because of its durability, measuring the distance accurately, and clear display. Our 3rd pick also deserves a mention, the TecTecTec ProWild Hunting Rangefinder is in a lead of its own with all its special features.
Hopefully, with the above-provided guidance, you will be able to choose the best rangefinder for yourself. Now you can easily compare your needs with the features and pros that we have mentioned here and make an educated choice. We hope to have helped you to the best of our abilities and influenced your choice in a positive manner.
Frequently Asked Questions (FAQs)
Is a rangefinder necessary for bow hunting?
After testing out various hunting tools in the field, we have come to the conclusion that a rangefinder is definitely a necessity for bow hunting. Accurate estimation of distance, angle and speed of the target are all necessary for a good shot at your target.
Shooting without a good estimate usually results in missed shots, injured animal and disappointments. Thus, it is necessary to use a best rangefinder for bow hunting.
How accurate are rangefinders?
The effective ranges of rangefinder vary according to surfaces. Although, the best archery rangefinder is perfectly accurate till about 500 yards.
What is a good rangefinder for bow hunting?
According to our research, Halo XL450 Range Finder for Bow Hunting is best because of its more than enough range, angle calculation, price and clear display.
How far can you shoot a deer with a compound bow?
A compound bow is also termed the modern bow type. It has more power and accuracy as compared to a traditional bow. This type of bow also accommodates accessories like a stabilizer, a scope, etc. The effective range for shooting with a compound bow is from 30 to 60 yards and it requires less upper body strength. However, mostly stay in between the 30 to 40 yards range.
What is the best rangefinder for 3d archery?
The best rangefinders for archery hunting in 3D mode is the latest Vortex Optics Impact Laser Rangefinders. It has superior angle compensation, which is necessary to get a perfect shot. Moreover, it also has red illuminated OLED display perfect for night or low light.