As exciting as shooting is, using under-powered optics can be a real pain in the you know what. Constantly peering and squinting can not only cause strain to your eyes but also make your hunting or shooting experience quite unpleasant. Fortunately, the answer to this age old problem is investing in a best rangefinder for long range shooting. After a series of careful field assessments of best tactical rangefinders, we have compiled a list. 
Our significant testing and analysis in Texas and Wyoming shooting ranges revealed that overall, the best rangefinder for long range shooting is the Leupold RX 2800.
37+ Units
Reviewed
10 Best Units
Considered
330+ Hours
of Research
RX 2800 is popular as best long range rangefinder within the hunting community, as it is frequently acclaimed by Jim Shockey, who was dubbed by Forbes as the "world's top big game hunter." 
10 Best Long Range Rangefinders – Tactical Shooting
To take down any game from a distance, whether it is a buck, elk, a boar, or a rabbit requires sharp precision. Thus, through a strong evaluation and selecting process we have compiled a list of the highest quality rangefinders for long range shooting. Each of these tactical rangefinders is discussed in detail by analyzing their features and weighing their pros and cons so that you can find the rangefinder that is best suited for you and your sport.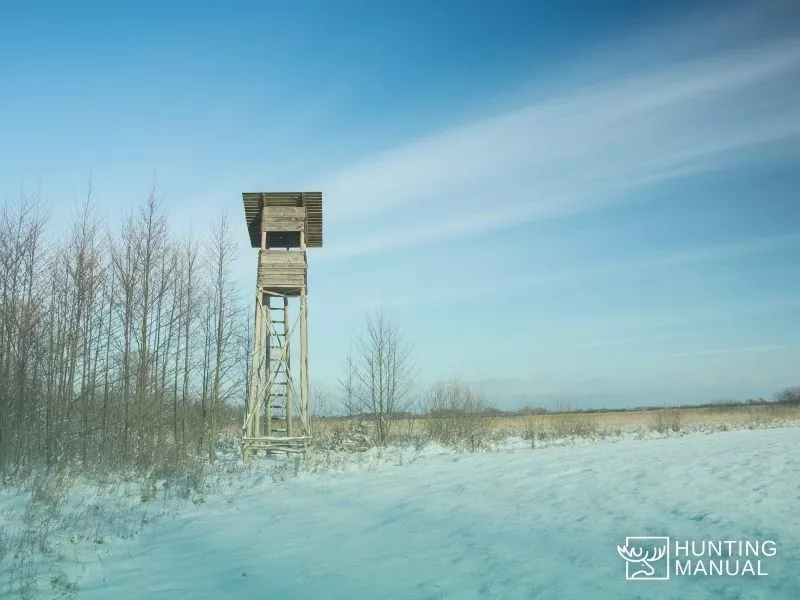 Leupold RX 2800 – Best Rangefinder for Long Range Shooting
TOP PICK
Leupold is a renowned brand in the hunting community. It specializes in products and equipment for the great outdoors. The highlight of the Leupold RX-2800 is how far its range is, displaying a maximum range of 2,800 yards with great clarity. Thus, earning its spot as our top pick for the best rangefinder for long range shooting. 
The accuracy of this rangefinder is commendable. With 7x magnification and precision of +/- 0.5 yards, big or small game will be no problem with the Leupold RX-2800. Its clarity is further assisted by its Alpha IQ digital technology which provides quick results in the blink of an eye.
This rangefinder is also equipped with shot angle compensation which is ideal for long range shooting. It provides further accuracy for horizontal distances by considering uphill and downhill shots. Furthermore, its Scan Mode ensures that you receive continuous updates on your target as you scan an area.
Paired with the True Ballistic Range technology it takes into account the angle of your hit, if the target is at an incline or decline, along with the ballistics information. Its Red OLED display illustrates exceptionally bright and clear results, which is especially helpful on dark targets.
The only problem which we experienced with this rangefinder was that its battery drains quite fast, however, so if you're headed out for the day (or a multi-day trip), plan on bringing extra batteries (size CR2).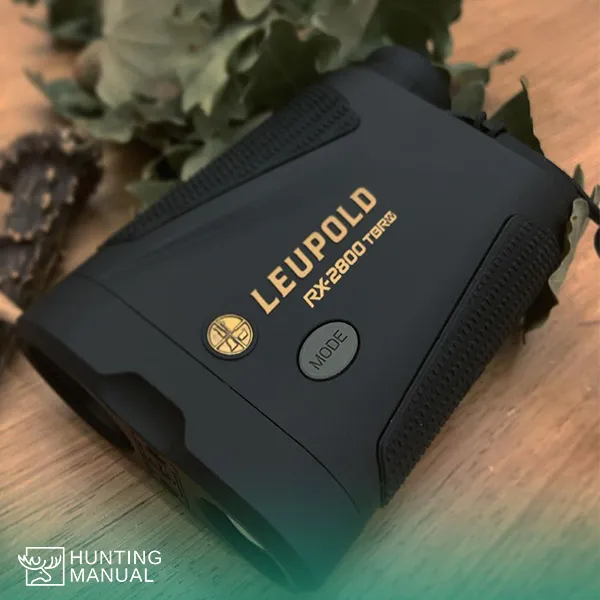 Overall, this rangefinder is excellent for long range shooting and we feel it's the best tactical rangefinder as it sports the latest technology and features.
Pros
Easy-to-read OLED display
Water and fog proof
Alpha IQ digital technology 
TBR technology
Sig Sauer Kilo 2200 BDX – Best Long Range Rangefinder 2022
EDITOR'S PICK
The Kilo 2200 is one of the most renowned rangefinders for shooting. You'll find it everywhere during hunting season. It has an excellent range measuring up to 3,400 yards with 7x magnification. Additionally, it is also engineered with hi-tech unique features. This makes it one of the best rangefinders for target shooting. 
It has built-in light wave digital signal processing that allows for accurate and quick results. This is due to its fast refresh rate of 4 times per second. It results in reducing false positives when finding weak or distant targets. This tactical rangefinder unit accurately measures the shooting target due to its AMR technology. It corrects the angle of the range if the target is at an inclining or declining angle. Additionally, the rangefinder also provides eye relief via its Lumatic Display.
The display employs an advanced OLED display. It ensures accuracy in targeting circles and displays ballistic information. It also allows the brightness to automatically adjust in bright sunlight, dusk or dawn, or snowy weather.
The Kilo 2200 also comes equipped with the BDX Ballistic Data Xchange. It pairs your rangefinder with your riflescope or phone app via Bluetooth. It has a binocular eyecup and an adjustable diopter.
The only disadvantage to this rangefinder is that it is not 100% accurate at 1,600 yards. But it does have a +/- 1-yard accuracy measure.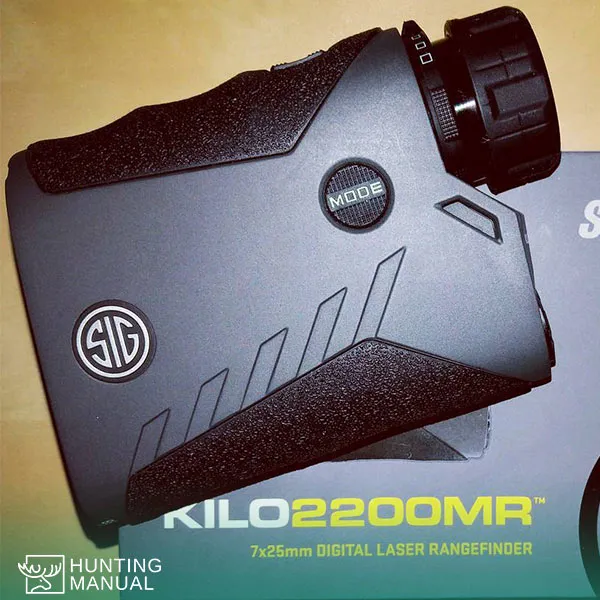 In conclusion, the Kilo 2200 BDX is one of the finest long shooting rangefinders that you can invest in for its pro-quality performance that can be used in all weather and light conditions.
Pros
DSP feature
AMR technology
Free downloadable SIG BDX App for smartphone
Cons
Not 100% accurate at 1600 yards
Vortex Optics Laser – Best Long Range Hunting Rangefinder
EDITOR'S PICK
With the ability to measure a maximum of 1,800 yards, the Vortex Optics Laser is the ideal long rangefinder for shooting purposes. With 6x magnification and accuracy of +/- 1 yard, this rangefinder delivers precision in performance and is also equipped with features that further enhance it. 
The primary mode of this rangefinder is Horizontal Component Distance (HCD) that allows the horizontal yardage to be corrected for shot angle. This is ideal for shooting on level ground, or with grounds that have mild slopes (15-30 degrees). Moreover, it also has the Line of Sight (LOS) mode which is for rifle shooters who use ballistic apps and programs to shoot further than 500 yards for slope correcting purposes. It also enhances precision by calculating long distances and high-angle shots.
With the scanning mode, no prey can go undetected. It can be used on moving or still objects in the range in either HCD or LOS mode. It can target as many objects as you would like without having to stop your readings. The tactical rangefinder also has 3 brightness settings that can be useful when it is dark or in a dim environment. The exterior of the Vortex is covered in textured rubber which makes it easier to grip and hold.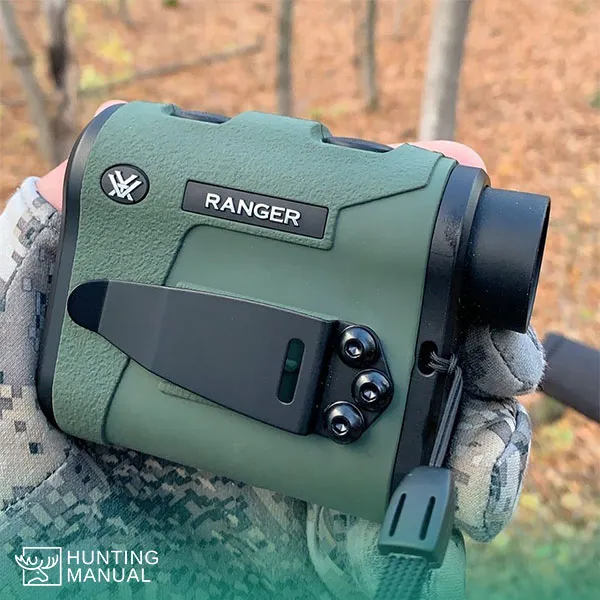 The only downside that we experienced with this rangefinder was that the eye relief it provided was inconsistent. Thus, you might have to train your eyes to get used to it.
Overall, the Vortex is the best rangefinder for long range shooting as it meets the distance requirement and is engineered with specific features like HCD and LOS just for rifle shooting.
Pros
HCD/LOS modes
Continuous scanning
Waterproof
Bushnell Prime 1700 – Best Rangefinder for Long Range Hunting
EDITOR'S PICK
With the ability to measure 10 to 1700 yards, the Bushnell's range is not just extensive. But, the power it holds is impressive enough to deliver a spot-on hit. It has Class I laser technology with less than 1mW power output.  This rangefinder can scan the terrain. It can also target objects via Scan mode and provide instant results within seconds due to its fast-refreshing rate of 4 times per second. Its precision is further enhanced by its 24mm Objective lens. The 6x magnification displays sharp and bright results despite the zoom-in. 
Additionally, if you or your target is uphill or downhill, this long rangefinder's Angle Range Compensation (ARC) technology will accurately measure the angle of your range. It can rectify any drop or rise that comes within your range. 
It also has a Brush-and-Bullseye Mode that allows you to focus solely on your shooting target. Meanwhile, it erases all other objects in the foreground and background that can disrupt your focus. We found its 2-lens system and 2x light transmission exceptionally useful in the dark or low light while shooting as it was able to enhance the brightness by two times.
Furthermore, the design of the Bushnell Prime is ergonomic which was very comfortable to hold and use. Its exterior and lens have an EXO barrier that makes the rangefinder waterproof, dust and fog proof, and protects it from debris.
The downside with this rangefinder is that while it says it requires CR2 batteries, it needs a 9V battery. This can be slightly annoying but doesn't affect its performance.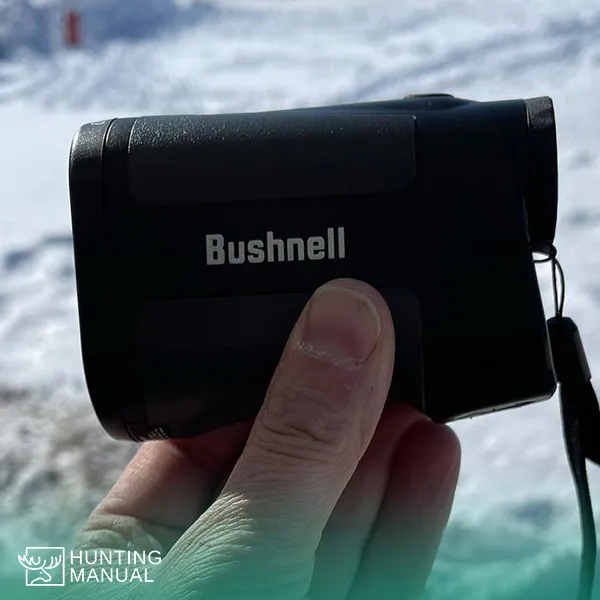 In conclusion, the Bushnell is versatile and is one of the best high-quality shooting rangefinders and is the ideal choice if you reside in an area with unexpected weather conditions.
Pros
Powerful laser diode
Exo barrier
All-glass optical system
Cons
Inconsistent battery requirement
Halo Laser XLR 2000 – Best Shooting Rangefinder
EDITOR'S PICK
Renowned for its high quality performance at an affordable price range, the Halo XLR 2000 can measure a reflective range of 2000 yards with an accuracy of +/- 1 yard, assisted by its 6x magnification. Despite the zoom, the rangefinder has crystal clear optics that allow you to easily view and focus on the target. Moreover, while its reflective range is 2000 yards, its nonreflective range for detecting deer lies at 800 yards
The Halo XLR 2000 features an Angle Intelligence (AI) system that ensures even further accurate measurements for a horizontal distance. The AI can take the target's incline or decline into account while providing you with the precise distance and angle. Furthermore, it also has a Scan Mode that allows you to continuously scan your terrain, and analyze different readings while locking multiple targets at different distances. 
The additional feature that it sports is Auto acquisition. It makes sure that the shooter can receive the precise measurement of the range as quickly as possible for a better shooting experience. The build of the rangefinder is sleek and durable. It is also waterproof and has an adjustable brightness feature that allows you to view the screen during dusk or dawn in low light conditions.
The only negative that we can point out of this rangefinder is that it does not have an autofocus feature. However, you can adjust the focus to your preference via the eyepiece.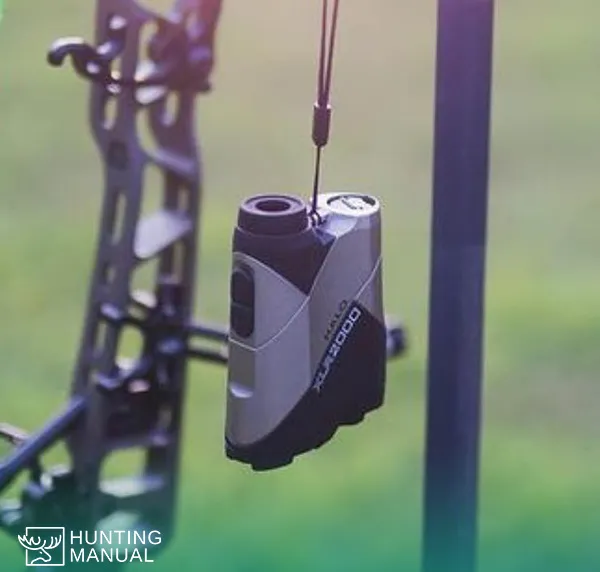 Overall, it is a commendable rangefinder for hunting and is exactly what you need for precise measurements for an accurate hit to your prey.
Pros
AI technology
Scan mode 
Auto acquisition
Ergonomic design
ATN Laser Ballistics – Best Rangefinder for Shooting
EDITOR'S PICK
ATN laser rangefinder is one of the best rangefinder for long range shooting available today. This rangefinder is made with hunters and riflemen in mind. Because, it can efficiently calculate the distance to the target, even if it is 1,000 yards away, up to 1,640 yards to be precise. With 6x magnification, the view of the target is quite clear and bright.
The feature that makes this rangefinder unique and one of its kind is its smart technology, like Bluetooth connection. You can connect it to your smartphone or tablet with the help of a smart app and Bluetooth. This allows you to get an accurate reading of the complicated calculations within 15 seconds only.
Equipped with a class 1 laser, this ATN smart rangefinder has high-quality night vision as well. It has innovative optics which is helpful for hunting enthusiasts and competitive target shooters. Additional features include fog mode, speed mode, and scan mode. All of which contribute to its efficient working.
The only problem we found with this rangefinder was its cost. However, considering all the features and the ATN technology, the price is worth it. Its battery life is also worth mentioning as it can complete about 10,000 cycles. The lens is also fully multicoated and has an adjustable diopter as well.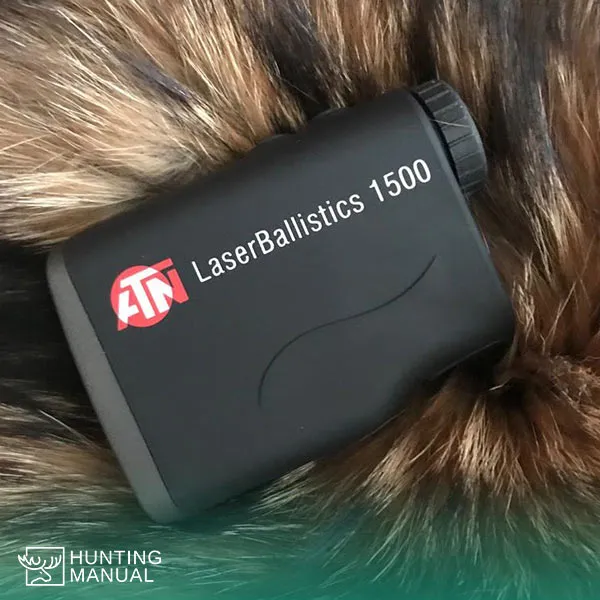 So, if you are an avid hunter or a rifleman, then this ATN laser ballistics rangefinder is the one for you. Moreover, its ballistic feature is what makes this rangefinder one of the best. It also comes with a 2-years warranty and they have excellent customer service as well. According to atn, the product is under export control laws. So be sure to check out any reginal restrictions beyond USA borders.
Pros
1,640 yards reflective range
Advanced features
Waterproof
Smart Ballistic Calculator with Bluetooth
Sig Sauer 2400 ABS Digital Ballistic – Best Rangefinder for Target Shooting
EDITOR'S PICK
The Sig Sauer Digital Ballistic Laser Rangefinder is a brilliant ballistic rangefinder. The reason for its fame is the SpectraCoat anti-reflection coating. This aids it in providing exceptional optical clarity. Not to mention, this best long range rangefinder offers a high-level light transmission.
Another worthy feature of this rangefinder is its AB ballistics engine. This makes it the most accurate ballistic solver on the market. Moreover, it has integrated environmental sensors including temperature, pressure, and humidity sensors for real-time input. The Bluetooth connectivity allows you to connect it with your smartphone. This gives you an edge to make your long-range decisions with confidence.
Pressing a single button on Sig Sauer's long range rangefinder allows an invisible IR laser out that measures the distance as far as 2 miles in a matter of 0.25 seconds. If you are out for a long day on a hunt, you can make use of this durable rangefinder that weighs only 7.5 ounces. In addition, has a slip-resistant protective black rubber armour wrap around itself.
The only con with Sig's rangefinder is that it comes with a slightly higher price tag. Those who are on a budget might find it a bit pricey. But, then of course, when one wants value, investment is needed.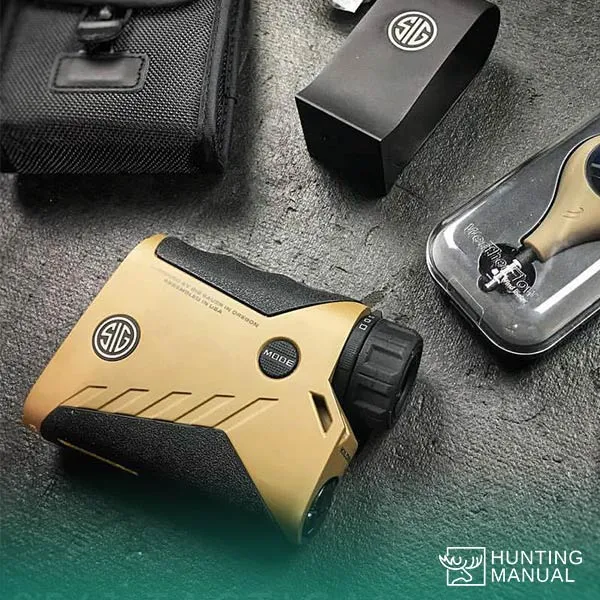 Overall, when we combine the ballistic, terrain and environmental factors, Sig Sauer impresses us with impact point correction suggestions in Mrad or MOA to enhance your first-shot accuracy.
Pros
Highly-advanced Ballistic system
7x magnification
3400-yards maximum range
Bluetooth connectivity
Gogogo Sport Vpro – Best Laser Rangefinder for Long Range Shooting 2022
EDITOR'S PICK
The Gogogo Sport rangefinder is popular for its dual capabilities. Not only is it a good device to have on long range hunting but it also works pretty well on the golf field.  It provides impressively accurate measurements because of its 6x magnification and 650-yards reflective range.
Another good feature of this rangefinder is that you can turn off the slope mode anytime you want. This way, you can use it for official golf tournaments as well. You do not have to buy 2 separate rangefinders for practice and tournaments. It has a 150-yards pin-seeker, 300-yards flag-lock, and JOLT technology as well.
The slope function allows you to get accurate measurements within seconds as it follows Rifleman's rule. This mode will give you automatic calibration of the target whether it is uphill or downhill. Gogogo Sport Vpro long range rangefinder is one of the most lightweight and portable rangefinders.
It weighs around 184 grams and comes with a neck strap, so you can easily carry it around. Even with various advanced functions, it is very easy to use as it operates with a single button. Even though its laser is effective, it has been shown to give faulty measurements in rainy or hazy environments. Otherwise, it is perfect, as it is cost-effective as well, thus is termed as a great value product.
Another good thing about this rangefinder is that it comes with reliable customer service and it also comes with a year-long warranty. Apart from the rangefinder itself, a few accessories are also present in the package which includes; a box, hand strap, operational manual, and an extra battery.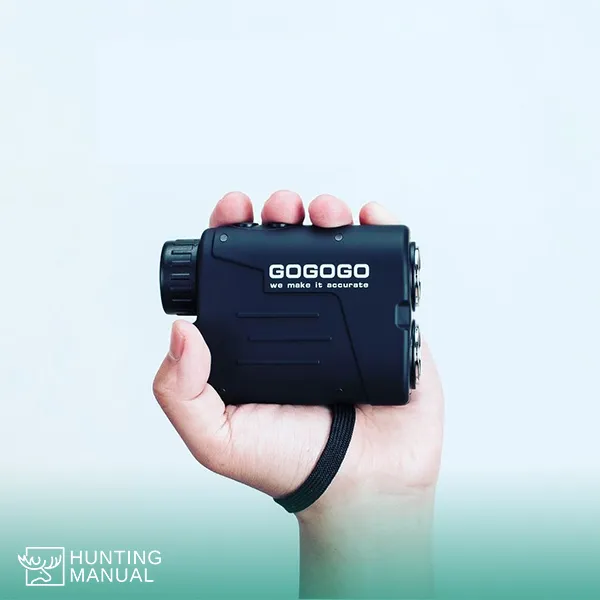 Pros
6x magnification
Legal for tournaments
One button setting
Equipped with on/off slope setting
Cons
Laser gives error measurement in rain
AILEMON 6X – Rangefinder for Long Range Shooting
EDITOR'S PICK
AILEMON 6x rangefinder is a versatile product. We can use it for various sports including hunting, bow hunting, archery, rifle shooting, and golf. It can also be used for other professional uses. However, it is specially designed with hunters in mind. From its camo exterior to its high-tech interior all of it is suitable for a hunter.
This is one of the best laser rangefinder for long range tactical shooting 2022 because it is integrated with advanced technology features. These hi-tech features include ARC technology for accurate angle calculation, pin-seeking, and continuous scan mode to get a precise distance of the moving target at all times.
Its 1200 yards reflective range contributes to its precise distance measurement along with the other features. 6x magnification and its high accuracy of +/- one-yard are also good features to get a good shot at the target. Considering its price and features it is one of the best rangefinder under 100$.
This rangefinder is fairly easy to use as it consists of only 2 buttons. The one is the power button which wakes the rangefinder. Pressing it again after aiming at the target will give you fast and accurate readings. The other is the mode button, which allows you to switch between different modes.
After testing, this product was a little unreliable in bad weather. It gives faulty measures in rain and fog as it affects the laser. However, this is the only problem with this rangefinder. Otherwise, it is a good tool to have when you are out hunting. To sum it all up, this is an excellent rangefinder with long range capabilities and is a worthwhile investment.
Pros
Long range capabilities (1200 yards)
Equipped with slope compensation mode
Camo exterior
Multi-purpose rangefinder
Cons
Gives faulty measurements in bad weather
Laser pathway affected with rain
NIKON PROSTAFF 1000i – Long Range Rangefinder
EDITOR'S PICK
NIKON PROSTAFF rangefinder is suitable for sports like bow hunting, target shooting and rifle hunting. It comes with unique technologies like Tru-target technology and Incline/Decline technology. These modes are easy to switch, depending on their use.
The tru-target technology allows you to select between target priority modes. The two modes it includes are distant and first target priority modes. The distant mode gives you the range of the target that is farthest among the other focused targets. While the first mode allows the user to target smaller and closer objects.
The other technology which is the ID technology gives you a number that is required by the user to shoot precisely for incline and decline angles. Horizontal distance and actual distance modes in it are also easy to select while using. It is also one of the best rangefinder under 200$.
It comes with continuous measurement function and can be easily activated by holding the power button for up to 8 seconds. This is made of plastic and is also waterproof. It has a multilayer coating on its prism surfaces and lenses. The maximum reflective range of this rangefinder is up to 1000 yards. The high quality of 6x helps to easily measure deer range up to 600 yards.
The only disadvantage of this rangefinder is that it is not resistant to all kinds of weather. It gives faulty measurements in rain and fog which affects its reliability. Otherwise, it is a great device to use. It comes with different features and high measurement ranges. To conclude, NIKON PROSTAFF is one of the best long range rangefinders that you can get in the market today.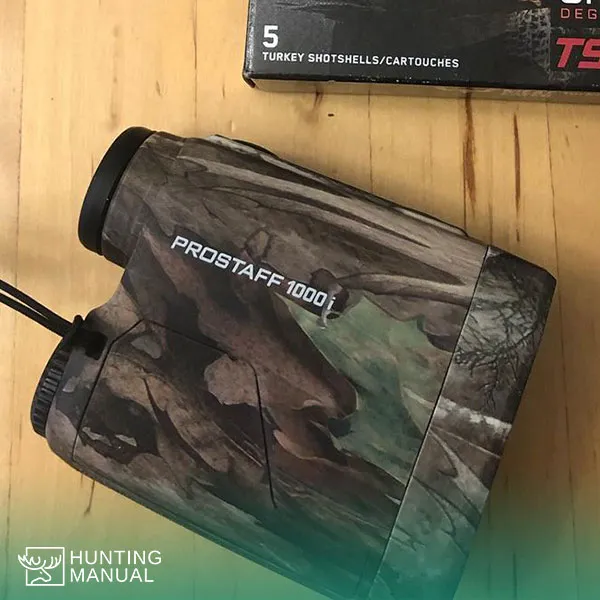 Pros
1000-yards reflective range
Front and back target priority
Tru-Target technology
Waterproof
Cons
Gives faulty measurements in rain and fog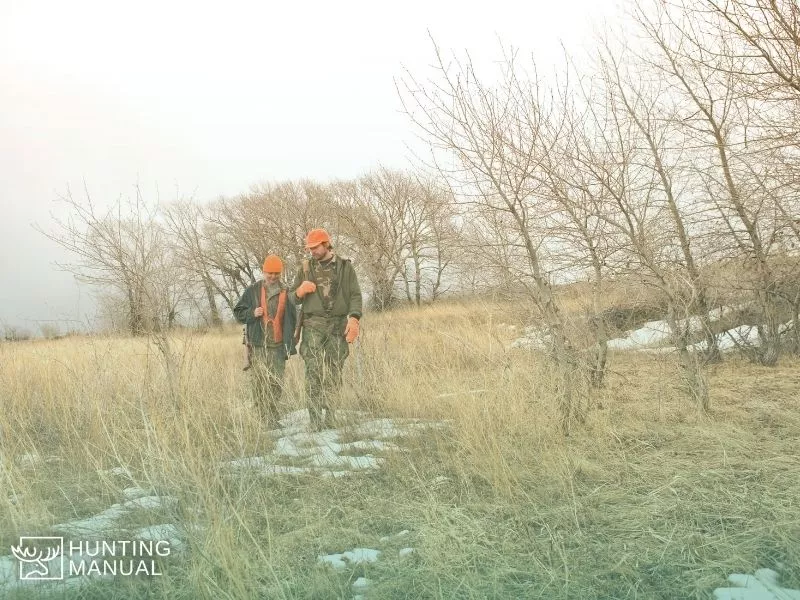 Buying Guide
Generally, following factors are key indicators which helps evaluate the best equipment for long range shooting or hunting.
Illuminated display
Generally, a rangefinder with illuminated display can be seen to fulfill its promise of providing reliability to the users in dark. No matter if in the dawn or dusk. It displays everything clearly with an illuminated display. Depending on the brightness of an illuminated dot or cross, the OLED display is suitable for both day and night. 
Whereas, a very small black dot that minimally covers the target only which hinders your display at low light, foggy weather or night. 
Angle compensation
Angle compensation also known as arc or slope in some rangefinders determine effect of gravity on the bullet over long range distance. Hence, improves your aiming, precision on target and avoid missing the target or injuring the animal. 
Tripod Mount option
The tripod mount is specially important when hunting or shooting for long ranges. When button of rangefinder is pressed, it fluctuates a little which has greater affect for longer distance compared to short distance. This will not only give you false reading but also throw your bullet far away from target and may startle the hunt.
Reflective and Non Reflective Ranges
One of the key factors that most newbies ignore are reflective and non reflective ranges of rangefinders. To have best rangefinder for long range shooting or hunting, it is absolutely crucial to understand what range you need.
Generally, the rule of thumb is. reflective range is 2x of non reflective range. A reflective range gives reading on shining targets like metals or bright mountain stones whereas, a non reflective surface like tree or animal skin is dull and gives low laser reflection. Moreover, the commonly mentioned range on the unit is reflective only. However, we at hunting manual have mentioned both ranges of several products and after testing so that you can find the product you need easily.
Conclusion 
After a careful evaluation of different long-distance rangefinders, we have put forward the best products. Due to rigorous testing, we are confident that the list features the best long range rangefinders in the market. 
We have weighed out the pros, cons, features and build of each rangefinder. Coming from a personal experience during the hunt, we have come to a unanimous decision of the top 3 rangefinders. We truly believe that they hit the mark for long-range shooting. 
The Leupold RX-2800 is the crowned long-distance rangefinder for shooting. The reason is its commendable yardage. It has all the essential modes that will improve your shooting journey. On the second, we have the Sig Sauer Kilo 2200 BDX. And then the Vortex Optics Laser follows. These three rangefinders performed exceptionally well and ticked all of our boxes for what we were looking for. However, the decision is up to you. 
All of the 10 rangefinders will transform your shooting game for the better. Hence, select a rangefinder that suits your budget and taste. We are sure that any one of these compact products will bring home the largest buck that you ever shot.
Frequently Asked Questions (FAQs)
What is the best rangefinder for long range hunting?
The best rangefinder for long range hunting is the Sig Sauer Kilo2400ABS which can range 2400 yards with 7x magnification. It is best for long range hunting because of its crystal-clear optics, and AB Ballistics Engine.