A hunter can face various obstacles when in pursuit of his prey. Especially things like uneven grounds, steep slopes, hills, etc. These challenges can make it difficult to measure the sight distance of the target accurately. Eyeballing the distance can be tricky and often results in misplaced shots. However, the solution to this problem is to invest in the best rangefinder with ballistic calculator, or in other words, an angle compensator.
Hunting Manual's pick for the best rangefinder with angle compensation is Vortex Optics Ranger 1800. The angle compensating rangefinder technology has undergone several changes. It has now become easy to use with high-level technology.
In light of this, to help you find the best rangefinder, we have used several other models as well.
10 Best Rangefinder with Ballistic Calculator 2022
If you want to find out more about rangefinders, angle compensation, and the best models keep reading. We have done the necessary research and reviewed a dozen rangefinders with angle compensation and listed our top ten picks for you. All of these stand out for one reason or another. 
1- Vortex Optics Ranger 1800 Laser – Best Hunting Rangefinder with Angle Compensation
Top Pick
Key Specifications:
Angle Compensation
Scan mode.
Water and fog proof.
This rangefinder with arc technology is a terrific option to get on those non-reflective targets. The feature to compute the angle compensation makes it stand out from other models.
There is a reason why this rangefinder is our top pick, it is because this is a complete package. The angle compensation setting allows you to shoot from uphill as well as downhill and get a bullseye, no matter the distance. 
Furthermore, the scan mode gives an accurate measurement of the target, even if it is continuously moving. Moreover, the 6x magnification helps to give you a clear picture of your target and to get a reading. Vortex has also developed best rangefinder binoculars that act as two in one option measuring distance and range as well as act as a spotting scope.
It has both the horizontal component distance (HCD) and line of sight (LOS). The HCD allows you to get a perfect kill shot for short-distance targets. While LOS mode aids in long-distance shooting. This makes this rangefinder a perfect choice for long-range hunting like rifle shooting and short-range hunting like bow hunting. Thus, it is a good choice for people who are into different hunting sports.
The only thing we did not like about this model was that sometimes it does not work well at high temperatures and the utility clips have a chance of malfunctioning. However, these 2 factors are negligible as compared to the range of efficient features. Let's not forget that this Vortex Optics Laser Rangefinder has a laser display that adds to the accurate estimation of the distance. 
It has a waterproof exterior and a multi-coated lens. Not only does it provide an excellent display but is also fog-proof. It is compact and lightweight, thus, is easy to carry. Moreover, it comes with a complete kit that includes a belt clip, neck strap, and even a tripod stand. Thus, it is the best hunting rangefinder with angle compensation for us.
We like
Maximum laser range 1800 yards
HCD and LOS modes
Scan mode
6x magnification
Compact and easy to carry
We don't like
Not suitable for high temperatures
Utility clips might malfunction
2- Bushnell Bonecollector Laser Rangefinder with Angle Compensation
Editor's Choice
Key Specifications:
Advanced precision on given range.
Water proof and black display.
Reflective range is 850 yards with 500 yards for tree and 350 yards for deer
Better for bow and rifle hunters equally.
Not only is it a suitable gear for bow hunting and rifle hunting but can be used to accurately measure distance for archery as well as golfing.
This is another one of our top picks because it is a multi-purpose rangefinder with angle compensation and also has other prominent key features.  
Another thing that we liked about this was its bullet drop compensating scope. This feature enables the shooter to pre-calculate the distance at which the bullet will drop. So, to get the perfect kill shot, this scope is aimed at a higher level than your target. With this model, you can choose the rifle mode and get information related to bullet drop accurately up to 850 yards for reflective objects.
The rifle mode has the bullet drop setting and it also has a bow mode setting. This provides true and accurate horizontal distance. It has diopter adjustment which helps people with eye problems to get a clear view.   
Moreover, the exterior of this rangefinder is waterproof and the lens is also coated with a water-repellent coating, which makes it fully waterproof and a perfect choice for rainforests and other wet hunting grounds.
It has various distinct features that aid in getting a precise distance to the target, including; the 6x magnification, digital laser, the extreme speed precision and the angle range compensation (ARC) technology. This is a good tool to have on you for your outdoor sports.
We like
Diopter adjustment available
Fully waterproof
Angle range compensation is available
Bullet drop compensating scope present
We don't like
Black readout display can decrease visibility in low light.
3- Halo XL450 Laser Rangefinder with Arc Technology
Best Overall
Key Specifications:
Both yards and meter readings.
Arc technology with angle compensation.
Range back and front targets.
It is one of the most cost-effective options available today. It is most suitable for short-range hunting activities, like bow hunting, as it has a maximum range calculation of up to 450 yards.
We term this Halo XL450 Laser Rangefinder as the best value rangefinder. That,  because it has all the necessary features that are available at the right price.  
The accuracy level of this rangefinder is +/- 1 yard, which considering its maximum range is pretty decent. This halo rangefinder with arc is quite easy to use as it has a one-button use. Furthermore, the body is compact, lightweight, and is easy to carry in your backpack as well as your pocket. It does not take up much space. It gives a readout of the distance in both yards and meters.
This rangefinder with arc i.e. short for Angle Range Compensation has all the necessary features. It will help you in calculating the accurate distance to the target and everything necessary to make a kill shot. The ARC technology helps out when there is a slope to consider and the 6x magnification has its use. 
You can also scan multiple targets i.e. back and front targets at different yards with this model. To switch between these targets all you have to do is click one button.
The only problem with this model is that it does not provide long-range distance calculation and the optics are a little less sophisticated. Other than these points, everything is on point and you will get a pretty good deal at an affordable price. It is also water-resistant and the body has a non-slip grip. It has high-quality glass lenses and also includes a microfiber cleaning cloth and comes with a CR2 battery.
We like
Affordable
The maximum range is 450 yards
ARC technology present
Non-slip grip and exterior
We don't like
Not suitable for long-range distance hunting
Less sophisticated optics
4- TecTecTec ProWild Hunting Rangefinders with Angle Compensation
EDITOR'S CHOICE
Key Specifications:
laser rangefinder with inclinometer.
Durable with 2 years warranty.
The best part about this rangefinder is that even though it is equipped with the latest technology, it is still an affordable purchase. The exterior of this model is not only water-resistant but dust-resistant as well.
This model is different from the ProWild Hunting Rangefinder. It has an angle measurement feature, which makes it the complete package deal.  
The maximum range of this model is 500 yards with an accuracy level of +/- 1 yard. Which is enough to get a good estimate of the distance to your target. The digital laser and the 6x magnification helps out as well. This laser rangefinder with inclinometer comes with additional goodies as well. A camo pouch to keep it safe, an extra battery, a strap, and a microfiber cleaning cloth to clean the lens. 
Furthermore, it also comes with a manual to help you get started. Even though it is easy to use, a little guidance does not hurt. The thing that we liked the most about this model were the 2 modes; angle compensation and the continuous scan mode. With these 2 modes combined, you get the perfect angle and exact distance of your moving target, which will help you get the deadly shot. 
The only thing that can be improved with this model is the rechargeable battery option. It also does not have the back and front target selection option. However, these points cannot take away the attention from all the things that we like about it. 
Not to forget, it is lightweight, simple to carry, and has a durable design. It provides an ultra-clear view of the target through its multi-layer lens. It also comes with a 2-year warranty. Overall it has an excellent optic system and is thus, among the rangefinder with angle range compensation available today.
We like
Angle measurement technology
500 yards range
Continuous scan mode
2-year warranty
We don't like
No rechargeable battery
No front and back target selection
5- AOFAR HX-1200T Arc Rangefinder for Hunting Archery
EDITOR'S CHOICE
Key Specifications:
Camo exterior.
Water, dust and fog proof.
This rangefinder is equipped with both AI accuracy and angle compensation technology. Furthermore, combined with its pin sensory technology, it has all the necessary features to get a precise and accurate shot at your target.
Its 6x magnification and maximum range is 1200 yards and has an error allowance of about +/- 1 yard. It is an ideal tool that you must have on you when out hunting, especially if you are a visually impaired hunter because it has a diopter lens.
Apart from the rangefinder itself, it comes with various accessories, like a carrying pouch, carabiner, high-grade rope, CR2 battery, and a microfiber cleaning cloth. The exterior is made of camo cover, easy for it to blend into the surroundings. Moreover, not only is it waterproof but is dustproof and fog proof as well. Thus, it can bear any harsh environment. 
One thing that we observed with this rangefinder with elevation that we did not like was its ability to accurately measure distance on non-reflective surfaces. These surfaces are just as their name indicates i.e. which do not reflect light. So, this range does not accurately measure beyond 800 yards but only on reflective surfaces. It works perfectly fine on reflective surfaces. It also has a 2 years warranty and the company provides excellent customer service.
However, this factor cannot pull away attention from its other features. It is still a complete package and is the best rangefinder for bow hunting and rifle hunting. One feature that makes it different from others is that it shuts off automatically after 8 seconds of inactivity. This key feature helps save the battery life of the rangefinder. It is one of the most high-tech models available today.
We like
Angle compensation
Diopter lens
Shuts off after 8 seconds of inactivity
AI technology
 
We don't like
No accurate beyond 800 yards on non-reflective surfaces
6- Gogogo Sport Vpro 6X Hunting Laser Rangefinder with Elevation
EDITOR'S PICK
Key Specifications:
Accurate for long range shooting and hunting.
Multi coated lens and better display.
It includes all the 3 necessary modes that help in getting a perfect kill shot. The scan mode provides continuous distance, even of the moving target. The slope mode provides quick calculations according to Rifleman's rule. The 3rd speed mode also provides optimum distance measurement.
This is one of the most versatile rangefinder with ballistic calculator and other essential features as well.
It is known for its 6x clear magnification feature as it helps in locating the target in an open field accurately. The maximum distance range of this model is between 5-1200 yards with an accuracy level of +/- 1 yard. This means it is good for both long and short-distance shooting. It takes about 1 second to give accurate measurements and thus is very efficient.
The innovative one push button is easy to use and shift between modes but we observed some malfunctioning with it. Sometimes it stuck and did not work properly. Another thing that we found lacking in this model was its laser. It is not as useful in rainy or hazy environments. However, these are just 2 lacking points, the rest of the model is perfect.
This rangefinder with elevation comes with such versatile features at a very affordable price. With its easy-to-use technology, it is perfect for new hunters to learn how to use it. Furthermore, its fully multi-coated optic lens increases light transmission by reducing reflected light.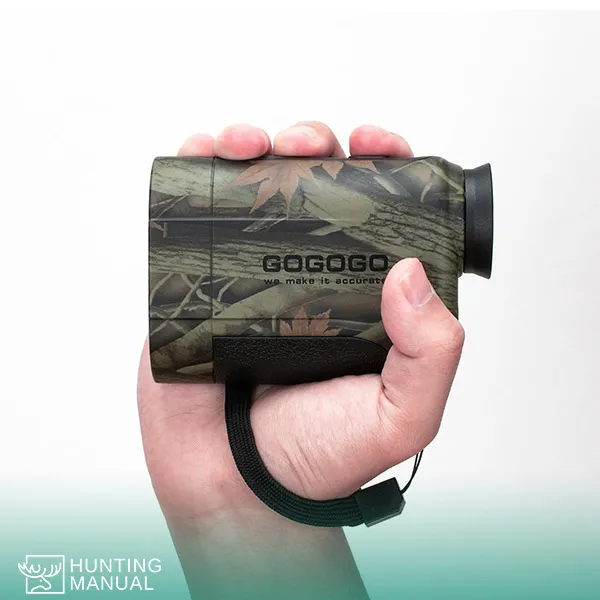 It also comes with related accessories including a pouch, manual, strap, CR2 battery, etc. Thus, purchasing it will be a good investment if you are a hunting enthusiast and new to this sport.
We like
3 modes (Scan, Slope, Speed)
5-1200 yards distance range
Comes with necessary accessories
Multi-coated optics lens
We don't like
Button sometimes malfunctions
Laser light is not effective in raining or hazy environment 
7- Simmons Hunting Laser Rangefinder with Angle Range Compensation
EDITOR'S CHOICE
Key Specifications:
Great for both short and long range.
Compact and ergonomic design.
Water, fog and dust proof.
This rangefinder with angle range compensation setting has a futuristic look and technology. It has great anti slip exterior and easy grip.
With 4x magnification and the ability to accurately calculate distance up to 600 yards, it provides superior aiming of the target. Not only can it accurately measure up to 600 yards but it can also measure close-ranged targets up to 10 yards. 
It has an accuracy level of about +/- 0.5 yards. Thus, it is perfect for both long-range and short-range hunting. The built-in high-quality LCD provides a clear view of the target in pursuit. Much like the interior of the rangefinder, the exterior is also made of high-quality material. 
It is waterproof, dust-proof, and fog-proof as well. Thus, it is an ideal companion in the direst of conditions. Its design is quite compact as well, making it easy to carry and pack.
A few things that we think can be improved in this model are the battery life and the scans. The battery capacity is less and needs frequent recharges. The scans it does are very accurate and helps in scoring the perfect aim as well but are just a little slow. Apart from these minor cons, the rest of this laser rangefinder with inclinometer is perfect to use. 
This Simmons Hunting Laser Rangefinder has excellent value. Its ergonomic design offers versatility while hunting. This model has a unique anti-grip feature. Even with a plastic casing, it is easy to grip and is not slippery because of the addition of rubber. With a strap that comes with this model, you can easily hang it around your neck. Thus, this will not be a disappointing purchase.
We like
Good for both long-range and short-range hunting
Rubber anti-grip feature
Cost-effective
Waterproof, dust-proof, fog-proof
We don't like
Low battery capacity
Scans a little slow 
8- WOSPORTS Hunting Archery Rangefinder with Ballistic Calculator
BUDGET PICK
Key Specifications:
Accurate range targeting.
Affordable in advanced features.
Lifetime customer support.
The feature we found special about this model is its optical lens. They include a zoom set up to 6 times and have a reflective range of 1200 yards and non reflective range of 700 yards.
This is a best budget rangefinder to have with you when you go out hunting. It has all the key features that make a rangefinder perfect and it is highly affordable as well. Both of these allow you to spot your target with great accuracy.
A great rangefinder with inclinometer measures the distance at vertical and horizontal slopes with the same precision. Another good thing about this model is its continuous scan mode. Your target will rarely be stationary, in that case, this mode calculates the distance to the moving target accurately and efficiently in the present time. This will enable you to get a spot on shot every time.
The only problem we found with this model was its laser. In rain or hazy environment, the laser path may get affected, thus causing an error in the measurement. But this problem will only arise in case of bad weather, it works perfectly fine in a dry environment. Thus, this problem is not worth fixating. Look at the good things about this model and you will not regret buying it.
The feature that makes it different from other rangefinders in the market right now is its speed and precision of distance measurement. Its performance is quite superior and the best part is you get this amazing high-tech rangefinder for an affordable price. Furthermore, it also comes with all the necessary accessories essential to keep it safe and it also has lifetime customer support.
We like
Continuous scan mode
Angle compensation present
Maximum range 650 yards
High-tech and affordable
6x magnification
We don't like
Laser light affected in rain or hazy weather
9- BIJIA Rangefinder 6x Multifunction Rangefinder with Arc Technology
EDITOR'S PICK
Key Specifications:
Strong built quality
Speed, slope and distance.
Made for bow hunters and archers specifically.
This rangefinder is made of some of the sturdiest materials available today, thus it is resistant to damage.
We liked this product because of its durability and high-tech functions. The build quality is important because this arsenal is bound to experience falls when taken out in the wild. Furthermore, its compact design and lightweight body make it effortless to carry and use.
This rangefinder with arc technology not only measures the angle of the target accurately but is also able to measure the speed and distance of a moving target with precision. It does not matter if the target is moving at a very high speed or not, this rangefinder works perfectly irrespective of the speed and provides accurate results.
It also displays the distance in both yards and meters, and you can switch between these 2 modes by long-press of a single button, for about 2 seconds.
The one thing we think can be improved in this model is its anti-grip feature. Even though it is made of the highest quality plastic, its lack of rubber grip features makes it slippery. But this problem only arises in case of rain, otherwise, it is a complete package. Thus, this one problem can be ignored when comparing with the numerous other pros.
Apart from this one con, this is one of the best hunting rangefinder with angle compensation available in the market today. Furthermore, this company provides a 2 years warranty and a lifetime of customer service. It also comes with a few supplies including; a strap, English guide, CR2 battery, cloth to clean lens, carry box, etc. Thus, do not hesitate to choose this masterpiece when out shopping for a rangefinder equipped with angle compensating features.
We liked
Equipped with ARC technology
Maximum distance 650 yards
Can switch between yards and meter in 2 seconds
Highly durable
We don't like
Lack of anti-grip feature
10- Nikon PROSTAFF 1000i Archery Rangefinder with Angle Compensation
EDITOR'S CHOICE
Key Specifications:
1000i model comes with angle ID technology.
Calculates first and distant targets.
Continuous measurement for up to 8 seconds.
It ranges up to 600 yards for reflective targets, 300 yards for non reflective bigger targets (like trees) and 200 yards for small targets (animals) at distance.
This nikon arc rangefinder is the last on our list but that does not make it the least one. This holds its place in the rangefinder world. With its Angle Range Compensation (ARC) technology, it can deliver perfect incline or decline shooting angles. Its angle compensating accuracy is top-notch and provides efficient results.
It is one of the best rangefinders for long-range shooting (hunting) with its 1000 yards maximum range capability. Its 6x magnification also aids in getting a perfect shot. This range makes it perfect for both rifle shooting and bowhunting. 
Furthermore, it has first and distant target priority features as well. With this, you can switch between 2 targets, one which is very near to you and another which is distant. This is a useful feature if you get 2 targets in the same area.
The only problem that came to our notice while testing this model was its distance range seems to be disturbed in rain and fog. It becomes less accurate when the weather is bad, otherwise, it works perfectly well. Its exterior is waterproof and the prism surface is multicoated. Its design is compact thus it is easy to carry around as well.
The one feature that makes this model stand out is the long eye relief feature. It is beneficial for people who wear glasses and provides about 15mm of eye relief. Furthermore, this is one of the only rangefinder companies that provide a 5 year long warranty for its product. In these years, if there is any defect in the material or the workmanship of the rangefinder, then they will either replace it or repair it for you, with no charge. 
We liked
Long eye relief
1000 yards maximum distance range
Front and distant priority
5 years warranty
Incline/Decline Technology
We don't like
Measurements not accurate in rain or fog
Buyer's Guide for Best Rangefinder with Angle Compensation
There are several factors and features that one must consider before buying a tool as simple as a rangefinder. If you are new to hunting and need help deciding which archery rangefinder with angle compensation would suit you the best, then go through the following guide we have prepared after carefully reviewing and analyzing various components. Carefully go through the following so you can make an educated decision.
Durability
The exterior of a rangefinder is as important as the interior. The environment of the hunting grounds is quite unexpected. Some days there might be rain, fog, and not to forget the muddy puddles, while some days they might all be rainbows and sunshine. Thus, make sure to invest in a rangefinder that is waterproof and made of quality material as well. 
Rangefinder slope vs no slope
The slope mode in a true ballistic range finder is necessary if you are making a shot from an inclined or declined surface. This calculates the accurate angle and distance required to make the kill shot.
Ballistics in Range Finder and Ballistic Calculator
If you are into long-distance hunting or shooting, then you must realize the importance of a precise shot. In this case, ballistics range finder is the best choice for you as they have a built-in calculator that helps you make the accurate aim.
Technology and Functions
With each passing year, there has been an advancement in rangefinder technology. Prominent changes have been made in the target acquisition technology. Latest technology features are introduced in a simple tool of rangefinder that is more accurate than the previous optical rangefinders. 
A list of most necessary features that you must look for in a rangefinder include;
A multi-coated lens that is anti-foggy and strong
Clear and bright display screen
Laser mode to facilitate distance estimation
Magnification for a clear view, at least up to 6x
Battery type, like is it rechargeable or not
A compensate for shooting angle, in other words, angle compensation is also a necessary feature
Angle Compensation
This is perhaps one of the most important features that a rangefinder must have. It should have some version of angle range compensation because without it the purpose of a rangefinder will be incomplete. 
There will be a time where you will have to take aim from an upper ground, in that case, you will have to calculate yards as well as the angle to make the perfect kill shot. That is where the angle compensation feature comes in. It gives you an accurate estimation of the distance and the angle at which you need to make the kill shot. 
If your rangefinder is missing this feature then you will either have to calculate it in your head or on paper, which can be time-consuming and difficult if you do not know manual calculation. Thus, make sure to select a true ballistic range finder. 
Conclusion
To conclude this article, these are our top 10 picks for rangefinder with arc technology available today. Each rangefinder has a unique feature that makes it different and better from others. 
However, we stand by Vortex Optics Ranger 1800 Laser Rangefinder as our number one choice for the best hunting rangefinder with angle compensation. It is the complete package and vortex stands by its customers forever. This choice is followed by Bushnell Bonecollector Laser Rangefinder and Halo XL450 Laser Rangefinder as 2nd and 3rd best rangefinders, respectively.
You can go through the buying guide to educate yourself before going to shop for a rangefinder. It will help you understand the terms and features associated with this specific hunting tool. Hopefully, this article will provide you with enough knowledge to make the best choice for yourself when it comes to buying the best rangefinder with ballistic calculator. 
Make sure to buy a rangefinder that meets your necessary requirements. Because if it is missing your required feature you will just have to buy another one or go without a rangefinder altogether. That is a waste of money as well as time. 
Top Best UTVs for Hunting in 2023
Frequently Asked Questions (FAQs)
How to judge distance without a rangefinder?
It might be difficult to judge the accurate distance to your target without a rangefinder but it is not impossible. You will have to practice counting your steps, walking your eyes, or even practice against a rangefinder. This will help you gauge a rough estimate. In case you hunt in the same area repeatedly, you can set up a distance marker beforehand.
Who makes the best rangefinder?
A rangefinder that has all the necessary features essential to make a kill shot, especially ARC technology, magnification, and durability makes the best rangefinder. After reviewing several different models, we have decided that the Vortex Optics Ranger 1800 Laser Rangefinder makes the best rangefinder as it is a complete package.
How important is angle compensation in a rangefinder?
If you are shooting on the plain ground with no steep hills or otherwise any incline or decline slopes, then the angle compensation is not that necessary. However, if a steep slope and long-distance are involved in your hunting grounds, then this feature is nearly invaluable. More the distance between horizontal distance and line of sight increases, the significance of an angle compensator feature increases.