If you are a rifle hunter, a passionate archer or a seasoned golfer, a rangefinder should be one of your most important possessions. If you don't have one already, don't worry! After reading this article, it will be easy to understand which one fits your need perfectly. 
Either way, learning some basics about rangefinders will help you in the longer run. Being familiar with the idea of how they work, how they determine your target distance, and how they function in various outdoor settings will help you accomplish your mission. 
A laser rangefinder typically uses a laser beam to estimate the distance between your designated location and the target. Usually, rangefinders are monocular (used and operated by one eye) and very convenient to use.
Monocular rangefinders come with certain features that remain the same in almost every rangefinder with different manufacturers. Yet there is a classification of laser rangefinders,
Binocular rangefinders
Rifle and bow hunting rangefinders
Rangefinders having ballistics (angle compensation)
Rangefinders having bluetooth (Connect with Scope, Mobile Phone) 
Golf rangefinder with flag lock
Rangefinder Camera (Classic photography camera)
Rangefinder for Construction, forestry and civil work
High tech rangefinders for military equipment and warfare technology
In this article, you will understand how hunting and golf rangefinder works and what features make them different. A quick comparison guide for you to reconsider the choices between hunting rangefinders vs. golf rangefinders.
Rangefinders are most commonly used to range and hunt big games. The best rangefinder for deer hunting are used rifle or bow hunters to make sure accurate and painless shot at game animals, avoiding injury.
How Does A Laser Rangefinder Work?
A laser rangefinder has a laser beam that travels with the speed of light. Once that beam falls onto the target, it scatters but a huge portion of it reflects back from where it came from. Hence, what a rangefinder really does is it calculates the time of the laser beam, from when it left to when it came back. Then the distance is shown over the rangefinder's lens after its conversion from the estimated time that a laser beam took.
In simple words, the work depends on the hardware and software. The hardware provides mechanisms to get the data while the software processes the information to provide you with measurement. 
That's just how a rangefinder normally works but there are certain factors that play their role in the whole distance measurement process. For that, we need to go further down in the depths to see how rangefinder works.
How Does A Golf Rangefinder Work?
In golf rangefinders, they help you count the target area. The readings are precise and there are two types of golf rangefinders. First are the GPS golf rangefinders and the second is the laser golf rangefinders. Do you know you can use some of the best rangefinders for both hunting and golf!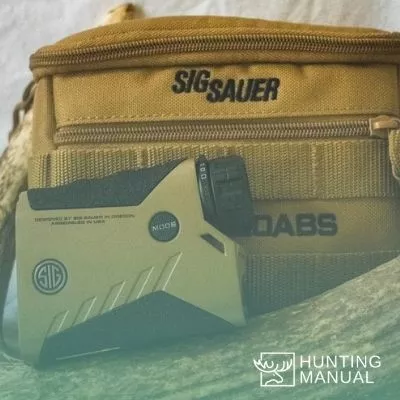 Firstly, a golf GPS rangefinder requires you to download the map of the golfing course. It will then estimate the distance of the target area, and with GPS technology, it allows precise distance.
On the other hand, laser golf rangefinders have better accuracy levels than GPS. They take accurate counts and measure the correct distance from the target to you. These rangefinders have a pin-seeking feature and a flag lock function.
As the name suggests, laser rangefinders emit laser beams just by the push of a button. Many experts define the working of laser rangefinders just as the same principle as an autofocus camera.
An infrared laser beam of light hits the target area and then reflects the optic device. The computer chip translates the time required by the laser light to travel and to the distance. You are then able to see the ranges on the display screen. During outdoor activities like hunting and birdwatching, laser rangefinders stand on their ground because of their accuracy and reliability.
With budget of 300 USD, a wide variety of rangefinders are on the menu. Select the best rangefinder under 300 (for hunting or golf).
Golf Rangefinder Vs. Hunting Rangefinders: A Closer Look!
Do you want to know how far the object is from you? The introduction of rangefinders has allowed outdoor adventures to be smooth and convenient. However, within this area, there is a lot of confusion regarding a golf rangefinder vs. a hunting rangefinder. 
Even though these two optic devices are used to find the range in outdoor activities, they differ in features and are specifically designed for that activity only. Let's take a moment and discuss the difference between golf rangefinders vs. hunting rangefinders so you can invest in the right optic device. 
When it comes to golf rangefinders vs. hunting rangefinders, both of them have the same type of system but what differs them apart is the way they gather the information. During golfing, the rangefinder detects the target area within a range it then makes a reflective marker over the hole flag. Golfing rangefinders use the target mode, that is, the object that is closest to you is the one you are looking for.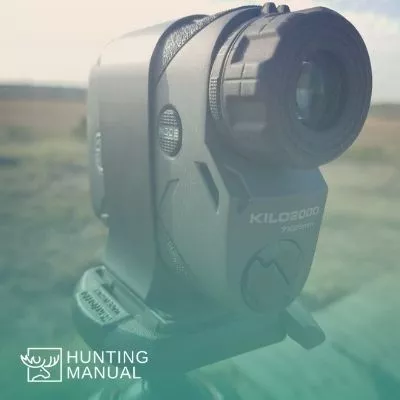 In contrast to golf rangefinders, hunting rangefinders assume you are looking for something at a distance, in the woods or the sky. It ignores everything close to you and focuses on distant objects. 
Fun Fact: Did you know, the price of solid hunting rangefinders is usually higher than golfing rangefinders? Why is it so? This is because hunting rangefinders come with multiple focuses and enable several features. 
With rising advancements in the technological modern era, rangefinders are widely getting recognition. Their affordability is increasing, thanks to the manufacturers who have swarmed up the market with so many rangefinders. Because of the increased production rate, almost every other enthusiast has a rangefinder in his hands.
Moving Vs. Stationary Target
Animals move. When they hear you coming, they are likely to run away or hide somewhere. For this purpose, the hunting rangefinder is capable of scanning various moving objects and can range several animals on one click. However, in golf, the rangefinder takes the nearest object into account.
The Durability of Design
When it comes to golfing rangefinders vs. hunting rangefinders, in terms of durability, hunting rangefinders wins the battle. The design is remarkably durable to go in the woods. However, golfing rangefinders are also durable but not as durable as hunting rangefinders are.
Overall, hunting rangefinders are more advanced and can range to more than 1000 yards easily. On the other hand, a golf rangefinder doesn't need to range beyond 400 yards. 
Targeting Modes 
For targeting mode, golfing rangefinders enable a standard model. You may change between different ranges and measurements. While hunting rangefinders, there's much more attention to detail in it. The features have levels for beginners, intermediate, and professionals, so you can set it up accordingly. 
For spotting ranging animals simultaneously at long distances, spotting scope with rangefinder are used.
Factors Affecting a Rangefinder's Measuring Accuracy
Having prior knowledge of certain factors that may affect a rangefinder's performance helps greatly while buying one. Doesn't matter if the rangefinder you are looking for is for precision shooting, bow hunting, or rifle hunting. If you know the right qualities to look for, there are very rare chances of choosing the wrong one. 
Optical Quality of the Rangefinder
The first thing to always note in a rangefinder is the optical quality; the magnification and its glass. There are some rangefinders with less power, not saying that they are the worst kinds, but they will only work best for shorter ranges. However, for rangefinders with a higher power, always expect a good result even for longer ranges. They come with comparatively higher prices as well. Moreover, they will come with a tripod and you could easily mount them. 
Receiver Aperture
Accuracy of a laser rangefinder greatly depends on the receiver aperture as well. With a greater aperture, there will be a better collection of data at the return of the laser beam. Not only that, but it is also a necessary feature for brightness and optical resolution.
Atmospherics
Weather and almost every kind of temperature will affect a rangefinder's performance. Whether you step out in the rain, fog, shiny sun, or in any other atmosphere, they will all cause minor differences in the results. For instance, let us say it is raining, the laser beam's passage can get interrupted or it can collide with a rain droplet and give a completely different distance. 
This is the kind of factor that we have almost no control over, some weathers can be more fatal to the results than others so you might want to choose the day wisely in order to prevent inaccuracies in results.
Targets from where it reflects
There are different targets that give different results. Take a target like a tree and a rock, such targets are considered to be medium reflective targets. Usually, these targets won't affect the accuracy of the rangefinder as such.
Targets like animals are soft reflective ones, there might be a bit greater effect by the color of such targets in results. For example, if there's a black cow, most of the laser beam would get absorbed by the black color and only the laser beam that's left will reflect back.
Position and size of the target
The position, shape, and size of the targets will also affect big time. If there's a deer standing at 400 yards and with broadside facing you and there's a steel surface of only 10 inches at 1000 yards. Of course, the steel surface would reflect but there would be more divergence on the way, and what if that surface is facing sideways, where do you think the beam would reflect to? 
Vibrations
Holding a rangefinder steadily and without any shakes, tremors, or vibrations is hard. When finding ranges for far off targets, a high power rangefinder that is rod mounted is preferable and it wouldn't bother you as such.
But for the ones that are handheld, it is better to lean against some solid support to get stable easily. Once your laser beam goes without any vibrations, there is noticeable accuracy and precision in your results.  
Beam Divergence
Small beam divergence specs work well with smaller targets. Since vibrations cannot be tolerated with such rangefinders, so rod mounting a small beam divergence rangefinders will lift the accuracy pretty higher. 
However, for large beam divergence rangefinders, using a free hand is not an issue. You can trust the result that the rangefinder would give. But the results are not reliable of large beam divergence, because with the distance it will travel, more and more energy will keep on dissipating.
Frequently Asked Questions (FAQ's)
How to use a laser rangefinder?
Look through the eyepiece and aim for the object. Hold the rangefinder firmly and press the power button on top of it. The readings will appear on the display screen.
What is a laser rangefinder monocular?
Laser rangefinder monocular and laser rangefinders are the same. Monocular literally means to be used by one eye. On the contrary, binoculars are used to see from both eyes. Because of their small monocular size, they are compact and durable and can fit in your pocket or gear bag easily. 
What is a military monocular with a rangefinder?
A military-grade monocular with a rangefinder is used by the military forces. The optic device is used for magnifying images and getting true distance and angle of distant objects by complex range measuring technology.
What's better hunting vs. golf rangefinders?
When it comes to hunting vs. golf rangefinders, they both are poles apart and specially designed for that activity only. However, they share some similarities too and have their pros and cons.
Conclusion
The bottom line is, how a rangefinder works is pretty simple. With just some basic know-how of it, you can excel your expertise in it. Moreover, once you know how a simple rangefinder works, it gets really easy to understand how a golf rangefinder will work and how a laser rangefinder works. Because at the end of the day, they all follow the same principle. 
Additionally, if you have been in this field for a longer time, you might be familiar with the debate of golf rangefinders vs. hunting rangefinders. What's better and in which one is it worth investing? The answer is simple. Based on your budget, narrow down your areas of activities and determine exactly what you want.