It is a common perception among people that hunting rangefinders are super expensive. This is not true. You can easily have the best rangefinder under 300$, fulfilling all your needs and ultimate necessity. Whether you are hunting, shooting, or golfing, it returns in a few hours.
Vortex Impact 1000 is the best rangefinder under 300 that not only fulfill user requirements but also give accurate data within the budget. We have tested more than 50 rangefinders and listed the top 10 products.
Every hunter and golfer has one goal, i.e. dead aim on the target. There is no compromise on accuracy, which is a combination of perfect range and angle compensation. The below rangefinders are rated best in both.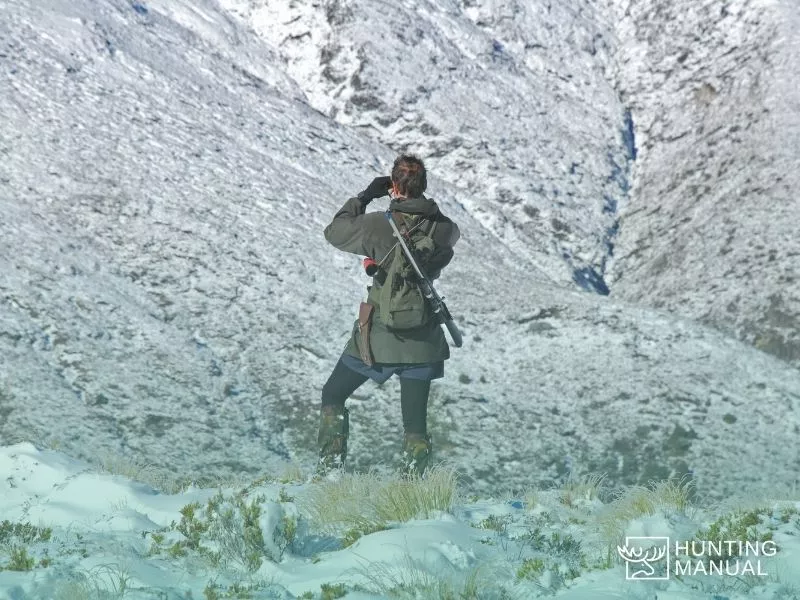 10 Best Rangefinder Under 300$
1. Vortex Impact 1000 – Best Rangefinder Under 300 overall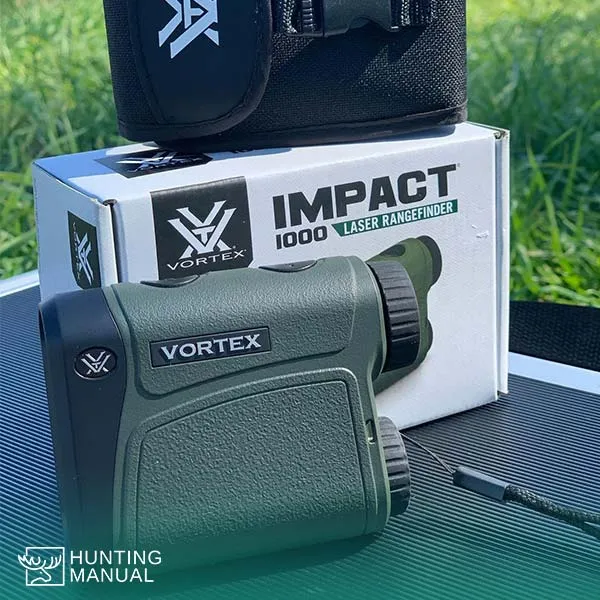 Looking for an affordable choice with all necessary functionalities, the vortex Impact 1000 comes on top of the list. It is widely used and commonly available among users and online stores. The best thing about this rangefinder is that it fits in your hands perfectly and fits with your needs and budget. 
On reviewing Vortex Impact 1000, we found it compact, easy to navigate & understand, and accurate readings on required features. The device is made with the idea of keeping it simple and minimal. While field testing, a few of the essential things we loved were waterproof, fog proof, and shockproof build. 
The diopter is adjustable to set lens focus and improve vision on the target. Most importantly, it is affordable, within budget comes with a lifetime warranty and complete support, which is the cherry on top. You can get
The black display in Impact 1000 is disliked among some hunters, and it is because of less visibility on dark targets or in low light conditions. But since most of the hunting is done in the daytime, it works pretty well. The angle compensation is measured along with the range. 
Overall, with a two buttons interface, easy navigation, clear glass with an anti reflective coating, scan mode for moving or multiple targets, and equal usability for bow hunters, rifle hunters, and golfers, its best rangefinder under 300$. It is hard to beat, and most hunters are thrilled to have this unit.
Strengths
Easy navigation
Simple and minimal
Great warranty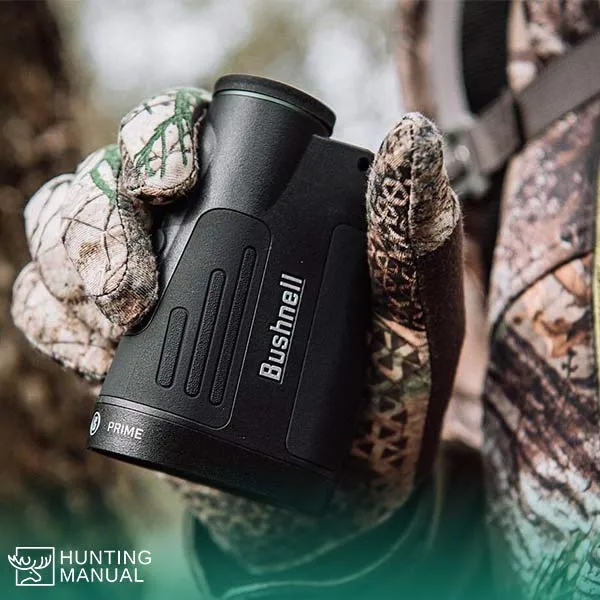 The unique thing about Bushnell Prime 1700 is it has three selectable reticles: dot, circle, and dot with circle reticles. The selected reticles come in handy when you need accurate shots at near or far targets. The far objects are displayed tiny on a screen which require a dot reticle.
The angle range compensation in Bushnell rangefinders is known as ARC mode. It is usable for all; bow hunting, rifle hunting, and long range shooting. The unit comes with preloaded ballistics for long range shooting. The Mode specified in the rangefinder for this purpose is LRF, as in the name Bushnell LRF means Long Range Finder. 
Another exciting feature that captures the target range ideally is bulls eye mode, and it is a great way to select near or far targets. The waterproof coating mentioned as an exo barrier plays a vital role in protecting against unfavorable environmental conditions, including dust, dirt, and water. Bushnell have some other best rangefinders under 200 as well.
Although it is covered with Bushnell's excellent lifetime warranty, there is one catch, the optics, which is the most significant part, are not included in lifetime support. The lens used, which is somewhat more prominent in size, has a 2x brighter display when ranging during dawn and dusk. But the reticle is black, which may not be favorable for some hunters and shooters targeting dark objects. 
Overall with these features and performance, it is one of the best rangefinder under 300$ available online. The unit comes with a quick usage guide, tethered lanyard, a pouch, and a CR 2 battery. 
Strengths
Multiple reticle options
Improved display
Ballistics for long range
Weaknesses
Optics doesn't have lifetime warranty
In a field test of bow hunting, leupold rx fulldraw 3 rangefinder review as the sole best unit. Keeping in mind the complexities and problems of bow hunting and archery, this unit is designed accordingly. The accuracy is pinpoint to 175 yards. Once set up, the unit proves equally beneficial for 3d archery tournaments and hunting. 
The angle gives accuracy, which is unmatched. This is highly beneficial for hunters shooting targets from high angles or tree stands. Moreover, 6x magnification and high light transmission display improve the overall capabilities of the unit. 
One feature that we disliked during the field test was the black LCD. If hunting in low light conditions, the dark reticle may not be visible for long ranges. Going beyond 175 yards, As the distance decreases, the accuracy will also decrease. 
It is also waterproof. Similarly, the unit handles temperature changes well with no effect of fogging. The target priority mode helps in selecting closer or distant targets quickly, removing obstacles in between. 
An exciting feature is the trophy scale which helps determine the animal rack. The bow mode that does all the magic has settings to enhance bow and archery shots from uphill or downhill. Overall it is a winner for best rangefinder under 300 for bow hunting and archery. This is an improved version, and archers believe unquestioningly in this unit.
Strengths
Great for bow hunting and archery
Extreme accurate for short range
near and far target technology
Weaknesses
Black LCD reticle display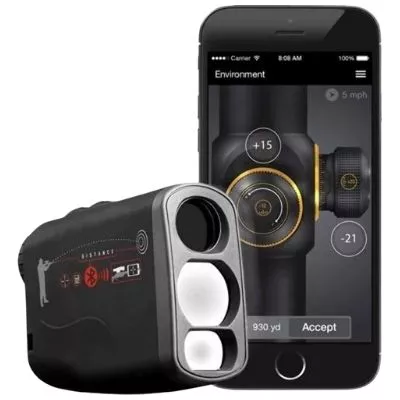 The unique feature of ATN Rangefinder is that they are equipped with bluetooth that auto calculates angle. And eventually feeds the data in your mobile app as well as smart ATN scope. Once setup is done, the point of impact is shown within 5 seconds. 
The setup may look frustrating initially, but once everything is done, it is gold. Having a mobile is necessary to use this rangefinder. The ATN 1000 provides improved accuracy of the targets within its range. If you are looking for long range non reflective range, here are best 1000 yard rangefinders.
Our field test results indicate the reflective range is roughly 1000 yards, whereas nonreflective range is 600 to 700 yards depending on the size and color of the target. The rangefinder is waterproof and works with a CR2 battery. The battery life is reduced due to bluetooth usage, and it is advised to carry one extra when in the wild. 
The unit is overall great and has a two years warranty as well. Also, with this rangefinder, you won't need to calculate. This buck is at that distance and angle, so x clicks this way and y clicks this way (while using ATN smart scope). 
It will take a little longer for the traditional scope as you would need to dial in the turrets according to what rangefinder will show on mobile. The earlier versions had bluetooth connectivity problems, and it often got disconnected or gave late readings. The advanced performance in the improved version has resolved all the issues. 
Strengths
Great rangefinder with bluetooth
Dead accurate within mentioned ranges
Auto angle adjustment
Attachable to smart scope as well as others
Weaknesses
Bluetooth consumes more battery
Require bluetooth to connect mobile app during hunting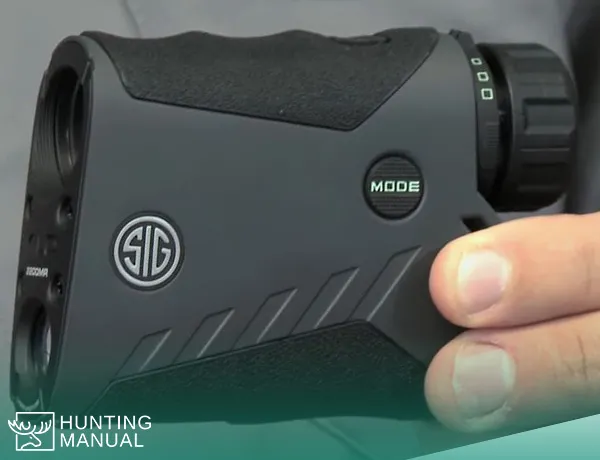 This unit is specifically made for hunters and medium range shooters within affordable range. The Sig Sauer is quite a famous name in the tactical optics market, and the performance is at par. The IPX4 waterproof housing, solid ergonomic build, and easy to navigate and understandable menu make this rangefinder successful. 
On field testing, Sig Sauer Kilo 1000 was reviewed as the best rangefinder for hunting under 300$. It is because it has a pretty solid maximum range of 1000 yards and can range to non reflective small targets up to 600 yards. It includes game animals. 
The interface is simple two buttons, has 6x magnification, and units can be changed between yards and meters. There are three modes that usually Sig Sauer devices have: line of sight, ballistics, and angle modified. 
The Kilo 1000 BDX includes the gun's ballistics and environmental factors to make a successful shot. The smooth focus knob is in place as well, which helps to adjust display focus quickly. For people with glasses, there is 18 mm eye relief. Overall this is one of the best rangefinder under 300$ price tag. 
Strengths
Best for hunting
IPX4 waterproof housing
Advanced sig ballistics and angle measurement
Weaknesses
Non BDX versions of Sig rangefinder have limitations in ballistics so avoid them
6. Halo xlr 2000 – Best Budget with Red Display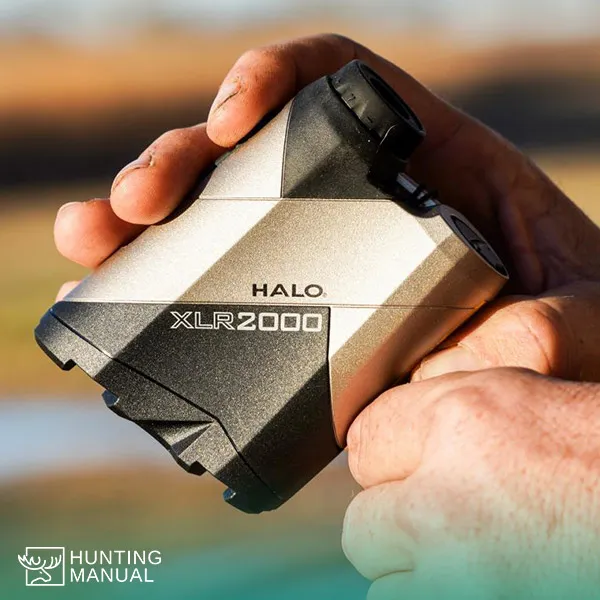 Halo has created a variety of rangefinders based on ranges they can target. XLR 2000 is the farthest among all halo rangefinder variants. It comes with the latest and most advanced laser targeting technology, compensating for distance and slope. It ensures proper angle readings. 
When tested, it has done a pretty good job in all types of terrain and weather. The maximum range for reflective targets is 2000 yards. For non reflective targets, it can easily range any animal, bush, or tree beyond 1000 yards. Thus, it is the best choice for someone looking for a long range rangefinder within the budget of 300$. 
The angle compensation in Halo is mentioned as angle intelligence. Another favorable option that most hunters look for is a red display reticle. Halo xlr 2000 has this option as well, enabling users to target dark objects at a long distance quickly. 
Still looking for better price? If you can work with short range, and black reticle on display, here are best rangefinder under 100. Another halo variant is in the list as well.
The rangefinder itself is ergonomically designed and sits perfectly in hand. The build is solid and waterproof. Overall it is an excellent rangefinder with 2 years warranty. Some long range lovers like a tripod mount option in the rangefinder, which xlr 2000 doesn't have. Other than that, it perfectly fulfills all your needs on hunting in the wild. 
Strengths
Affordable and only option in red display
2 years warranty
Long range and angle beyond 1000 yards for all targets
Weaknesses
No tripod mount option for stability over long range targeting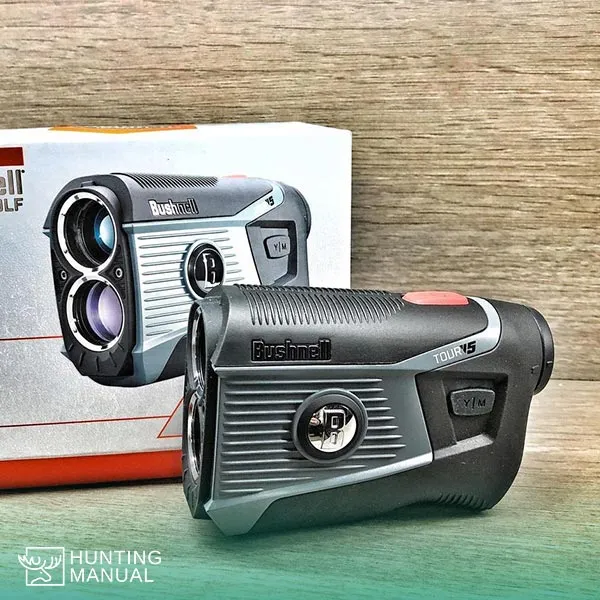 A best selling laser rangefinder used primarily for golf. It has built in 7x magnification and can range up to 400 yards for the pin. Similarly, it can range 700 yards for trees and a maximum of 1300 yards for the reflective target. It comes with a vibration technology for pin mode. 
The tour v5 is a good product when tried on the golf course. While holding, it gives a premium look and classy feel as well. The shift feature for slope and non slope mode. It has a 2 years warranty and can be converted from yards to meters easily. 
A remarkable feature is a magnetic mount on the side of the cart. With modern looking design and perfect accuracy, it's the best rangefinder under 300 for golf. It is effortless to use and performs super fast.
Since golf rangefinders need less distance, the price might be heavy for some. Generally, the golf rangefinders are not usually expensive. The reason is they don't need much range and angle is prohibited in tournaments. 
The display is also evident. When aiming at a flag, it flashes red, which indicates the flag's detection, a cool feature along with accuracy and fast performance. The one downside is this rangefinder does not have slope features. But the magnetic part and red indication give it a lot more uniqueness than many other rangefinders don't.
Strengths
Best for golf with longest range
Magnetic attachment to golf cart option
Effortless navigation
Red flash on flag lock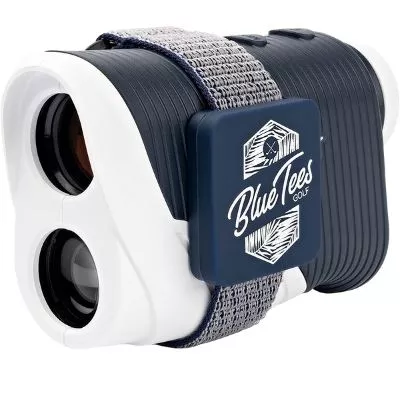 This rangefinder is specifically made for golf and comes with the slope features. The series 2 slope is not tournament legal as slope technology can't be turned off. And so, this rangefinder can't be used in competition. 
During golf course testing, it proved accurate over long distances with a built in angle detection feature. The build quality is excellent, and it has a rubber grip all along, and it gives a nice feeling when holding and better durability.
The three modes: scan mode that allows multiple readings, golf mode which gives vibration on flag lock and the speed mode which gives the speed of the ball are pretty cool features making it unquestionably a best rangefinder under 300$ for golf. 
A handy strap that can be wrapped around the rangefinder comes along with the package. It allows mounting a rangefinder to any metal surface. The expert's words are "Impressive and improved rangefinder for golf, and we would recommend this".
If you are an avid golfer looking for the best golf rangefinder under 300, the blue tees golf 2 is one you should go with. Lastly, it has a 2 year manufacturer's warranty, and 60 days, no question asked return policy.
Strengths
Slope feature
Ergonomic rubber grip
2 years warranty
Weaknesses
Not tournament legal as slope can't turn off
9. Precision Pro NX9 – Best Golf Rangefinder for Price under 300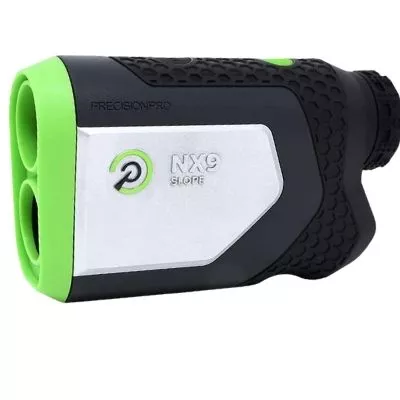 Similar to the previous two in our list of best rangefinder under 300, precision pro nx9 is made primarily for golf. On the golf course, the rangefinder performed well, when tested along bushnell golf and blue tees, the readings were accurate
The rangefinder comes with a user manual, a nice case with a clip to hook on anything, a quick start guide, a cleaning cloth, and cr2 batteries for life. The green and black exterior matches the surroundings. The magnetic grip can be attached to the cart's metal. This makes the nx9 pro so much easier and quicker to use. 
We had to adjust the eyepiece in order to get proper focus and display. The slope feature compensates for uphill or downhill and gives accurate yardage. The mode button is used to enable the slope feature. When picking up flag poles, the reticle also vibrates in slope mode, notifying the golfer that the reading is locked on flag. With a water-resistant build, quick readings, and shockproof design, the nx9 pro slope is worth the money. 
Unlike Bushnell v5, it does not have red illumination light upon the target lock. But it does vibrate, which is excellent. The nx 9 pro provides free batteries for life for users in the USA. In the golf rangefinder market, for the price with value, precision pro NX 9 wins.
Strengths
Great build quality, exterior and performance
Slope feature for angle compensation
Vibration on flag lock
Free batteries for US users
Weaknesses
Focus required via eyepiece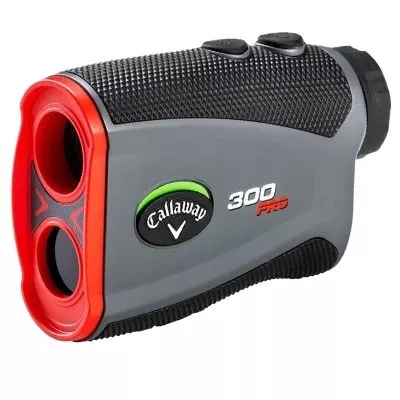 Callaway golf rangefinder comes with 1000 reflective range and 300 yards pin range. The unique feature in this rangefinder is it gives a chirp or a pulse sound when the pole is detected and locked to confirm the range. 
The pin acquisition mode gives the most accurate readings among all the ways, and users rarely need to change to other modes. A scanning mode helps acquire multiple targets at the same time.
The Callaway fits nicely in hand and is built with great features and performance. It is fogproof and waterproof and comes in a great package. From the price point, it provides all the value, and thus it is one of the best rangefinder under 300 for golfing. 
The Callaway 300 Pro has an automatic elevation or slope adjustment feature to compensate for the angle. This rangefinder is tournament legal, and the slope can be turned on or off. Like many other golf rangefinders, this one also has a magnetic clip to attach to the golf cart frame. The carry case is pretty good and provides safety to the unit. 
Overall, the key features are the 6x magnification, magnet hold (Magna hold), rain and fog proof, and slope technology. Other than that, it is lightweight and significantly improved against earlier versions. The display is black, which is common among most golf rangefinders. 
Strengths
Pulse sound on flag lock
Fog proof and waterproof build
Slope adjustable for angle
Magnet for holding on golf cart
Weaknesses
Pulse sound become annoying on repetitive use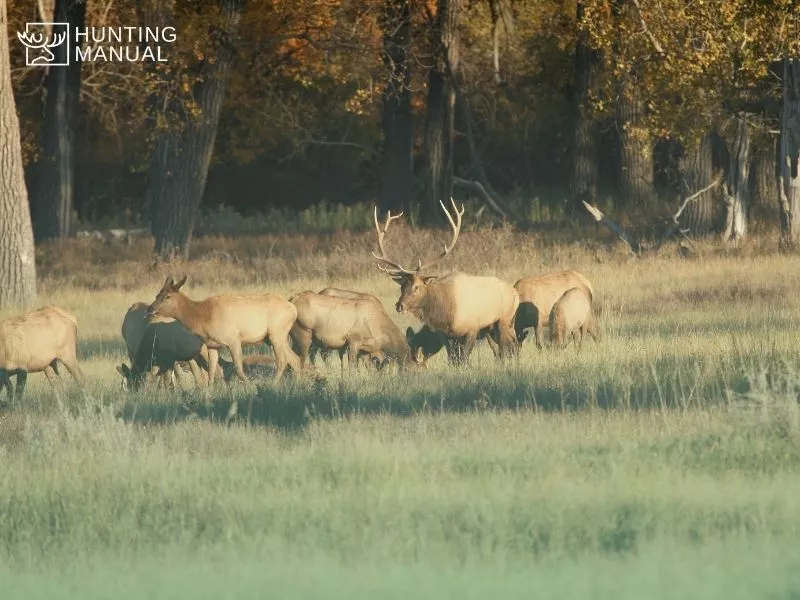 Buying Guide for Best Rangefinders under 300:
Following are key aspects in rangefinders one should be focused on while buying a best rangefinder under 300 with quality.
Clarity of Glass
A rangefinder's display glass and lens hold a significant role in functioning and output. It must be weatherproof and fog proof. Some high end rangefinder binoculars have nitrogen purged and argon purged lenses, but they cost a lot. Instead, a waterproof rangefinder will do the job for years if used carefully and kept in cover. 
Waterproof and Weatherproof
As mentioned earlier, rangefinders with a strong build that comes with these features is a must have. 
Easy to use Menu
Certain rangefinders have complex setup and require mobile apps when hunting. Such rangefinders are irritating for senior hunters unless they have someone accompanying them on a hunting tour. Therefore, an easy to navigate and user friendly unit with automatic features is preferred for quick readings. 
Built Quality
In the rangefinder industry, most units are made with plastic or have some design flaws. Look for a rangefinder with a steady rubber grip and design suitable for both left or right handed users. 
Angle Compensation
For hunting, this is a must have feature. It can be excluded for golf since the tournament legal doesn't allow slope or angle. 
Range and Accuracy
Before buying a desirable unit, one must know his target distance. For bow hunters, it is always less than 100. Similarly, for golfers, it's less than 300. For long range shooters and hunters, it can be 1000 yards. Always look at the non reflective range, which is the actual range for hunters. 
Low Light Vision
During dawn and dusk, Rangers have difficulty targeting dark objects, and even dark skinned animals in the shadows during day time give a tough time ranging accurate distance. Look for information regarding hunting safety, hunting lands, and target animals before going in wild. More information will increase your rate of success!
Therefore, an illuminated red display comes in handy when targeting non reflective targets. Similarly, some rangefinders have bright displays in low light and a red reticle, the cherry on top. 
Conclusion
Finding a good device within budget limits your choices. Within 300 dollars, the only features that are hard to find are the tripod mount option and red illuminated display. Luckily, halo xlr 2000 gives red illumination within the budget range. This makes it ideal for hunting on dark objects.
To conclude, Vortex Impact 1000 rangefinder comes first in the best rangefinder under 300 list. It is followed by Bushnell prime 1700. The third one Leupold rx full draw 3, is best for bow hunting and rifle hunting. 
The Bushnell tour v5 comes on top for golf under 300$, followed by Blue Tees Golf Series 2, precision pro nx 9 and Callaway 900. All these rangefinders were tested alongside each other and accurate readings were noted.