Keeping your rangefinder secure during hunting or golf trip is probably the most proactive measurement you can take to keep your expensive gadget usable for long run. I, being an active hunter and golfer, have encountered such scenarios where rangefinder slipping through hands is common. Thus keeping a best rangefinder lanyard tether is a must have.
Being an avid hunter, I have concluded Nikon Recon Gear Tether as the best rangefinder tether. For best rangefinder lanyard, Garmin Quick Release Lanyard is the one we loved the most.
As a clumsy person, my belongings fell on the ground almost on every hunting trip. The case is similar for other hunters and even golfers who regularly use rangefinders. I, with my fellow hunters, while bow hunting, often rely on a tree stands to analyze the situation. It is when the glassing equipment slips through my hands.
Last year, our hunting trip was fine until my rangefinder fell twice. Tree stands on my property are nearly 20 ft. high. Anything that falls from such height is impossible to survive. 
Since, I have already lost two rangefinders., It made me realize how important it is to carry a rangefinder lanyard along. Trust me, lanyards and tethers are heavenly products that will enhance safety of sensitive equipment and gear. If you are also looking for these useful little buddies, let me guide you through them.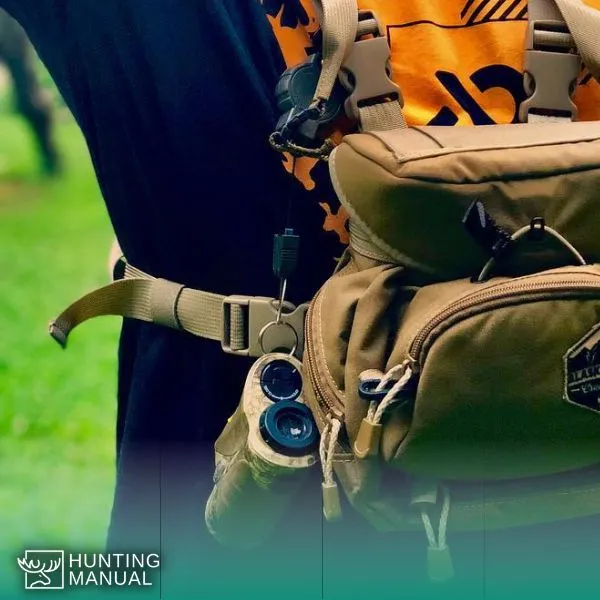 List of Best Neck lanyard and Tether for Rangefinders
I with my friends spent more than 1 month testing 15+ tethers and lanyards and shortlisted few based on ease of use and installation to rangefinders.
1. Nikon Recon Gear Tether – Best Rangefinder Tether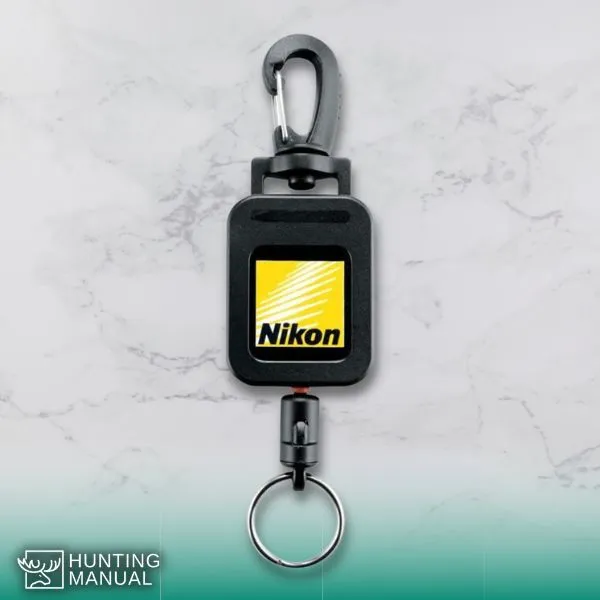 Nikon has been a renowned name when it comes to electronics including rangefinder so, I wondered why not give Nikon rangefinder tether a try? To my surprise, it worked extremely well with the Nikon rangefinder as well as a few others. During the field test, I clipped it with the strap of my chest pack and it offered a secured grip. 
The gear was in easy reach throughout the hunt. Moreover, its cable measured 25 inches max which was a decent length for most of the hunters. Since the tether is waterproof, it was able to withstand rain water without losing its functional supremacy.
My experience of attaching the tether to different areas of the pack and belt to test the length went pretty convenient too.
What else could be better than having an impeccable retractable force that too, for such a small gadget? The circumstance it worked best in was when silence was required. It is super quiet which makes it one of the best rangefinder tether one could get.
Pros
Waterproof
Silent operation
Incredibly strong pull for various rangefinders
Cons
Can't be clipped around belt
2. Boomerang Hunting Tether – Best Retractable Lightweight Rangefinder Tether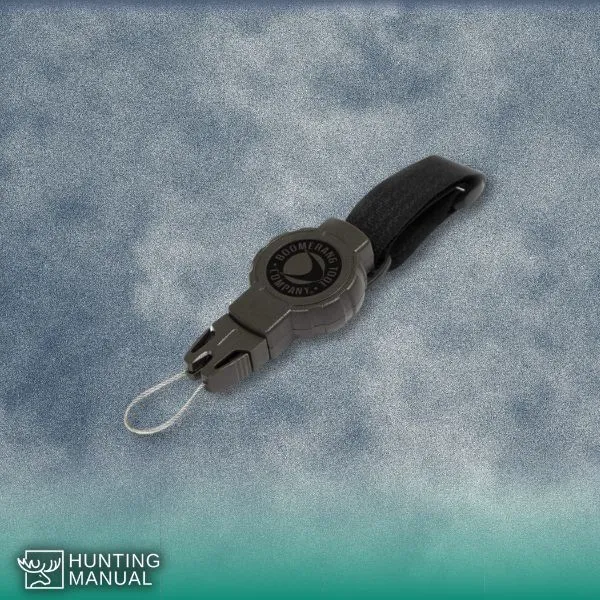 This one caught my attention immediately because of the multiple available sizes. Moreover, Boomerang tether comes with either a velcro strap, belt clip, or carabiner which you can choose based on your preference. We tried all sizes and attachment types and all of them offered a satisfying experience. The tether is light weight which makes carrying the rangefinder much more comfortable.
During our use, we found the 24 and 36 inch reach as the most suitable and convenient. The 48 inch reach was too long for most of us. However, our 6 ft. tall fellow rated it a 9/10 product. Speaking of the retraction, it was not the same for every piece. I experienced a bit of high retraction which was however enough for my rangefinder but some of my fellows felt the retraction to be par. 
As a whole, this Boomerang tether is a decent choice for beginners who don't count on top-end quality. However, even after a month, all the pieces are still in great shape and work well. One major flaw we, as professional hunters came across was its noisy operation. 
Pros
Waterproof
Silent operation
Incredibly strong pull for various rangefinders
Protects the rangefinder
3. Nikon Retractable Rangefinder Tether – Best Camo Rangefinder Tether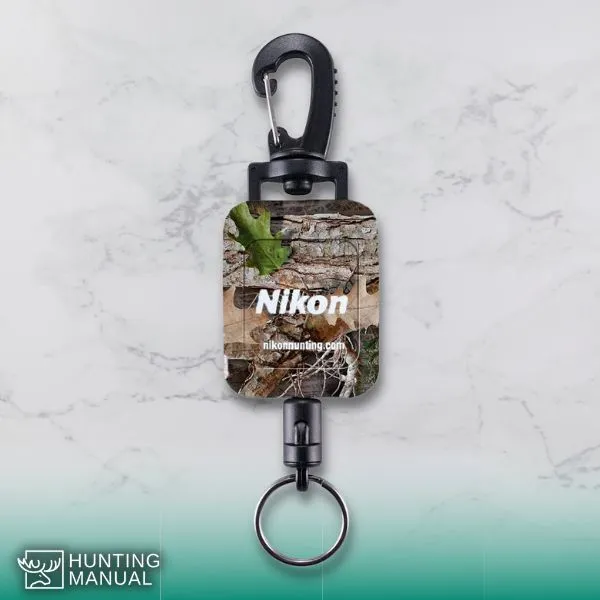 As a hunter, how I felt after using this was tremendous and impressive. Its Realtree camouflage appearance made it blend extremely well with my ensemble as well as the bag. After hooking it with the strap of the bag, it became effortless to access the rangefinder. 
My field testing with Nikon tether lasted nearly 2 months using rangefinder for hunting purpose. I observed its retraction is strong, the carabiner is sturdy and the key ring ensures better protection to the gear. The only conditions when it was not on optimal performance was when we required complete silence. This was because of its noisy retraction which could alert trophy animals nearby. 
All in all, this tether would be a decent performer for conditions where retraction noise isn't an issue. Considering its robustness, protection for gear, and convenience of use, we couldn't resist including this product on our list. 
Pros
Camouflage design
Solid extension cable 
High-quality product
Cons
Loud retraction noise
Relatively expensive
4. Garmin Quick Release Lanyard – Best Neck Lanyard for Rangefinder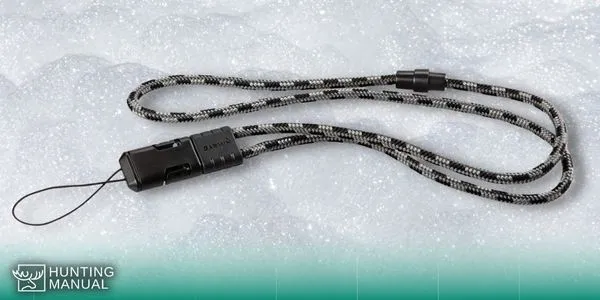 This 18-inch long lanyard has to be the best rangefinder lanyard that I have ever tested. The feature which makes it unique from other choices is its easy wearability around the neck. My hunting became a lot easier due to this amazing over-the-neck quick-release cable. At first, I was skeptical about attaching the rangefinder with this lanyard since it looks like a causal rope. However, when I started using it, my views were flipped entirely. 
First off, the carry strap held the Bushnell rangefinder firmly. Additionally, the length of its cord did suffice for me on the ground and tree stand both. Its quick release feature helps to hook it up with the electronics including a rangefinder in no time. 
It worked best on elevated positions like hunting tree stands when there is a fear of slipping the gadget from hand. All thanks to its quick release lock which secured the gear impeccably. Due to this feature, I was able to use this lanyard for my rangefinder while golfing too. Because of its superb features and performance, this gadget has made it to our top recommendations as well.
Pros
Easy access to the gear
Hangs over the neck 
Efficient and secure quick release
5. Military Grade Tactical Lanyard – Best Retractable Rangefinder Lanyard with Clip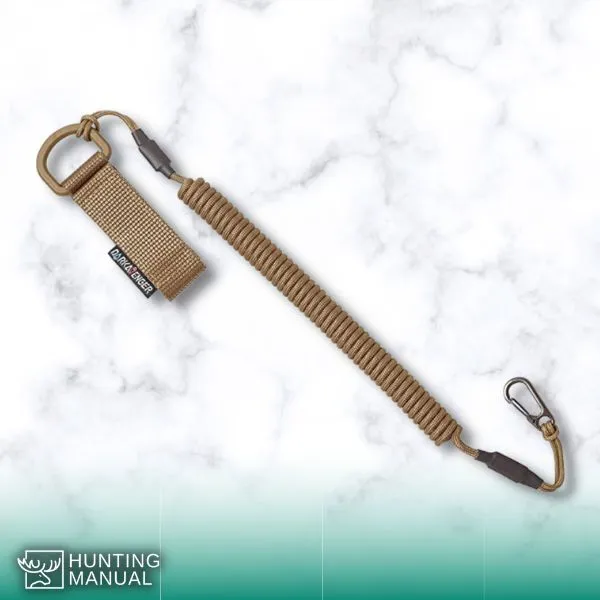 Are you in search of a lanyard that comes with supreme robustness? Look no further than this military-grade tactical lanyard. Unlike most of the lanyards that we tested, this one came with a coiled cable. To our surprise, the cable had the potential to stretch as much as 50 inches. 
Joints on both ends offer easy detachability with no mechanical parts. I removed the belt clasp and attached the cord directly to the rangefinder. After doing so, I felt my rangefinder to be more secure than it would have been otherwise. While using the rangefinder from the treestand, the gear slipped out of my hand, giving me a minor heart attack. Thanks to the strong cable with ultrafast retraction, the gear was protected. 
During the field test, I kept switching to the steel carabiner and string itself to attach the rangefinder and both worked well. In my opinion, this product is safe to be called one of the best rangefinder lanyards.
Pros
550 lbs. spring breaking strength
Detachable joints
Strong and quick retraction
Cons
Can't be worn around the neck
6. CyberDyer Tactical Elastic Lanyard – Best Inexpensive Rangefinder Lanyard with Buckle Clip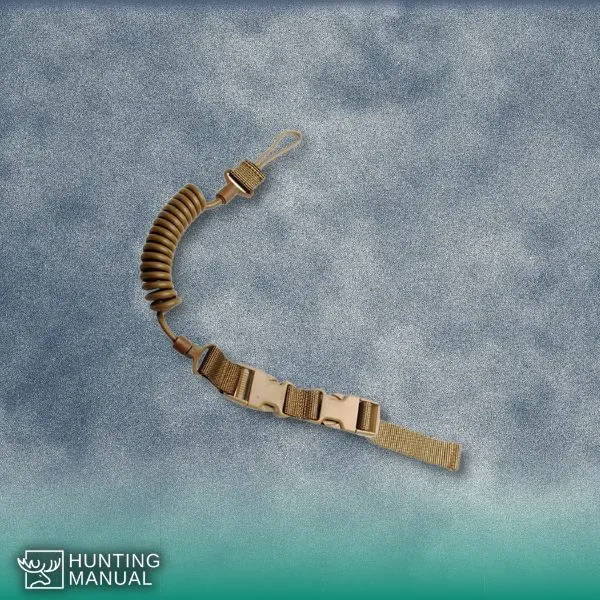 This one was a pretty affordable choice as compared to other options that we came across. Our team expected it to work decently for a rangefinder and it fortunately did. The first unique feature that surprised us a lot was the 55 inches full extension capacity of the coiled string. Honestly, when coiled, no one can imagine it stretching to such a large extent. 
Since it's a pretty long lanyard, I attached it to the chest pack so that even if it falls, it wouldn't reach the ground. The belt loop is pretty adjustable which made the rangefinder easily accessible. Though this cannot be worn around the neck or on shoulders, I attached one end to the chest pack and the other looped side to the gear itself. 
It comes with a side release buckle with which detaching the gear from lanyard was made convenient. While wearing on the chest, the gear reached a bit below my knee as I dropped the rangefinder. Overall, it was a great value for money. 
Pros
Adjustable belt loop
Comes in three different colors
Exceptional cable length
Offers solid support to the rangefinder
Cons
Would hit the ground if attached to waist belt
7. Heavy Duty Lanyard – Best Cheap Rangefinder Paracord Lanyard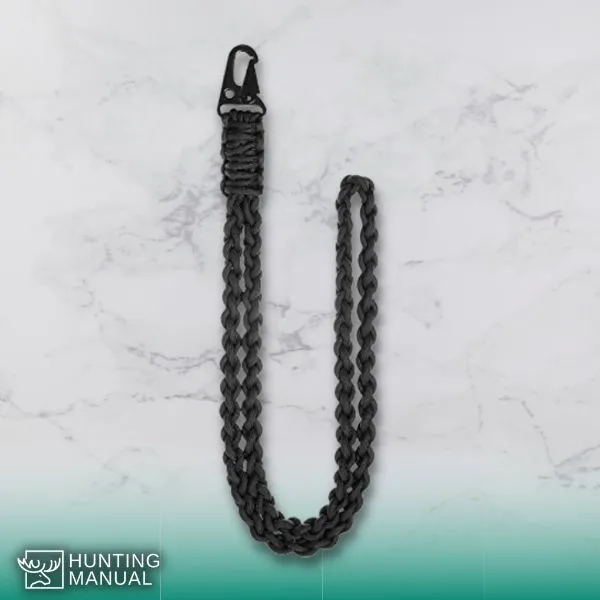 Lastly, we couldn't resist adding this amazing product which is unlike all of the aforementioned choices. What makes it stand out is its paracord which adds to its strength and durability. The product is pretty affordable as it comes in a pack of 3. The tied paracord lanyard is 22 inches long which when untied can extend up to 80 inches. 
I wore it over my neck and attached the rangefinder with the metal buckle. The attachment was solid whereas, the gear was easily within reach while on the ground as well as on the treestand. Some of our team members also used it to carry their mobile phones, GPS, and compasses, the product was suitable for all. 
My experience of using this product as a hunting rangefinder lanyard was brilliant. I tried using it during cycling to secure my cell phone with a lanyard-friendly case and found it quite good. This time, my choice was to wear it as a cross-body strap.
Pros
Durable metal buckle
Heavy duty paracord
Suitable for various purposes
Buying Guide
Similar to other rangefinder accessories including, like best cr2 rechargeable battery, lanyards and tethers are not priority of hunters and golfers. Even though and don't have any complex components, there are still a few things you must consider. These things make your choice worthwhile and enhance the performance of your gear.
1. Length 
Whether it's a tether or lanyard, the length plays a vital role. These little gadgets come in different cord sizes which one can choose based on preference and height. Ensure that the tether/lanyard you choose won't let your rangefinder hit the ground regardless of where you attach it. 
The standard size is 33 to 34 inches which if hung around the neck will reach the middle of your chest. This offers easy access to your rangefinder and also prevents it from dropping onto the ground. 
2. Retraction
A solid retraction comes in handy for all the hunters who stay on treestands for their targets. Usually, rangefinders are likely to slip out of the user's hand and fall onto the ground. However, a strong retraction protects the gear from dropping or exerting force onto the person having the lanyard. 
A lanyard or tether with retraction draws back to its original position after the sudden drops. The retractable string has enough power to prevent the rangefinder from hitting the ground by bouncing back safely.
3. String Breaking Strength 
You wouldn't want your tether or lanyard to break as you hook it up with your electronics, would you? For that, you must look for a lanyard that is crafted out of high-end materials and offers high breaking strength. It would be ideal to opt for a tether/lanyard with a minimum of 50 pounds of string-breaking strength. 
Conclusion
Electronics like rangefinders are sensitive and need protection during adventurous activities like hunting, and golfing. For this purpose, rangefinder tether systems are designed to offer optimum fall protection to the users. 
We have reviewed the best rangefinder lanyards for all the users out there. Make sure to select the ones that suit your requirements i.e lanyard/ tether length and attachment type.
Frequently Asked Questions (FAQ's)
How to carry a rangefinder safely?
Rangefinder is a sensitive gear which must be carried carefully for better safety. With the help of a best rangefinder tether, you can carry it conveniently and safely. Usually lanyards are used to protect hunting and golf gadgets from falling while usage. 
Does the weight of a rangefinder lanyard/tether matter?
Yes, it does matter. As you carry the lanyard by attaching it to yourself, it is important that it doesn't weigh a lot. A bulky tether could lead to discomfort and interrupt the performance while using it with your rangefinder attached at the other end of the lanyard. 
How to make a paracord rangefinder lanyard?
Doing a paracord DIY rangefinder lanyard isn't challenging. You just need the right products including:
• A paracord of your desired length
• Swivel carabiner/hook
• Double barrel cord lock
• A pair of scissors
• A lighter
Once you've gathered all the things needed, follow the guidelines carefully as mentioned in this video.