Imagine you are out in woods hunting, waiting for game animal to appear. As soon as it shows up, you try to range it but your battery dies at the exact moment! This will be frustrating and you may lose big catch. That was the moment when I felt the need for a best cr2 rechargeable battery for rangefinder that must last if not years then, a good couple of months at least.
I began my research, tested out some, and finally found the top CR2 and CR123A batteries. These cells are the foremost choice for rangefinder users mostly because of their impeccable shelf life. Small things matter, so does a battery for everyday devices.
For hunting and golf rangefinder battery in 2022, hunting manual's recommendation is Duracell – CR2 battery. Offering high performance and a longer lifespan, it is packed with a lot more than usual units.
For best cr2 rechargeable battery, Aoboo works great and can be recharged in 4 hours. Moreover, if you are looking for CR123A battery for daily use devices, make sure to look Surefire CR123A Lithium Battery.
35+ CR2 & CR123A
Batteries Analyzed
8 Best Rangefinder
Batteries Considered
100+ Hours
of Testing
Whether you are a hunter or a golfer, rangefinders have made everyone's life easy. Since this gear is used for long runs, it is crucial to couple it with the best rangefinder battery. When I first started using a rangefinder, my experience didn't go up to scratch. This is because the battery in my laser unit died within a few weeks only. 
8 Best Golf & hunting Rangefinder Batteries (2022)
For every user searching for decent decent rangefinder cell, we have compiled complete guide. Make sure you understand the important buying factors and purchase accordingly. In our research on testing, user experience and longevity of more than 35 batteries, we narrowed the list to 8 batteries which worked amazingly in varying conditions.
1. Enegitech CR2 3V – Best Battery For Golf Rangefinders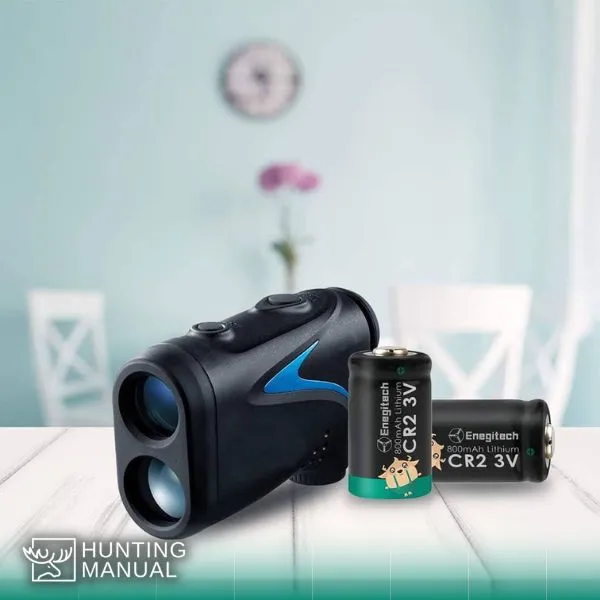 First off, we got our hands on the Enegitech CR2 non-rechargeable cell pack of 6 at an affordable price. I used this 800mAh cr2 battery for a golf rangefinder and it surpassed our expectations brilliantly. 
As an active golf club member, I used the gear for months and the battery showed no sign of dullness at all. All thanks to its imperceptible self-discharge rate i.e., less than 1% in a year. A fellow golf mate wondered if this can be a Leupold rangefinder battery and luckily, it did perform well there too.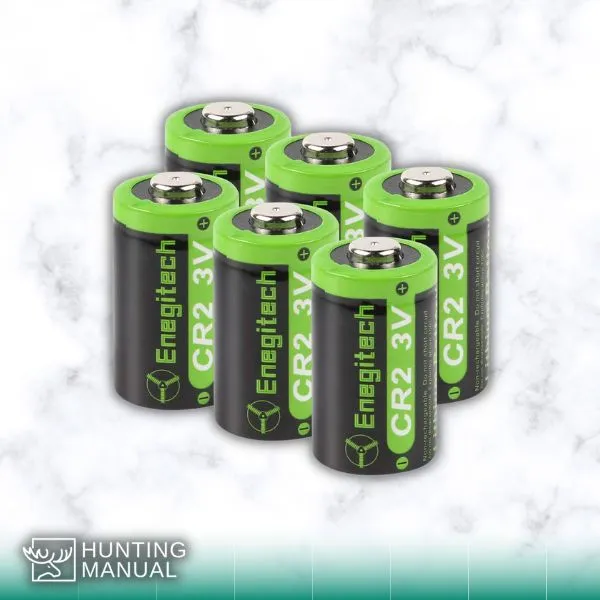 These pack of batteries by Engitech stands on top of the list because of value of money, optimum performance, useable for high draining devices and safety against temperature fluctuations.
Pros
Works great even in high temperatures 
Reasonable
10 year shelf life
2. AOBOO CR2 Rechargeable Battery – Best CR2 Rechargeable Battery for Rangefinders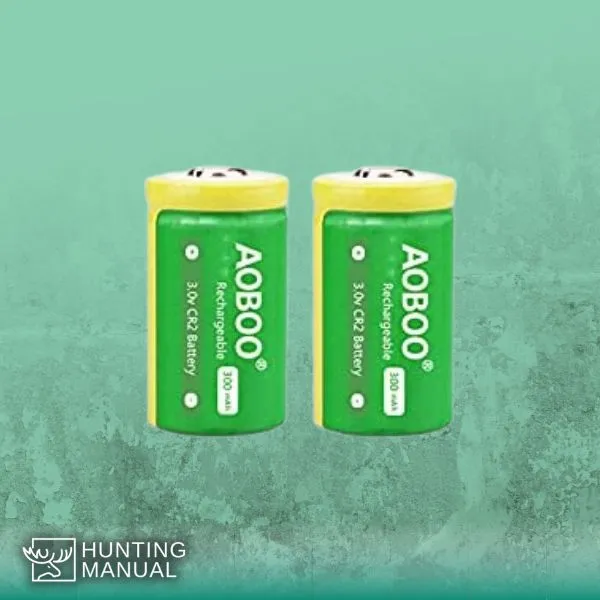 Lastly, I would like to review the most incredible rangefinder rechargeable battery that offered us an impeccable experience. These are the priciest batteries among all on our list but proved their worth with the performance. The cell came pre charged between 35% to 80% which lasted for two weeks approx. 
However, after charging it to the max capacity, I managed to use the rangefinder throughout the month without losing my battery's juice. As for the charger, it is compact and portable which is super-easy to carry everywhere. It also prevents the cell from overheating, thanks to the PTC protection.
Aoboo batteries have temperature tolerance of -20℃ to 60℃ and have 800 mAH. The unique factor in these, as said earlier is, rechargeable option in CR2 batteries which is rare and mostly found in AAA batteries and other variants.
Pros
Superb performance
Can run for about 30 days on a single charge
PTC-protected charger
Cons
Charger might die before the batteries
3. Surefire CR123A Lithium Battery – Best CR123A Rangefinder Battery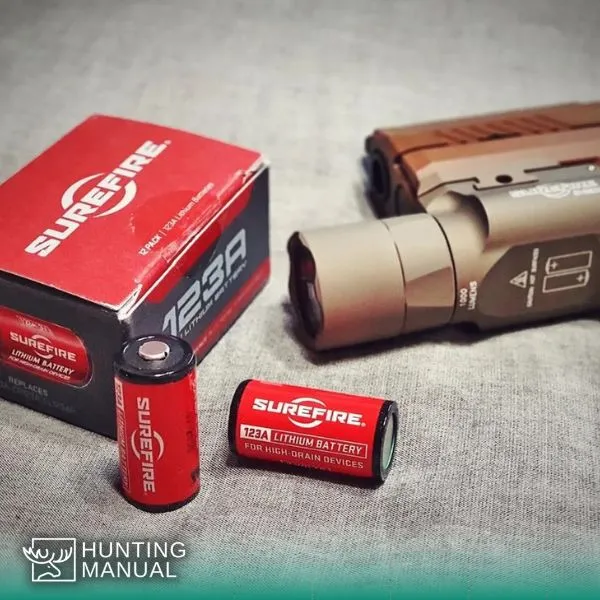 This is the only CR123A cell that was worth using in the rangefinder hence, couldn't resist writing a review. Since we had always heard about these batteries working remarkably, our test lasted for over 5 months. I also kept the cell in the Bushnell rangefinder unused for nearly a month to evaluate the leakage but there wasn't even the slightest of it. The gear didn't lose its operational supremacy even when left idle for 30 days. 
Its temperature tolerance also makes it the best rangefinder battery which I observed during extreme humid conditions. We replaced it with an old Duracell DL123A cell and both performed in a similar manner i.e., outstandingly. 
As claimed, Surefire CR123A batteries worked pretty well in high draining digital devices e.g. high beam torch. New batteries come with full voltage & energy juice and for me, it worked pretty good.
Pros
10 year shelf life
Tolerates fluctuating temperatures amazingly
Comes with a battery case
4. EBL CR2 Lithium Battery – Best Battery With Extreme Temperature Tolerance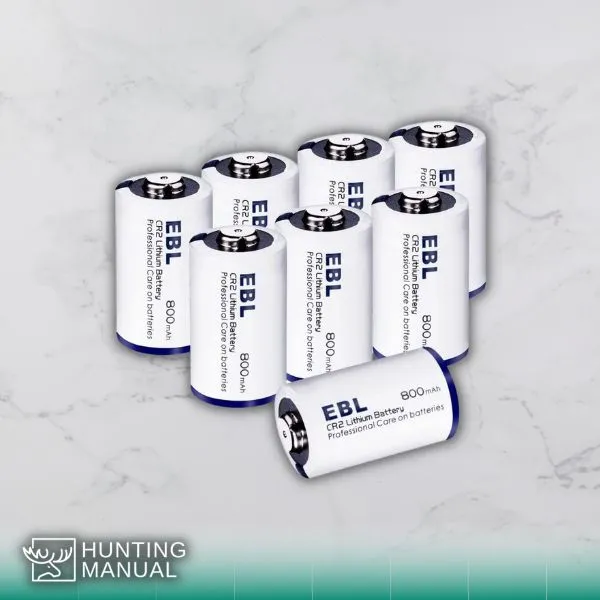 Up next is another best CR2 battery for rangefinder which comes in a pack of 8. These are also non-rechargeable but proved to be a great companion in the long run. What impressed us the most about this cell is its ability to withstand thermal fluctuation. I realized this when the rangefinder was left under scorching sunlight with batteries in it for hours and it still worked absolutely fine.
It came with a rangefinder battery case which saved me from losing any of the batteries. As the company claims, it has less than 5% self-discharge property – slightly more than other choices. Nonetheless, I am still hopeful for its longevity due to its 800mAh capacity.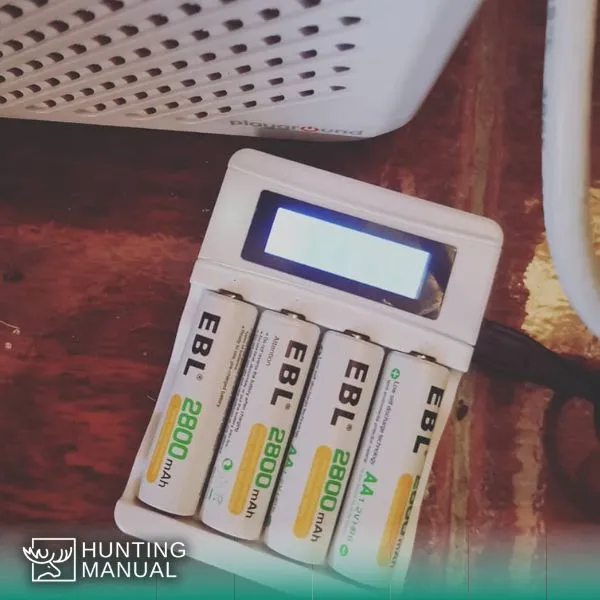 These batteries are designed to be used for high usage devices that require more energy. With 800mAH capacity and operating temperature of -40℃ to 60℃, it works great.
Pros
Avoids explosion in heat
Efficient anti-leaking protection
Superb temperature tolerance
Cons
Non-interchangeable with CR123A cells 
5. Duracell CR2 High Power Lithium Batteries – Best Rangefinder Battery of All Time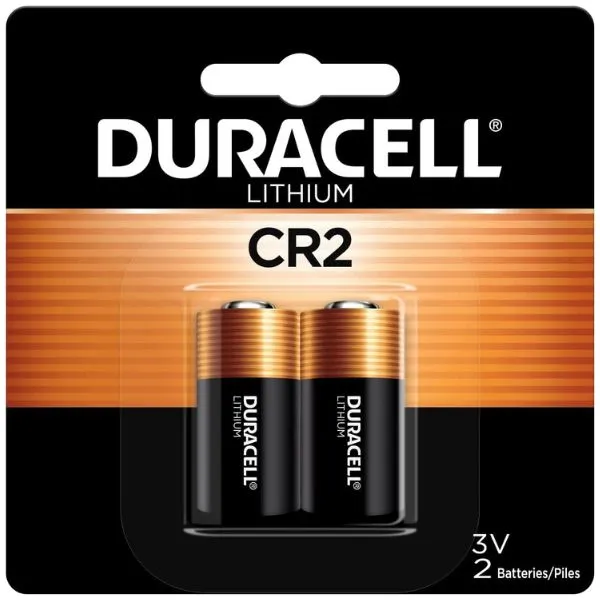 Duracell has always been at the pinnacle of success hence, it was impossible for me to not test this cell. Even though these are small in size (3V) but worked perfectly fine for the Bushnell rangefinder. This was a relatively pricier choice but its exceptional performance made it worth each penny. 
The rangefinder consumed the cell it originally came with like crazy which made me super concerned about my gear's performance. However, when we switched to the Duracell CR2, there was a significant boost in the operation and longevity.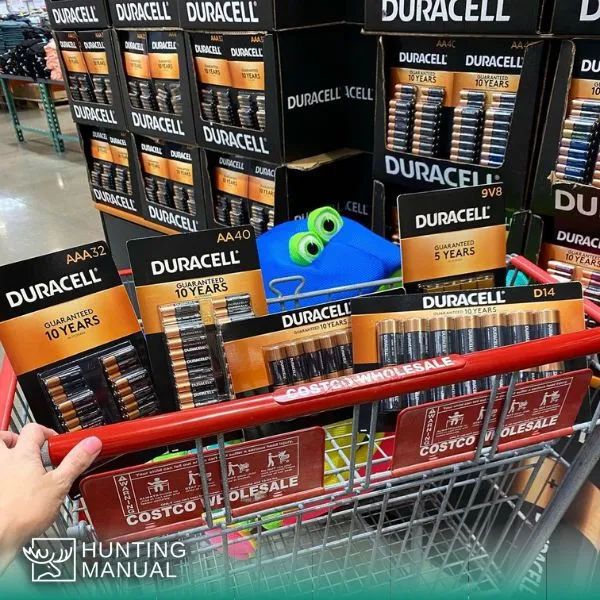 Duracell is globally recognized batteries brand and have distribution all over the world. With 780 mAH, these batteries are tested against safety measures . Although they don't have rechargeable ones in CR2 but still, these batteries are impeccable, performance wise. Moreover, they have thousands of permanent customers globally which speaks of its efficiency.
Pros
Excellent value for money
Its power is equivalent to some high-end batteries
A decade-long shelf life
6. Energizer CR2 Lithium Battery – Best Leak Proof Rangefinder Battery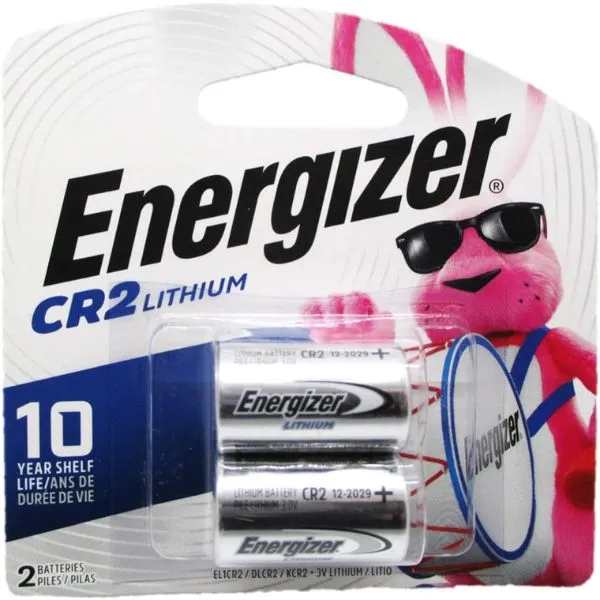 Just like other top choices on the list, the Energizer CR2 lithium cell is just as impressive. We needed a Nikon rangefinder battery replacement and hence, tried this one. Previously we used the Energizer EL1CR2 cell that fulfilled its lifespan. Fortunately, this one lived up to our expectations. 
What made us stick to this battery was its no leak property. Since we test on multiple range finders, I left Nikon with Energizer CR2 lithium cells unused for more than a month. To our surprise, there was no acid leakage and performance was upto mark even after a month.
The batteries have 800 mAH perform well on home devices as well as in golf rangefinders. What I have observed in golf field is that many golfers often buy this specific battery with each new unit they buy. A sense of trust and better than average performance indeed.
Pros
Reliable for every weather
No acid leaks
7. Viridian CR2 Tactical Energy Plus – Best Insulated Rangefinder Battery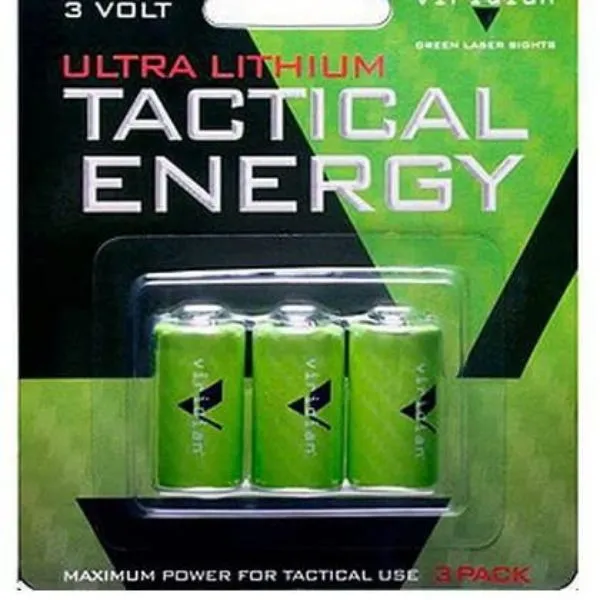 What we experienced after using this battery in our laser rangefinder was beyond the thoughts. The gear didn't encounter any difficulties even in the chilliest temperatures of Chicago. Moreover, every cell in the pack is wrapped for insulation in order to enhance its lifespan and protect it from damage. 
As claimed by the company, this battery possesses a 15 year shelf life which time will tell. So far so good, I loved it and so does my brother as it has remarkable performance when used in rangefinder. It lasted the entire hunting season. I was also able to take 5-10 rounds of golf with it.
Viridian is specialized in weapons manufacturing and they have built these batteries specifically to be used in digital optics like rangefinders, laser sights and other tactical gear. They provide much higher Milli Amp Ratings 1050+ which is their unique selling point. Moreover, this pack comes with 3 batteries in less than 20$ which is pocket friendly.
Pros
Budget-friendly
Performs well in extreme temperatures
Cons
Might not last as long despite wrapped design
8. Shockli 3 CR2 3V Lithium Battery 1000mAh – Best Budget Rangefinder Battery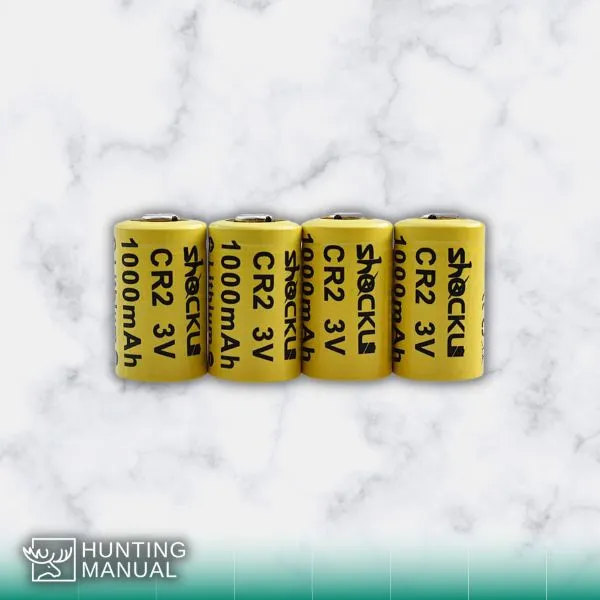 These pocket friendly cells caught our attention instantly so we planned to try them out. My field testing lasted around a month and these batteries did the job perfectly throughout. It comes with a storage box which was a huge plus to carry multiple batteries, that too at such a low price point.
As far as longevity is concerned, these are claimed to have a 1000mAh capacity. However, most of the CR2 batteries possess 800mAh. Not to forget, it is integrated with PTC protection which let me use the rangefinder even in harsh weather without any complications. 
The unique feature that Shockli CR3 batteries offer is price point with great performance at 800 mAH. For value of money, it definitely wins amongst the rest as it provides 8 batteries in less than 15$. Since, I used it for a month on rangefinders in golf as well as hunting fields (early morning), it worked fine for me!
Pros
Comes with a storage box
PTC protection for extreme temperatures
Buying Guide for Golf Rangefinder Battery
Buying the best hunting rangefinder requires a long lasting, temperature tolerant & durable battery which is easier said than done. To get your hands on the right product, you must know the important considerations. This buying guide will help you understand the key factors that you must understand before purchasing a rangefinder battery:
CR2 vs. CR123A
Simply put, CR123A is an advanced version of CR2 batteries. In physical appearance, 123A batteries are slightly longer than the CR2s. Unfortunately, CR2 can't be a replacement choice for CR123A since these cannot fit in the majority of the applications where 123A is required. 
Because of the larger size, CR123A is capable of delivering as much as 50% more output than a CR2 battery. This means, if you were successful in using a CR2 cell in a device that requires a CR123A cell, the gear won't perform up to its maximum potential. 
Speaking of the similarities between these batteries, both are crafted out using lithium manganese dioxide. In addition to this, both are 3-Volt batteries. 
Types of Rangefinder Batteries
There are two common types in which rangefinder batteries are available. One can choose it based on their personal preference. In my experience, both types did a decent job however, we liked the performance of rechargeable batteries more. 
As referred by the name, you can recharge these batteries when they are out of juice. Rechargeable cells come pre installed in the rangefinder and cannot be detached. These are best recommended for rangefinders. The main reasons include its cost-effectiveness and longer lifespan in comparison to others. These batteries would last somewhere between 3 to 5 years. 
These are not fixed to the rangefinder hence are disposable cells that need to be replaced when they run out of power. Replacement batteries have a usual lifespan of 6 to 8 months.
While purchasing cells for your rangefinder, ensure that it has a low self discharge. This is a process when the stored charge of batteries is reduced due to the chemical reactions occurring inside, resulting in diminishing the overall shelf life of a cell. 
The lesser the self-discharge rate, the greater will be the shelf life. It is suggested to look for batteries that don't degrade more than 5% within a year. 
Frequently Asked Questions (FAQ's)
How long do CR2 batteries last?
A CR2 battery life will differ based on manufacturer and usage. On average, most CR2 batteries work fine for 2 to 5 months for high draining usage like cameras, ranging tools and lights. However, some extra ordinary units such as Duracell and Energizer can last more than 5 months.
Are CR2 batteries rechargeable?
Some CR2 batteries are rechargeable while some aren't. You can determine which one is rechargeable simply by its name. For example, a CR2 cell which is also known as a 'secondary battery' is capable of recharging. However, one called a 'primary battery' is non-rechargeable. 
What size battery is suitable for a rangefinder?
Typically the majority of rangefinders can fit 27mm x 15.6mm of CR2 batteries. Whereas, for CR123A batteries, the ideal size is 34.5mm x 17mm. 
Which rangefinder battery bushnell rangefinders use?
The Bushnell rangefinder battery type vary between CR2 and CR123A. You can choose the right cell type based on the requirements of the Bushnell rangefinder.
Conclusion
Rangefinders have made the lives of golfers and hunters hassle-free but, it could still become a headache if not combined with the best rangefinder battery. In my pursuit of testing new batteries, I was lucky to find a couple of excellent cells. All the aforementioned choices work impeccably well for various rangefinders. However, the one our team loved the most is Duracell – CR2 battery.
If your rangefinder's battery is out of power, make sure to look for one that promises a longer lifespan. Don't overlook the important considerations and choose wisely. Wishing you all the luck!