If you are off to a bird hunting session or plan an occasional air gun shooting with your friends, the last thing you want is to lose the target. Of course, during small game hunting, your gear should always be top notch and you must need a best rangefinder for air rifle.
If you are a pro air gun hunter, you know how rangefinders are a critical part of air gun hunting. And if you are new to this sport, when it comes to air rifle hunting, you might think the air gun plays the main part. However, that is not the case.
For best rangefinder for air gun hunting, we found Sig Sauer Kilo 1000 on top of the list. It is followed by Vortex 1800 and Tidewe 1000 respectively. All of these units come with features that suits maximum air rifle shooters.
The most part is played by the hunter behind the trigger and of course, a lot of elements come into play. We often come across the question, how are normal rangefinders any different from the ones used with air gun shooting?
Well, as far as the regular rangefinders are considered, they measure the distance between you and your target. However, on the other hand, the ballistic and shooting rangefinders provide extra features that emphasize the shot's accuracy. They have an inbuilt ballistics system that measures the impact of your shot including wind pressure and angle.
Rangefinders are used in a variety of fields. However, when it comes to choosing the best rangefinders for air rifles. It all depends on multiple factors including the shooting range of air gun you use, purpose of use of air gun, and most importantly, your budget.
To save you some time, we have jotted down a few of the best rangefinders for air rifles, small game hunting, and small game season. Not only this, we have even listed rangefinders for beginners and newbies.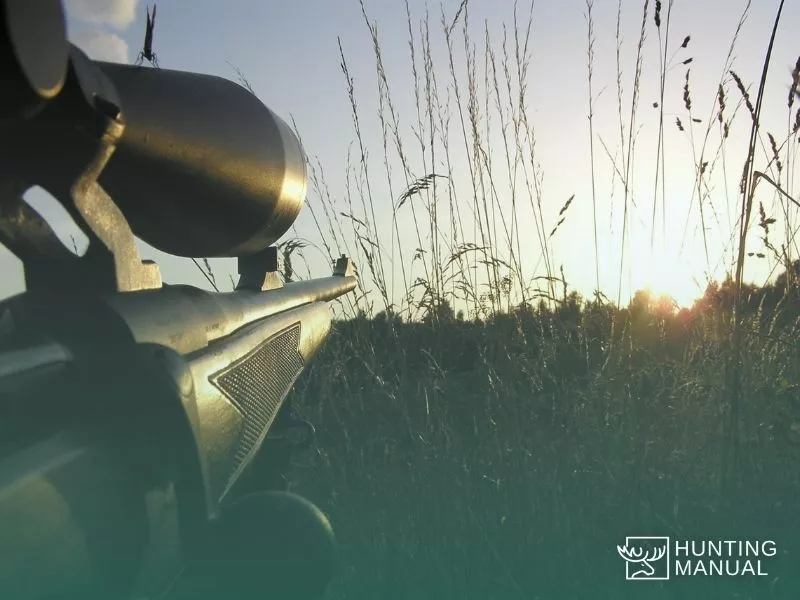 10 Best Rangefinders For Air Rifle Hunting in 2022
That's not all! Below, we have mentioned a buying guide based on what you must keep in mind before investing in one including, companies, prices, features, and most importantly, a link to it so you can order it today!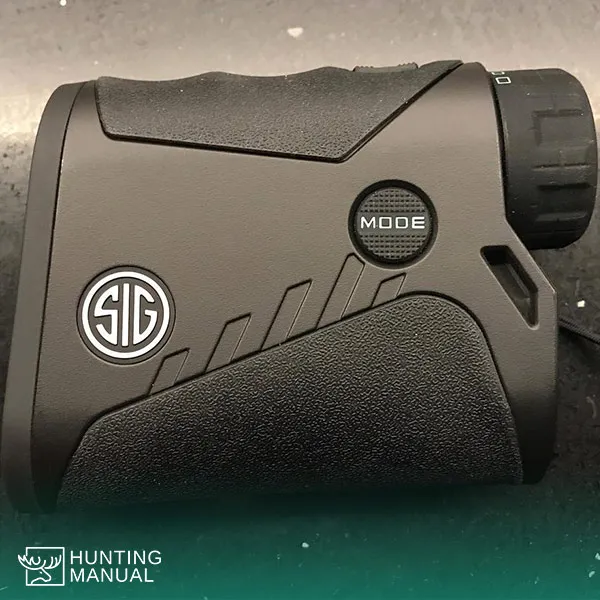 If you have been into hunting, it's no surprise you already know about the premium quality products of Sig Sauer. Backed by a name, Sig Sauer isn't new to the industry. With a range of laser rangefinders in the Kilo line, the Sig Sauer Kilo1000 is the latest eye candy.  
It is the most advanced and digitized rangefinder in the market. The Kilo1000 has multiple modes including a transparent OLED display, 5X magnification power, and 20mm of the objective clear aperture. In reflective target, it ranges up to 2000 yards and 800 yards for the non-reflective target. It has a simplified interface with range and mode buttons. 
For everything the Sig Sauer Kilo1000 offers, it would be fair to say, high-end technology couldn't get any lower than this. With a fully multi-coated lens, the HyperScan offers a 4x range of updates per second mode. The modes of operation include applied ballistics ultralight, angle modified range, line of sight ballistics data exchange.
This rangefinder is also beneficial for big game hunting and if you want to explore similar units in depth, read best rangefinder for deer hunting.
Pros
Compact 
Light in weight
Easy to use
Cons
Poor display in low light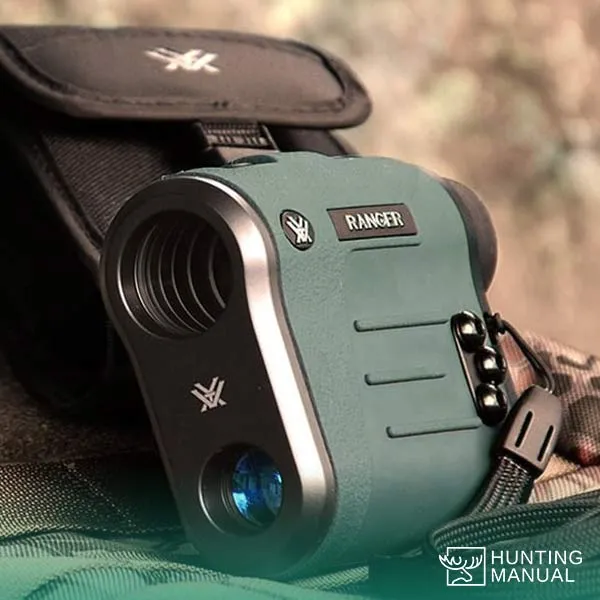 The next we have is yet another largely popular rangefinder, Vortex Optics 1800. Although, at a glance, if you are familiar with Vortex, you might think the Vortex 1800 rangefinder is pretty much the same as the previous models. However, this is even better as it is embedded with laser properties.
First, let's discuss the outer casing. The Vortex 1800 rangefinder overall look is far better than its previous models. The covering consists of rubber grips on the sides so you can have a stronger grip. The most significant feature is that the Vortex 1800 rangefinder is waterproof and has a tripod mount. 
So the foremost part is, it has maximum range of 1800 yards, and on soft surfaces, the range is up to 900 yards. Designed to endure setbacks, the body is rubber armored and is fully waterproof. It comes with three brightness settings.
The bottom line is, the Vortex 1800 rangefinder is built with a concept of a small unit with high-performance quality. Although the vortex optics rangefinder is fairly new to the market. It's surely a hit and in no less time, it's going to be the talk of the town. Everything that it offers makes it worth the price. 
Pros 
Compact 
LED display
Multi-coated optics
Angle compensation and scan modes
Cons
Doesn't work well in low light.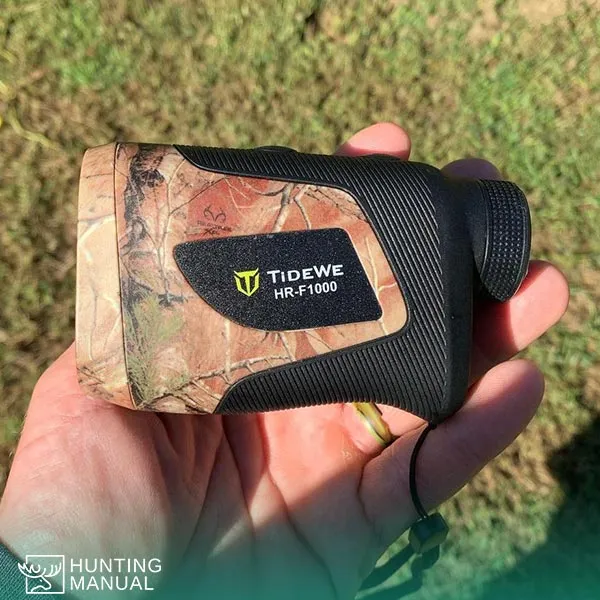 Firstly, let's take a look at the design. The TideWe 1000 yards rangefinder comes with a nice camouflage pattern on the sides along with a black textured grip. It also has a hold on the eye focus so this makes focusing easy. 
On the top, there is a power button. On the side, it has a settings switch and USB port. The led light indicates once the battery is full. Overall, the overall look is pretty straightforward and compact.
Moreover, let's appreciate the look of the pouch. It has the same camouflage pattern on it, a velcro strap on the back, and a magnetic lock to keep the rangefinder side. 
With that out of the way. One important thing to keep in mind is that the two models tightly mix. That is the 700Y and 1000Y. As the name suggests, the model 700Y can measure up to 700 yards, and the 1000Y measures up to 1000 yards. It has a simple operating system. The model is compact and sleek. 
What is so appealing about it? Well, the Tidewe 1000 yards hunting rangefinder has a long battery life of up to 2000 measurements. So obviously, it's not going to stop working when you are in the middle of the woods. It has an easy-to-use interface. 
As an exceptional purchase for first-time hunters, this ocular equipment has a laser and infrared ranging system. In a nutshell, the Tidewe compact rangefinder is an outstanding purchase if you are a first-time hunter or even an experienced professional. The body is well built, the system is amazing, and most importantly. The price is pretty affordable for all that it has. So hunt down the prey without having to track them. 
Pros
Angle measurement
Fast and accurate readings
Well built
Rechargeable batteries
6x magnification power
Cons
Not completely waterproof.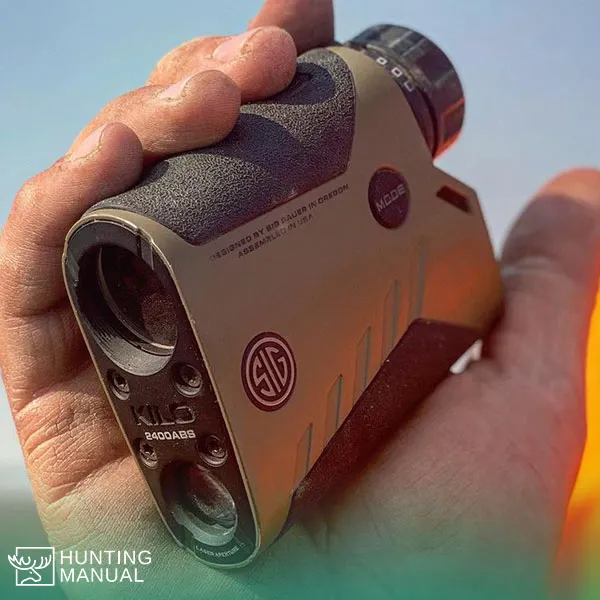 Couldn't stop ourselves from reviewing another product by Sig Sauer, could we? Well, yes, we couldn't. The Sig Sauer Kilo2400 is a real steal. First things first, the Sig Sauer Kilo24000 ABS laser rangefinder comes with three batteries, a tripod mount, a weather flow meter, and a Sig Sauer tactical pen. This is a big step one considering the previous 2200 model.
The ballistics app is part of the system and the app can be installed on your smartphone. And mind you- it's compatible with both, android and IOS. Coming to the nitty-gritty details. Firstly, the overall build is pretty much the same as the previous models. So there's nothing new to look forward to. The objective lens has an anti-reflective coating as well. 
Here is the cool detail: This laser rangefinder can cover spindrift (even in bad weather conditions, the rangefinder will measure the distance), and aerodynamic jumps (if you want to see your friends in ice skating or freestyling tournaments, this rangefinder is calling your name).
Additionally, it can measure temperature, humidity, and pressure as well. It has a digital compass, an inclinometer, an angle modified range. Among several benefits, some units are also used for commercial projects and best rangefinder for surveying are the ones on top of list.
All in all, if you are someone who plans to shoot over long distances, this rangefinder is definitely for you. However, if you plan to shoot under 500 yards, for a better price, you can check the Kilo2200 and the Kilo1250. 
Pros
Lightweight
Excellent ballistics app
Compatible with Ios and Windows
Real-time reporting
Cons
Sometimes, a slow Bluetooth connection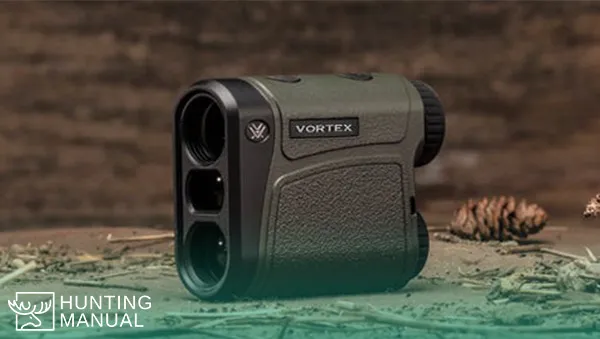 Over the years, Vortex has been on the roll. Manufacturing products with the latest technology, that too, with every price range. Firstly, the vortex impact 1000 rangefinder is more of an entry-level product right under the $200 market point.
If you have been in search of good rangefinders for air rifles, you might be aware of the Vortex optics series. The vortex impact 1000 rangefinder is the latest model constructed on the no-frills strategy. At a glance, you can easily tell it's more of an entry-level device.
It has an angle correction, an HCD- the horizontally corrected distance. When you are doing bow shoots at steep up or downhill, it has a 60 degrees angle. Excellent for rifle hunting, hunting, and target shooting. With a magnification power of up to 6x. The device is easy to use and only measures in yards or meters. It has a 15mm eye relief and an adjustable diopter. The menu button is pretty intuitive. 
The Vortex impact 1000 rangefinder is a budget, entry-level rangefinder. But it can also be used by professionals too. It has an LCD so obviously, it's best to use it in daylight. Moreover, there are two measuring modes. Including horizontal component distance and line of sight. For rifle shooting, the HCD range display is intended to be the primary mode. 
With this in mind, the Vortex impact 1000 is an excellent purchase for long-range hunting and bowhunting. It has good battery life. 
Pros
Compact and easy to use
User friendly
Waterproof 
Angle compensation
LCD
Objective lens
Cons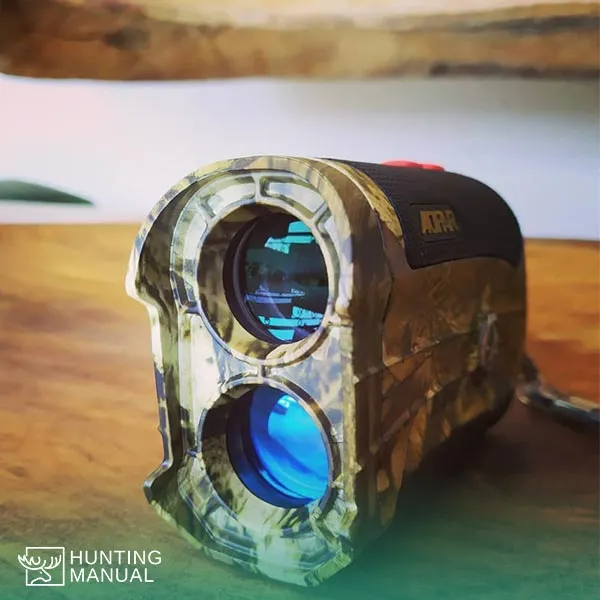 Designed for air rifles and small game hunting, the Aofar Hunting rangefinder. This rangefinder has a forest pattern on it, which gives you a forest vibe. The body is waterproof. 
The design is pretty straightforward and consists of two buttons. Equipped with the latest technology, it gives you fast and accurate results. And is specially designed for air rifles. But what makes it a product worth buying? Well, it has high precision and advanced technology. 
Remember the time when 6x magnification power used to be only in high-end quality rangefinders? Well, gone by are the times when that happened.
The AOFAR rangefinder at this price offers a 6 x magnification enabling you to zoom in and focus on your target animal. It measures up to 700 yards on the reflective range. 
There are a total of 10 of the wettest states in America including Florida, Mississippi, and Hawaii, so if you live in one of those areas, you need to invest in the waterproof Aofar rangefinder. Even on bad weather days, you can use range or fog mode for an accurate result.
What I liked the most about this rangefinder is that there are features for everyone. Not limited to air rifles, small game hunting, or big game season, it can be used during golf well. 
It has 4 hunting prey in one shot mode. You can identify a target with a continuous scan. With a dimension of 110x75x45 mm, the device is lightweight and portable.
Well, the Aofar rangefinder comes under the category of most affordable rangefinders and for this price, all that it has is pretty sufficient. It has flatlock technology. 
Pros
Provides measurements in yards and meters
Slope mode
Super affordable
Automatic switch-off after 8 seconds of usage.
Cons
Batteries need to be replaced in the wild. So, you may keep a pair of spare batteries when on the hunt.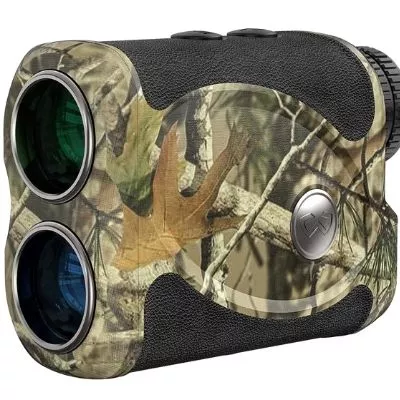 If you kept an eye on rangefinders for hunting over the years, you might have noticed an influx of affordable rangefinders claiming to provide reliable results, and Wospsorts 800 yards laser rangefinder tops the record. Firstly, in the box, it comes with a pouch, a battery, a strap, and a specially designed microfiber cleaning cloth. 
The Wosports laser rangefinder is an all-around product. Whether it's hunting, small game seasons, air guns. And is equipped with magnification power by the objective lens at 6 by 25 mm. The glass clarity is excellent for the price it's at. It has maximum range of 800 yards on the reflective targets and 450 yards for nonreflective ranges.
It is water-resistant, and the body is durable. For what it's worth, it is emitted with an angle range compensation technology. So, when you are in the woods, you are compelled to get a bullseye shot. Not kidding!
It would be fair to say, a high-quality rangefinder doesn't have to cost you a fortune. From head to toe, at such an affordable price, it has all the functional features one needs to get going. 
Pros
Great for beginners
User friendly
Cost-effective
Compact and lightweight
Solid design 
Cons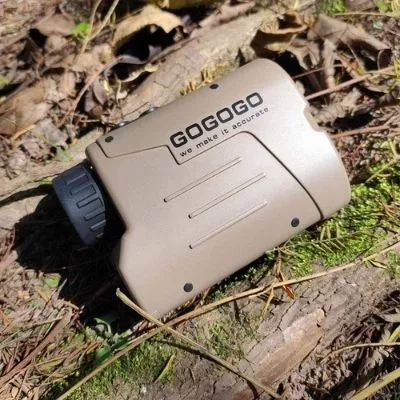 The Gogogo Sports Vpro 1200 yards hunting rangefinder. At first, the body does feel a bit too thick. Unlike other rangefinders that we have reviewed, it's fair to say, this one has the most solid build, out of all. The two buttons placed on the right side is different. When you first hold it, your fingers will fall right on the power range button. 
It has a 6x magnification and a focusing eyepiece. What's nice about it is the eyepiece is pretty stiff. Once you set the focus, you may put it in the pouch or place it in your pocket and still focus doesn't go away. It has an angle compensation mode, a stand mode, and a speed mode. 
Unlike other rangefinders, the Gogogo sport Vpro is pretty quick in getting the updated readings. Calibrated by Rifleman's thumb rule, by using the slope function, the air rifle shooter can shoot a rifle both uphill or downhill. The best part about the Gogogo sport Vpro laser rangefinder is that it suits everyone's budget. 
Pros
Affordable
Easy to use
Uses 2AAA batteries
Excellent accuracy
Comfortable grip
Cons 
The overall look is a bit too thick.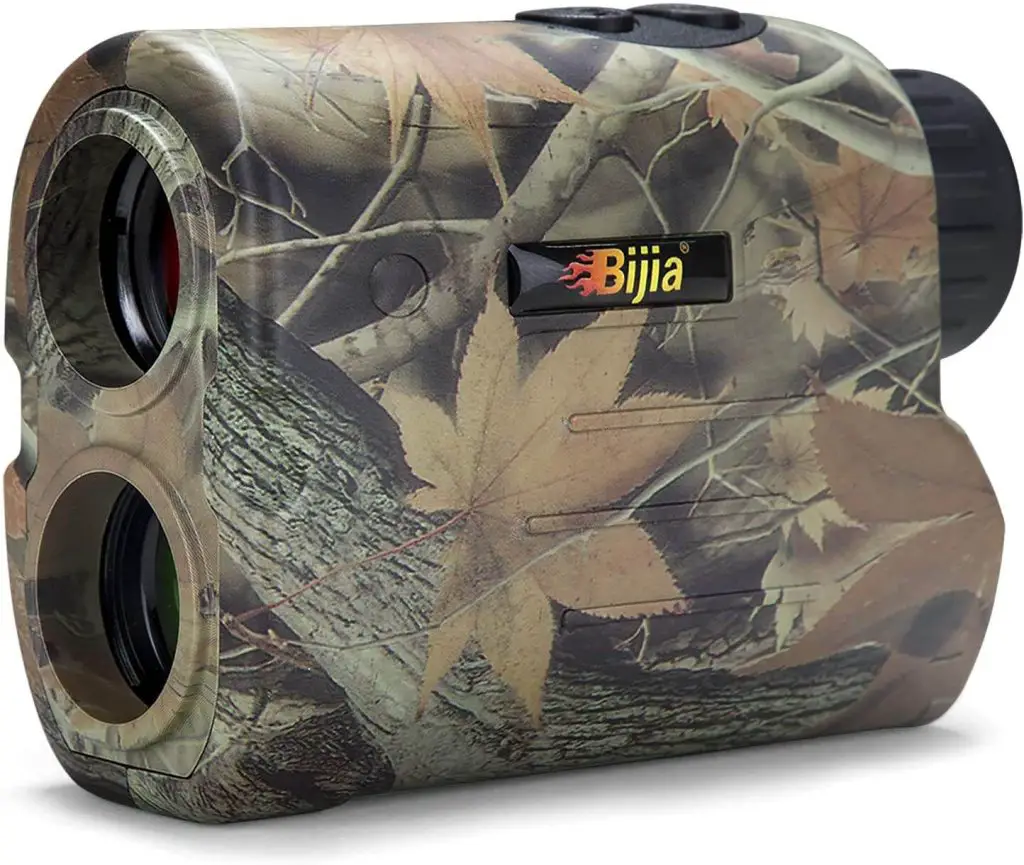 The next we have is a multi-purpose range finder that comes at a very attractive price. Mainly, this is a hunting rangefinder but it is also suitable for other uses including golf, archery, and general outdoor activities. The features include a continuous scan mode, speed, and angle functions, and slope correction. 
The bijia hunting rangefinder has a reflective target of up to 650 yards and a non-reflective target of 400 yards. Speaking of accuracy, it provides fast measurement with +/- 1m and +/- 45 accuracy. With a durable build, it lets you measure between yards and meters.
As far as the price is concerned, it's fairly less than what it offers. Moreover, it comes with a 60-day money-back guarantee, so you may try it out and even then if you are not sure about it, you can get a refund. 
In the box, you get a cleaning cloth, a manual guidebook, a carry bag, a 60 day back money guarantee, and a strap. It has a continuous scan mode so you can measure the range of moving targets. The LCD provides a clear and crisp view. 
What sets it forth is that this rangefinder can even be used in low light conditions. This is great for your small hunting game sessions at night. 
Pros
Highly accurate data
User friendly 
Affordable price 
Cons
Not waterproof
Limited distance accuracy 
Lack of rubber grips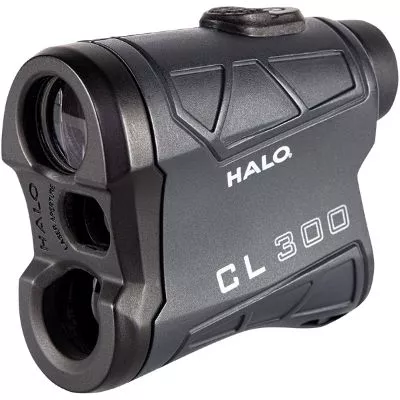 Last but not the least, we have Halo Rangefinder. As an airgun shooter, you might understand how difficult it gets to get quick readings at ranges from 10 to 50, and that's where the CL300 steps in. With a minimalist built, the laser CL300 rangefinder is intended for usage in the field and is built with bowhunters and air rifles in mind.
The unit is accurate giving a +/- one yard of the target. It has a 5x imagination power and gives a great assessment for shooting lanes for branches and other obstacles. It has a reflective maximum range of up to 600 yards and is ideal for non-reflective targets. 
Out of all the products we have reviewed, the Halo CL300 has the strongest battery. It is powered by a CR2 lithium battery. And so, you won't be stuck in the middle of the woods with your air rifles on hold. 
If you are a beginner or still new to air rifles and rangefinders, we recommend you invest in halo rangefinders. It has all the decent features you need to get started and yes, it doesn't cost you a fortune. 
Pros
5x magnification 
Compact and light in weight
Cons
Buying Guide – Best Laser Rangefinder For Air Rifles & Small Game Hunting
In this article, we have reviewed 10 products that clearly outline quality hunting rangefinders. The real challenge is to pick one that fits your needs. To make a healthy purchasing choice, one needs to consider all aspects regarding the particular product. To make things easy for you, we have outlined everything you need to consider before making the call. With this in mind, here are some pointers that will help you choose the best: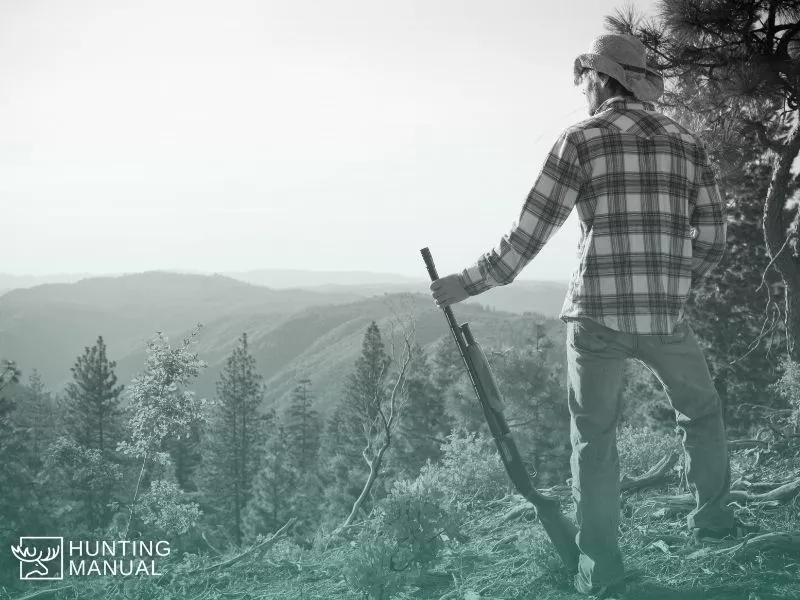 1. Angle compensation
Always look for angle compensation. Today, most rangefinders lack this feature. However, while hunting, it is a must-have feature for a rangefinder that enables you to get accurate and precise readings and shots. 
2. Reflective and Non reflective Range
The first factor that you must keep in mind is the reflective and non reflective range. For using rangefinders with airguns and rifles, shooting within 300 yards is sufficient.  
3. Built And Design
While you are out in the woods, juggling between your airgun and a rangefinder, the last thing you want is one of the two things to slip off your hands, or in a worst-case scenario, you never want to carry the extra weight. When you intend to spend money on laser rangefinders for air rifles, always check the build and design. As it should be durable and long-lasting. 
Conclusion
In the day and age we live in, air gun hunting is a source of entertainment. Over the past decade, airgun shooting has been in the limelight and doesn't seem to slow down any time soon. The above guide is a source for everyone who loves to hunt with airguns.
Whether you are a professional air gun shooter or even an amateur shooter, packing up essential gear for your small game season is a must. Explore the best hunting rangefinder for big game.
Without any delay, let's get to the results. So, as obvious it is, the Tidewe 1000 yards laser rangefinder is a clear winner followed by Gogogo Sports Vpro 1200 Yards hunting rangefinder. 
Now that you are aware of the 10 of the best rangefinders for air rifles and best rangefinders for beginners, it's your time to make a call. Invest in the rangefinder so you never have to miss a shot.
Each year, there is Shooting, Hunting and Outdoor Trade Show also known as "SHOT Show" is arranged by Firearm Industry Trade Association. You can explore it to get latest, most advanced and upcoming technologies related to hunting small and big game.
Frequently Asked Questions (FAQs)
Are laser rangefinders worth it in air gun hunting?
Yes. Laser rangefinders are worth the price. From ranging to $70 to $1000, the price and specs vary. If you are new to air rifle shooting, you can always find a rangefinder under $100. 
Do snipers use rangefinders?
Yes, Snipers need to get a precise shot and for this purpose, a rangefinder is the best tool for ranging distance and angle and take accurate shot.
Are laser rangefinders dangerous? 
No. The laser rangefinders are designed with laser class 1 or class 2 which is relatively eye-safe. However, direct eye contact should be avoided by all means. Always use laser rangefinders with safety precautions.