Rangefinders are probably one of the most useful things that a hunter or golfer carries. However, carrying a rangefinder along in an easily accessible bag or pouch had long been an issue. Luckily, it is not the case anymore, thanks to numerous companies that manufacture the best cases. 
We did thorough research and tested out several best rangefinder cases. As a result, we found some of the top choices for you. The three best choices we concluded include the Marsupial Pouch, Vortex Optics Guide Binopack, and Badlands Bino X Camouflage Case. These cases not only represent premium built quality, stitching but exceptional protection too.
20+ Rangefinder
Cases Reviewed
10 Products
Considered
160+ Hours
of Research
Rangefinder pouches come in various shapes, sizes and are used for multiple purposes. There is no denying that good hunting and golf rangefinders are pretty expensive. But for a majority of the users, protecting these fragile equipment for better accuracy and precision matters most. The price is absolutely worth it if it offers correct readings and usability in your leisure time. 
Providing maximum comfort, protection and convenience, these pouches are more than what you'd expect them to be. You can't get your hands on the right product unless you know the top factors to consider before the purchase. For that, we have provided a detailed buying guide right after the product reviews.
List of 10 Best Rangefinder Cases
Out of more than 20 choices, we selected the 10 best rangefinder covers for hunters and golfers. We conducted the testing for the best pouches for hunting in Texas and for golfing in Florida. 
1. Marsupial Pouch – Best Rangefinder Cover For Beginners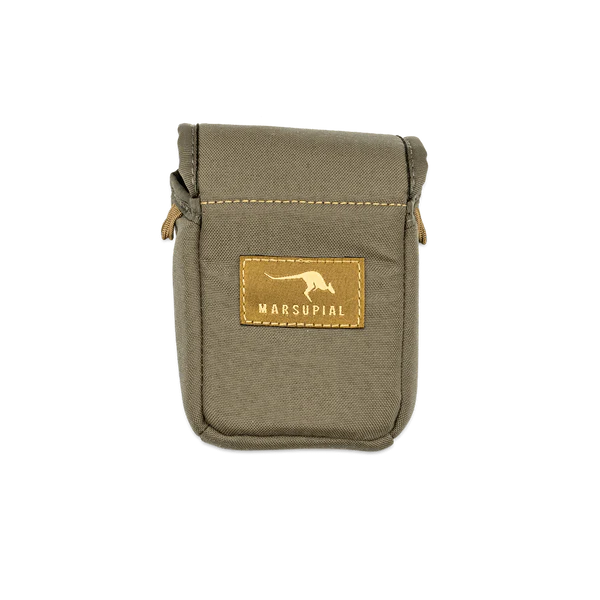 Last hunting season, I tried this carrying case bought from Marsupial for a couple of weeks to carry our glassing unit securely. This pouch lived up to my expectations and accompanied me amazingly during the entire hunt. From fabric to the stitching, everything was sturdy enough to hold the rangefinder securely. 
I was able to easily access the rangefinder within seconds, thanks to the magnetic close top. It snaps open and closes conveniently even with one hand without requiring much force. A loop is present on two sides of the pouch and we tested these out as well. We used the hanging straps with a carabiner and hooked them on loops. In this way, the pouch became hangable on the shoulder and also as a cross body bag. 

Either way, the pouch with the rangefinder in it felt pretty comfortable. One reason why we included this among our top three recommendations is its value for the money. This pouch is used in the cold rainy and windy season of New York and Vermont but never disappoints.
Despite lacking multiple pockets and being able to fit only one rangefinder, it still is quite comfortable to carry and offers quick access. That said, it could be an amazing choice for beginner hunters who are looking out for reasonable yet useful cover for hunting rangefinder. 
Pros
Great value for money
Easy access
Magnetic close top
Excellent choice for beginners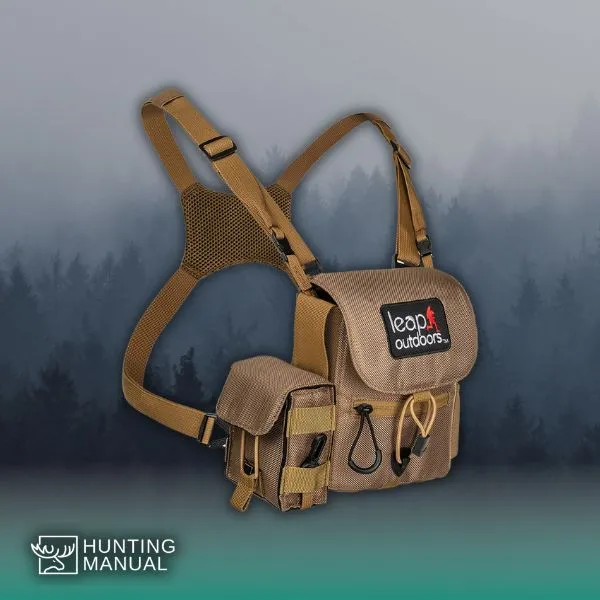 At first sight, this bag looked tough enough. After learning from a friend, I tested it and found it pretty sturdy and durable. Its 1680D ballistic nylon made it an even better choice for hunting purposes. The molle lashing straps along with two clips helped securely tether the cover. 
In our testing, we tethered it with a bino harness chest pack and I would rate it best for hunters who use binoculars and rangefinders both. Since, this bag was easily accessible and offered a convenient one handed operation. I would recommend it.
Also, the inside of the pouch has ample room to fit a multiple rangefinders perfectly. So in case, if you want to carry two or more rangefinders, this pouch is the one you need. The bungee and hook closure was efficient and can be opened or closed single-handedly too.
What made it one of the best cases for rangefinder and binocular is the soft lining on the inside of the pouch. It helped the rangefinder to withstand slight bumps and shocks while staying completely functional.
Pros
Affordable choice
Protects the rangefinder from inside
Easy retrieval of rangefinder
3. TIDEWE Pouch – Best Bino Harness With Rangefinder Pouch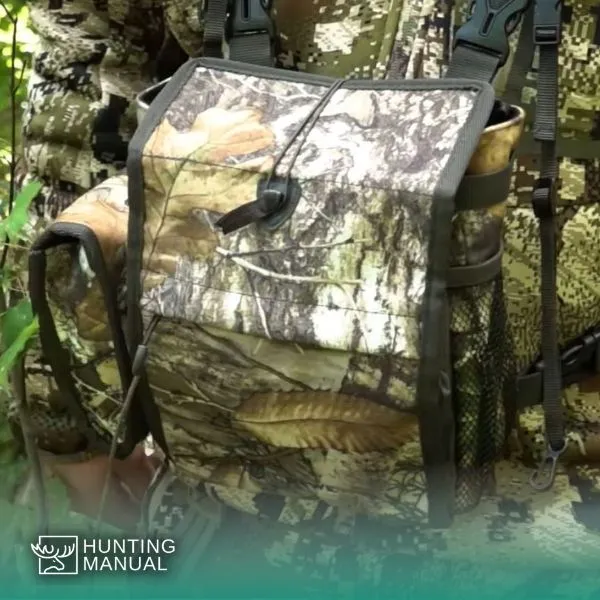 Tidewe is famous for its wearable for hunters and fishers. They are best known for outdoor boots. Knowing that, my friends who love fishing bought camo pouch of Tidewe which I used for a week in last hunting season.
In past several years of hunting. I felt the need of camo clothing and bags to camouflage myself which this pouch solved instantly. The color and patterns make it a lot easier for the hunters to carry such bags out for an adventure without catching the sight of anyone.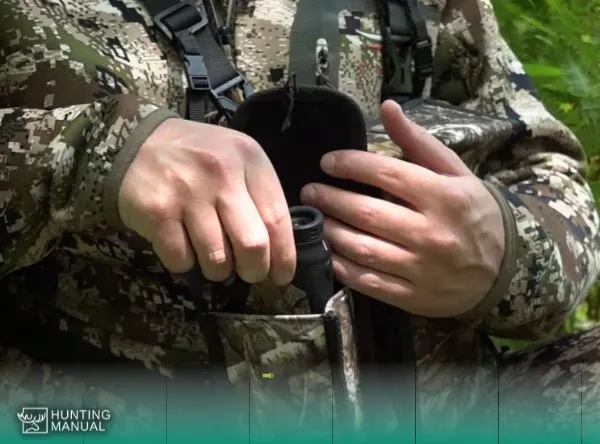 I felt it the bino harness chest pack extremely comfortable, thanks to its perfect fit design. The rangefinder pouch easily tethers to the side of the bag and offers a convenient single hand operation. 
On the inside, our unit was superbly secure because of the durable yet soft protective fabric. Even though this camo rangefinder case is pretty big to hold multiple glassing equipment, it doesn't move or bounce and hence, prevents every kind of noise. it is still pretty easy to access with one hand.
Pros
Lightweight
User friendly design
Camouflage appearance
Comes with rain cover
Cons
Straps too long even for adjustment
No magnetic latch for rangefinder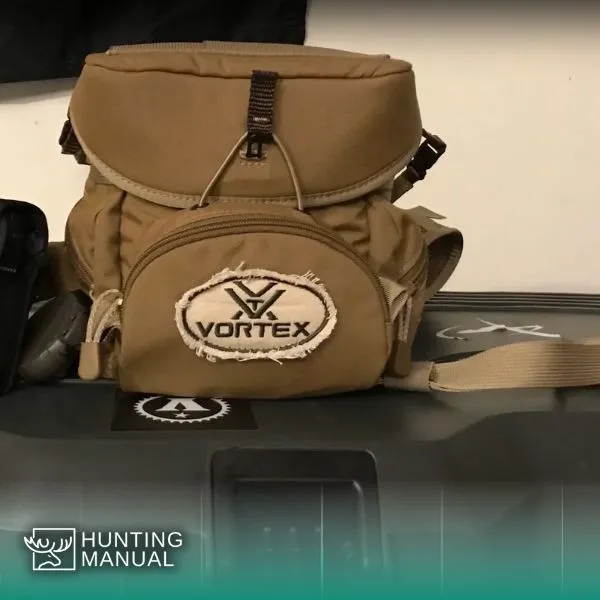 We were amazed to find this product as it comes with generous space inside. The nylon bag is pretty durable and easily held our unit along with a couple more things. This bino pack is designed to hold larger items in it such as a rangefinder, binoculars, and more. There is also a front zipper pocket on the bag where we put items like a fire starter, knife, etc. 
Moreover, the side zipper pockets and a top elastic sleeve also provided great storage space for small yet useful items. It protects glassing equipment and keep lens clean with the soft interior of the bag. The full coverage lid isn't magnetic but we didn't find any difficulty opening or closing it with one hand available. 
Hunters of different heights and stature tried the harness chest pack. Though some adjustments were required but overall, it fit everyone perfectly. With great protective exterior plus soft, shockproof interior and great customer support and after sales services of vortex, it would be safe to call this bino pack a great choice for every outdoorsmen.
Pros
Multiple pockets
Generous capacity
Can store larger items
Fits everyone perfectly
Cons
Could be bulky for some people
Not waterproof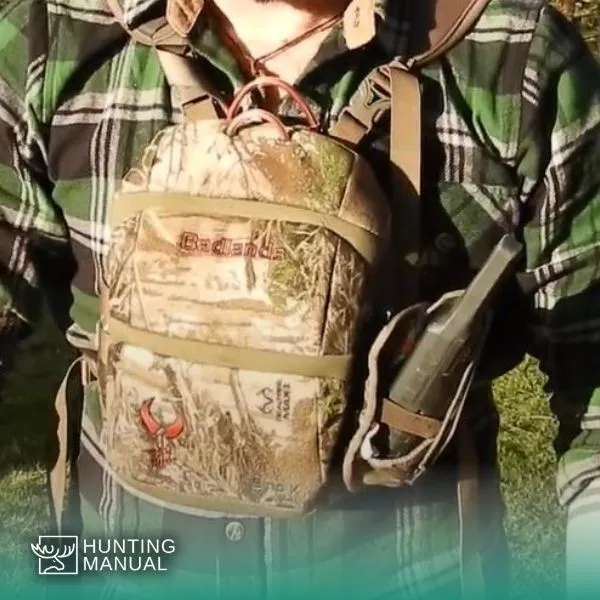 Are you a hunter and want to invest in a protective case that comes with all the top notch features? Look no further than the badlands rangefinder case. We loved the camo design of this bag since it attracts the hunters the most. It keeps you safe from getting spotted.
Badlands is famous for backpacks, upland jackets, game vests and similar wearables. There products are meant for long lasting strength and durability.
Everyone who tried the harness found it pretty comfortable, thanks to the vented shoulder straps of this neoprene cover. The zip no magnetic technology is integrated to keep the items inside secure, dustproof, and watertight. Rightly so, our rangefinder was pretty secured during the entire hunting session while the access was within easy reach too.
Because of the 4 point harness adjustments, I was able to carry the chest pack without any inconvenience. During hunt, this bag worked exceptionally well in rainy weather conditions and protected gear to remain dry. Considering the unique features, it was hard to not include this product among our top recommendations.
Pros
Comfortable to wear
Great value for money
Can hold larger items
Has Magnetic closure and is waterproof
Spika bags comes in grey and camo variations. The grey version, I used is designed exclusively for hunting by SPIKA. Although, Spika is household name for hunters in Australia and New Zealand, the products are available globally.
Our friends from Australia, are using clothing and relevant wearables and they couldn't recommend less. The bag in this case, is 1000D treated durable nylon base offered robust support to our rangefinder and other items. Despite being bigger in size, this pouch was lightweight to our surprise.
The bag includes multiple zipper pockets which provided more room for several other essentials to store. As far as the body harness is concerned, it is adjustable which make it easier to fit various hunters of different stature.
While the SPIKA rangefinder bag isn't waterproof, we used the rain cover that comes along the pouch. It covered the bag well and protected every inch of it from getting even a single drop of water. It is worth highlighting that the cushioned strap helped reduce the pressure on the shoulders and maintain an appropriate posture.
Pros
Multiple pockets with generous capacity
Magnetic latch top
Highly durable
Comes with rain cover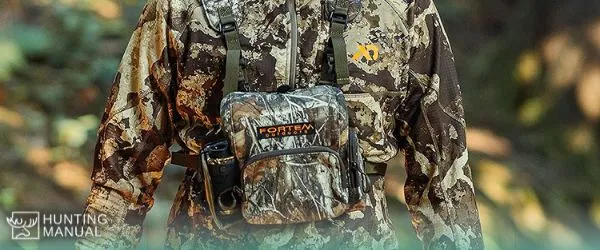 A relatively smaller bag but loaded with everything a hunter looks for, the Fortem harness bino pack is another excellent choice. This bag outdid our expectations because of various reasons. For instance, its comfort and anti-fatigue padding were extremely praise-worthy. 
Furthermore, the 3 additional pockets alongside one main pocket help me store numerous useful things in the bag including some of the best rangefinder batteries. The main pocket was large enough to securely store our rangefinder. Whereas, we stored mobile phones, knives, lighter, ammo, first aid supplies, etc. in smaller pockets. 
Opening and closing the bag to access the rangefinder wasn't much of an issue as well. The silent release elastic clip was easy to use even with one hand. Its camouflage pattern saved me from being exposed to big bucks during the hunt.
Versatility is probably the best thing about this bag. Since, it is well suited for various purposes. For example hunting, traveling, sports, camping, concerts, etc. With ample space, noiseless, safe, protective and sturdy built, it is one of the best pouch for hunter's rangefinders and binoculars.
Pros
Anti fatigue padding
Have rain cover
Quick access phone pocket
Versatile built and usage
Cons
It is not waterproof itself
8. ACHIX Case – Best Budget Hard Case for Golf Rangefinder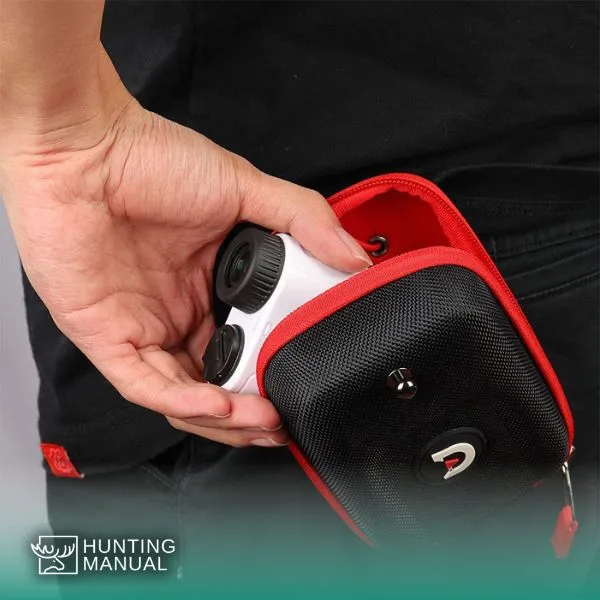 The best and attractive rangefinder cases for golfers "ACHIX hard shell case" caught my attention when in gold field. It was being used by one of my friends, so I tried it.
The hard surface, rugged built can be felt when this case is in hand. This one cost us the lowest bucks but didn't disappoint with the performance at all. Made out of semi-hard EVA material, this case ensures durability. Rightfully so, the case felt sturdy and our rangefinder was secure from slight bumps and shocks.
On the inside, the velvet interior further protects the rangefinder from any kind of pressure exerted on it. It was not difficult to carry the case as it comes with a carabiner and a small hook strap. It is simply hung to our golf cart and it was easy to access for each stroke.
Because of its durable hard shell materials, waterproof capabilities, simple design with color variations, and ease of use, the ACHIX case is loved by most golfers. It can carry one golf rangefinder (maximum dimensions: 4.7 inches X 3.1inches X 2 inches ) of at budget price.
Pros
Pocket friendly
Durable built
Completely Waterproof
Easy retrieval and use
Cons
Can only hold rangefinders that too of normal golf sizes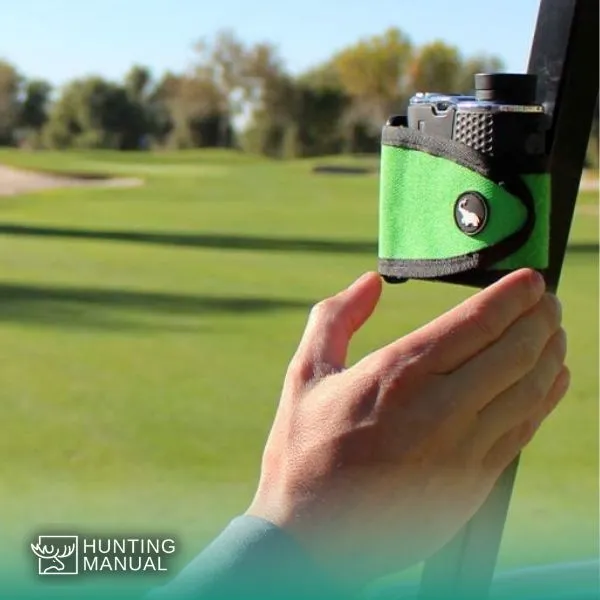 This is not exactly a case, therefore a bit different from the regular rangefinder cases. It has only one use, providing ability to attach to golf cart for easy access and use. It provides noiseless, one click use without opening zip. I was a bit uncertain about this strap but as we wrapped the strap around the rangefinder, the grip was superb.
On the backside two industrial grade neodymium magnets which stuck to golf cart with a super strong hold. The strap features a magnet on its end which firmly holds the gear. In my experience, it was extremely convenient to retrieve the rangefinder from the strap.
Because of the 40 pounds pull strength, it easily withstands the bumps, shocks, and sharp turns of a gold cart. Thus making it a great product ideally for holding a golf laser rangefinder on golf cart. Though this strap isn't a great choice for wet conditions, it could still be used if you are an occasional golfer.
Pros
Provide ease of access
Powerful magnets to attach to golf cart
Firmly holds rangefinder
Availability of multi color design
Cons
Cannot be used in rain as its not fully covered
10. JAWEGOLF Case – Best Waterproof Bushnell Compatible Golf Rangefinder Case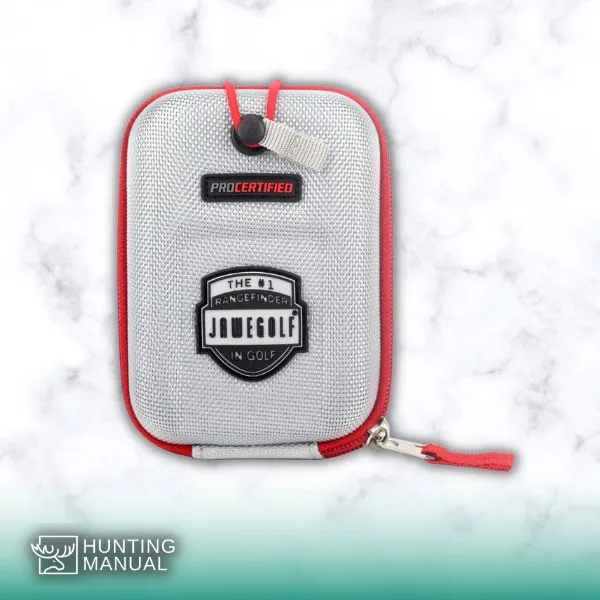 JAWEGOLF is famous golf brand producing various golf sports quality gear available around the world. This specific rangefinder hard case comes in multiple colors. Since it is designed to carry a golf ranging unit in it, I used it once.
The dimensions of case are good enough for almost all golf rangefinders especially Bushnell. On the outside, the hard EVA shell felt pretty promising for its durability. Whereas, on the inside, it was cozy and safe spot on the soft oxford cloth. 
One thing that we found different in this case is the use of a YKK zipper. It became pretty spacious and convenient. It further secures the case with the elastic strap. However, the hard case protection and strap is hurdle to ease of use.
Additionally, it was easy to hang this Bushnell rangefinder carrying case, thanks to the carabiner. With its help, I was able to hung this case on golf bag so we have it close to us every time. Overall, the perfect fit space (upon opening the zipper) and hard shell case with protective strap, water and shock proof built lead me to list it in top 10.
Pros
100% waterproof built
Durable and shock proof case
Reasonable price
Provides value for money
Cons
Sometimes, zipper makes it hard to retrieve large rangefinders
Buying Guide for Rangefinder Covers and Pouches
Whether you are someone who has a budding interest in hunting or golf, the rangefinder is a must have. But changing weather conditions and human error can sometimes be problematic to ranging gear. Therefore protecting it and keeping it secure is significant to save your maximize the return on your investment. 
Using the best case resolves these issues. It is essential to keep your trip through the woods or golf field, hassle free. Here are some important factors to consider if you are buying a rangefinder covers that will serve to protect the most useful glassing equipment.
Comfort
The design usually includes secure and comfortable shoulder straps. It allows the user to carry hefty binos and rangefinders. These harnesses also come with different strap styles, allowing even distribution of weight on the soldiers. The anti bounce technology which I prefer in rangefinder covers and binocular harnesses, makes them sturdier and reliable. Moreover, the use of mesh fabric makes the case more breathable and summer friendly.
Durability
Different sorts of materials are used in the production such as nylon, Cordura, and lycra to ensure the durability of the case. Some have foam inner packing turning them into a safer option. With the most premium quality harness and a tether, you won't have to worry anymore about an accidental drop.
Protection and weather resistance
Some rangefinder covers come with a removable rain cover. While others are designed in a way that they will resist the negative impact of different weather conditions such as water, dust debris, etc. Also, the use of high-end building material for the rangefinder covers will keep the glass safe and protect against human error.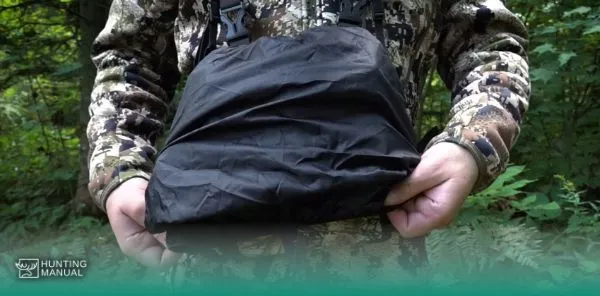 Ease of Access
A good harness must not only be easy to operate but also have quick access to all the available compartments. The use of different hooks and loops, and comfortable shoulder strap alignments are essential features of a premium rangefinder cover.
Pockets
Some rangefinder covers will come with a single pocket case while others will have multiple pockets of varying sizes to store other things such as cellphones, wind checkers, etc. It depends on the preference or experience level of the person. For instance, for someone at a beginner level, one should go for a case with a single pocket, it will be more than enough. However, for an experienced person, multiple pockets make it easier to work with.
Conclusion
Glassing gear protective covers have gained immense popularity among hunters and golfers. Finding the best rangefinder case, however, isn't a piece of cake. You must conduct thorough research before finally deciding on one product. Therefore, we had brought together this ultimate guide to help you with the search. 
If you wish to carry your rangefinder along while keeping it protected, investing in a rangefinder pouch is a must. These covers are designed exclusively to offer maximum protection, comfort, easy access, and more. 
We hope that our guide helped you with the search and that by now, you have chosen your perfect match. We wish you all the luck with your purchase. Happy shopping!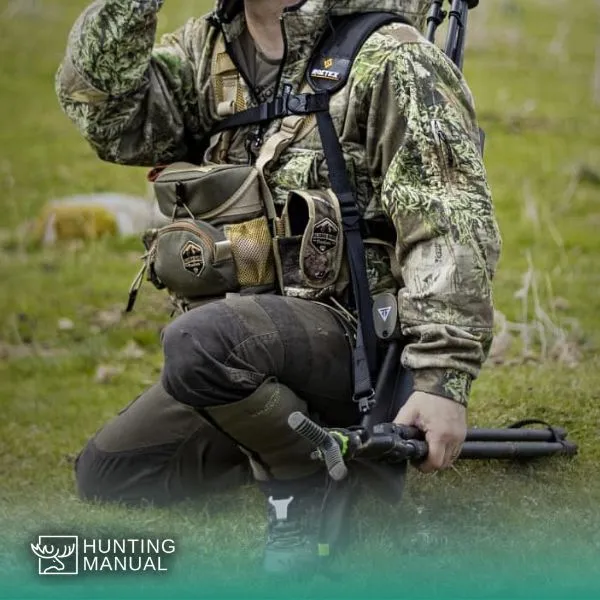 Frequently Asked Questions (FAQ's)
Are rangefinder covers waterproof? 
Water damage can have a direct impact on the performance of a rangefinder so using a cover is important. Most of the high-quality rangefinder covers are made of premium material that makes them waterproof.
What is the difference between a case and a pouch? 
The main difference between a pouch and a case is that the case will come with some additional resistance while taking in and out of a rangefinder. On the other hand, the pouch is more simple and quicker to use. Although due to this added protection, the case might be a bit on the expensive side.
Is a harness adjustable?
Yes, harnesses can be completely adjusted according to a person's choice or body shape. Start by putting in the rangefinder and then adjust. First, adjust it according to the comfort of the body through the straps. Keeping it too close to the chest or too loose will make it uncomfortable to carry the rangefinder cover.