A range finder app can be a huge help on the go. Why? Because whenever you are out on a hunt you either want to locate hunting spots or use precision sensors in your phone to accurately gauge the distance to your target. The advanced tech in modern phones help with those problems. All you need is phone with certain features and apps that provide accurate data.
Range Finder for Hunting Deer & Bow Hunting Deer is one of the best apps for iPhone users. Similarly MMO rangefinder app is available in iPhone and android both. Whether you are a new hunter or are very experienced, these apps are very useful.
But, do rangefinder apps work same as monocular/binocular laser rangefinder units? Our team tested more than 200 rangefinder units and these apps are no where near comparable to actual rangefinder units. For example, no mobile app can substitute the usability of our best hunting laser rangefinders.
Especially for hunters, a range finder app is beneficial sometimes. These apps are available for both android and iOS devices. Also, range finder apps are pretty simple to understand and almost every other individual can get the hang of these apps after using them only once or twice. 
Explore the Best Rangefinder App for Hunting
We will discuss some of the best rangefinder apps available, and hopefully, help you identify which you'd like to try.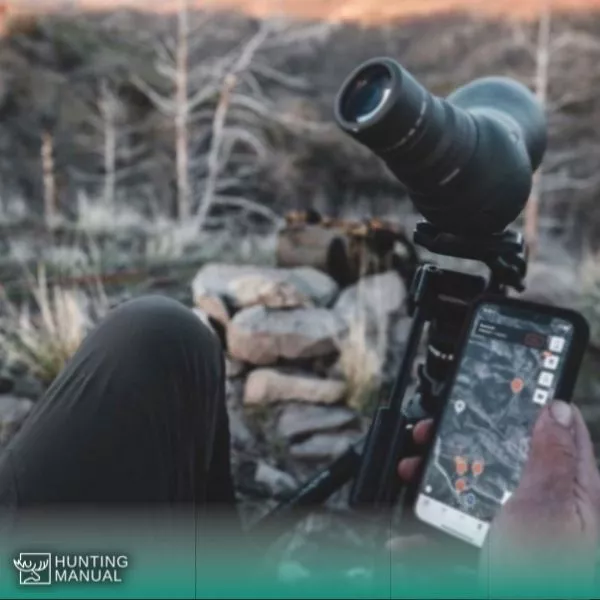 Range Finder for Hunting Deer & Bow Hunting Deer
(Available on iPhone only) – Get Here
This is a great bow hunting rangefinder app. It works for deer hunting with a firearm as well. Understanding it is very simple and easy. It will give you the distance quickly to allow you to get on target and make the right shot.
For easy estimation of range, try out this app once and see if it is working the way you want it to. It will even ask its user to point the crosshairs at the base. For instance, you are aiming at a deer, pointing it at the foot of the deer would give out maximum accuracy.
This range finder app does have a set of instructions included in the app to follow. it also helps with troubleshooting to references the instructions. For example, if the height slider is not set at the right adjustment, the app might not give accurate results. Therefore following the instructions can help get the best results.
It can measure the range up to 40 yards easily. However, if you try more than 40 yards of distance, then it might lose some accuracy.  
Range Finder for Deer Hunting – Best iPhone Rangefinder App
(Available on iPhone only) – Get Here
This app is a hunting rangefinder app for iPhone and is another great measurement tool. But the main thing to note is that it is available in the apple store. Users will have to pay to get this app on their iOS devices. It comes with some perks too, like the accuracy is on point and knowing the distance to precisely aim at the target is easy with this app.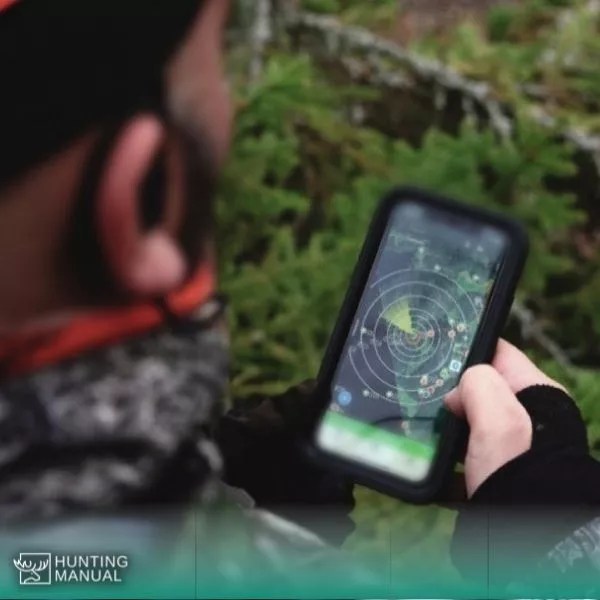 Setting up the height from the ground to your mobile device is pretty simple. Precision is one nice thing that it will come with. No matter what you're doing, Hunting, bowhunting, at the archery or shooting range, it's very easy to use.
This iPhone hunting rangefinder app can estimate the distance of about 40 to 60 yards. Note that for precise measurements, it is necessary for you to keep the crosshairs at the feet of the target. In that way, you will get clear and accurate results.
Another great feature is that this app can take a picture and it has options for choosing metric units as well. With these features, it's one of the best archery range finder apps. 
Note that they app is not free, and also some older models like iPhone 6 would not support this app.
Hunting Rangefinder app
(Available on android only) – Get Here
Here's one of the better android rangefinder apps. The most unique feature of this app is that it uses Google Maps to tell you the exact distance. It is very different from the traditional ways of measuring the range. 
Unlike other apps, you will see distance rings and this will help estimate the distance on your own. Not just that, there are various modes like Rifle, archery, to stalk, and two points. You can choose any one of the modes considering your requirements. Moreover, this Hunting Rangefinder app is free to install and it is available on the Google Play Store.
Even though there are features like the usage of google maps and distance circles that clearly stand out, it doesn't mean you can rely upon it altogether. Depending on signal strength, sometimes google maps might take long enough to load that you miss your target. Also, the app being android only means iPhone users are out of luck.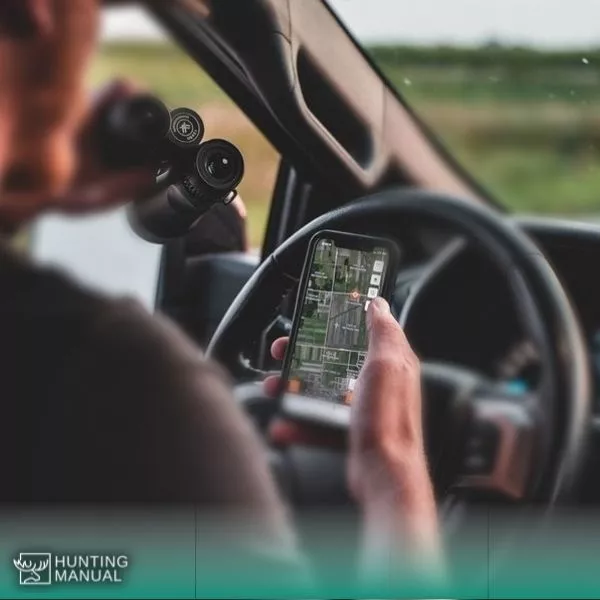 MMO Rangefinder
(Available on android and iPhone)
MMO Rangefinder does it way differently than others because it uses sound to detect the distance of the target from your location. This app will help to measure distance for a range of 100 meters.
The use of sound to navigate the distance is a very smart and effective way of finding ranges even under the water. Although it might sound like a complex application, it has a user manual that provides details of every problem you might face while using it.
You can use the GPS and it will allow you to see the distance for even longer ranges. Moreover, it has a direction indicator compass and a radar button. You will have maps over it too. However, there is one drawback to it too. This will take longer to learn to use effectively than some of our other recommendations.
Conclusion 
There are pros and cons to each app out there, but since they're on your phone they're likely always with you and at your fingertips. Starting with an app also minimizes the cost of using a range finder device if you are just testing and a newbie.
In my experience, these apps will not replace the benefits and data provided by hunting rangefinders. But they can be good for beginners or in a pinch without your normal equipment. Similarly, angle compensation in rangefinder units are not available in mobile apps.
Moreover, let's consider you are not carrying any rangefinder device with you and there's a sudden need to use one right at the spot. A quick download of a free rangefinder app for hunting is the rescue for you in that case. Also, hunting or bow hunting apps like these are perfect for those who are not willing to spend money on expensive range finding devices.
However, you do need to take care of the instructions while using a range finder app. Just a little mishap from your side can alter the results and thus precision might get at stake. Yet trying out these shooting range finder apps is a good idea for hunters, it will leave them with more options of hunting efficiently. Also, by using them, hunters might learn a few more things or features of range finding in general as well.
Frequently Asked Questions
Are the results of range finder apps accurate? 
We can't really say a yes or a no. There are certain factors to consider. For instance, if we are comparing them with laser rangefinders then obviously they are not so good with their results. 
On the other hand, a range finder app is there to provide a convenient alternative on your mobile phone. Yes, they can cause trouble with precision in results if the instructions are not followed properly. But they are a very cost efficient alternative to rangefinder devices.
The better way is to buy the best cheap rangefinder that will fulfill your needs within budget.
Which range finder hunting app is the best to use?  
The best range finder app so far is rangefinder for deer hunting. But it will only be available for iOS users. For over a distance of 60 yards, it stays precise with its results.
Why is there a need for a range finder app? 
A range finder app can save you the money that you will spend buying a rangefinder device. They can easily be downloaded from Google Play Store or Apple Store, which is a very hassle free process. 
Moreover, range finder apps can simply help hunters get more ideas about hunting skillfully. They are probably a very convenient option for hunters if they do not wish to spend the money on a rangefinder device.