Swarovski rangefinders prove to be the best when it comes to durability, sturdiness, and precision. They are equipped with the latest distance measuring technologies along with a compact design.
Let us be clear that the swarovski laser guide (monocular rangefinder) has been discontinued from the manufacturer. However, a rangefinder binocular (binocular with ranging capabilities) is still available by name El Range. You can buy swarovski laser guide monocular rangefinder as a used good.
These rangefinders contain all the features that a typical rangefinder would have, but with that, it carries the legacy of the name Swarovski. That means it provides more than just precision and accuracy and we are going to unveil all those features.
We tested both the monocular and binocular that Swarovski has by the name laser guide and EL Range. The results and our experience can help you decide which one suits you best.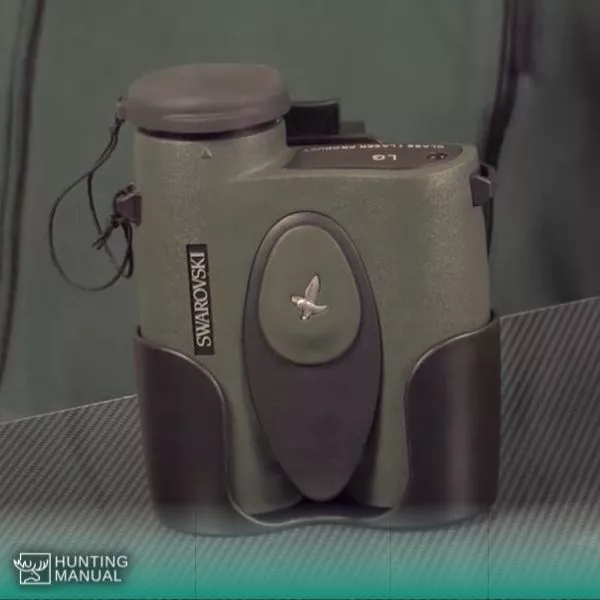 This discontinued variant was popular unit among various hunters few years back. However, it did not have angle compensation capabilities which may be the reason Swarovski discontinued it.
As per our experience, Swarovski monocular laser rangefinder has an 8x magnification and a 30 mm lens which contribute to the fine and precise readings. For us, the 8x magnification really stands out because as a result of it, the findings are priceless.
With that, it is waterproof and weather resistant, so it stays persistent through bad weather and temperatures. Moreover, it gives clear readings with an LED display and brightness control, the hunting goes great even in low light conditions. The circle scan mode can easily get you the readings of the far off targets within no time.
With a good magnification, there is also an adjustable eyecup. This feature is specifically a good one for glass wearers to get a good field of view. Also, the eyecup can easily be removed to clean.
This rangefinder amongst the Swarovski range finders was a decent one with a long range of 1600 yards. 1600 yards is a fine number for rifle hunters. But if we look at the non reflective range, it can range up to 700 yards. When we tried ranges beyond 700 for dark (non reflective) targets, the results were not clear.
The Swarovski 8×30 rangefinder was a good pick for rifle hunters. The only thing that bothered us the most was no angle compensation. Because for hunting on steep hills and places where angle compensation is needed, getting the right shooting angle without a rangefinder take a lot of time.
Since there are other rangefinder units that provide a range much longer than this unit. And also provide angle compensation, discontinuing this unit was a good choice. Let's see if Swarovski comes up with a better monocular rangefinder's in there optics line up.
Recently various new competitors have developed better designs and utility options in rangefinders. These units are best rifle mounted rangefinder and have completely changed the global hunting optics and rangefinder market.
Swarovski EL Range 10×42 Rangefinder Binocular Review (with Tracking Assistant)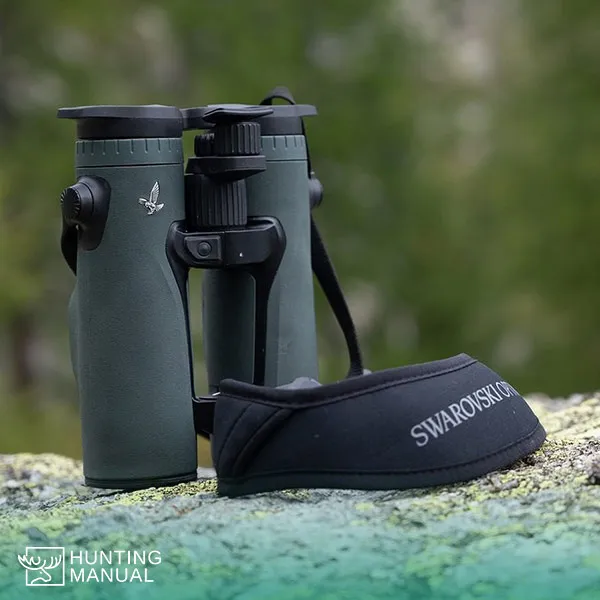 EL Range 10×42 is a great rangefinder binocular with ranging capabilities from 10.9 yards to about 2187 yards. For precise measurements with non reflective surfaces, a range of 33 yards to 1500 yards works best. 
The LCD display gives clear results even in cold environment, thanks to advanced optics. Information is visible only on right eye. Not only that, the digital readouts and the aiming dots are red colored making it even clearer to view in low lights. With this red colored reticle built in, the screen is perfectly visible even in low light or dark conditions.
Talking about functionality, it comes with two buttons. One on top and other on bottom. In field testing, we easily changed rangefinder settings using top button. The bottom one (which is not visible in most of the images) is used to pair El range with phone.
Moreover, this Swarovski EL binocular weighs only 2.02 pounds and the temperature control is between -13°F to +131°F which is perfect in almost all hunting regions. The EL Range gives 10x magnification with an eye relief of 17.3 mm which is more than enough to easily focus and range for a long range targets. With eye relief, it is easier to see a clear and bigger view of terrain and targets.
Another interesting feature is the personalized ballistics. The smartphone app takes up environmental data like temperature and air pressure along with individual ballistic data and specific needs of the hunter to configure the binoculars.
The cherry on top is the angle compensation. It can easily compensate for angles within -/+ 90 degrees. It means that it can even get the right readings at the vertical angles. It works precisely by correcting the shooting distance and also considering the angle of the shot and then displaying it.
Now that we have realized that El Range binocular is certainly a good rangefinder to carry in our backpacks. The best part is yet to be seen and that is the tracking assistant. Consider that you have lost the track of your target. Its tracking assistant will guide you to the place where you had last fired a shot.
El Range is undoubtedly perfect for bowhunters as well. Why? Because with EL Range, they now have a minimum range of 10 meters (10.9 yards) in binoculars. Other older binocular units give 33 yards of minimum range. Thus, archers and bowhunters can make use of some precise readings for nearby targets.
Although it is expensive but utility is greatest. You can do bow hunting, rifle hunting or use as binoculars for various sports and adventures. it will last longer than probably all the other available competing units in market and is once in a life investment.
The only limitation that stops one from experiencing this amazing binocular is its price. Its features sure do deserve a price tag worthy of almost $2500 but many people lose it when it comes to affordability. Not everyone can get their hands easily on a Swarovski EL Range Binocular.
Conclusion
To summarize the Swarovski rangefinder review, Swarovski El range binocular rangefinder is the best product yet. Whereas, Swarovski laser guide monocular rangefinder is discontinued because of lack of features, i.e. angle compensation.
Swarovski is a great name to consider when it comes to hunting equipment. We have discussed in detail the monocular and binocular technologies of its inventory after testing. With state of the art optics used in both of the rangefinders, one thing we found common which is precise measurements.
Other than that, we have discussed almost every aspect of both the rangefinders to make it easy for the ones intending to buy Swarovski rangefinders. The features that differ can change buying decisions for many and that is exactly why we tested and wrote Swarovski laser guide and Swarovski EL Range review.
Frequently Asked Questions
Where are Swarovski Rangefinders made?
Swarovski rangefinders are manufactured in Austria's western state, Tyrol. There lies a small city near Innsbruck, with the name Absam. The Swarovski Optik factory is currently functioning there. Other than binoculars, they provide a wide range of telescopes, riflescopes, and other optical equipment.
Is Swarovski Binocular waterproof?
All the high prices that these products come with would never be justifiable if they could not bear some splashes of raindrops. Not just raindrops, if a heavy storm has stricken or you have dropped it in bad muddy terrain, it will still survive.
The Swarovski EL Range is not only waterproof and fog proof, but it can also withstand the condition when completely submerged in water. We tried submerging it down to 13 feet and it works just fine.
Is Swarovski Binocular really worth the money?
Swarovski binoculars, unlike other brands, are consistent with their quality and features. It is better to not look at them as expensive products only. Consider it as a longtime investment of yours in the field of hunting. Once you have it, there are very few chances of it wearing out or bothering you with the measurements.
Who makes Swarovski Optik glass?
So the Swarovski Group is itself making the Swarovski Optik glass. It was founded 125 years ago and they have maintained good quality standards since then. Their consistency and best product designs are making their products recognizable in over 85 countries worldwide.
What does EL in Swarovski stand for?
Swarovski has an EL Binoculars range. The EL here means Ergonomic, Light.