Deer hunting is quite adventurous for various reasons and searching for bucks in uneven terrains is one of them. Regardless of your experience in deer hunting, using hunter maps and knowing how to read topo maps for deer hunting is a must.
Imagine stepping into a massive area with various terrains and you cannot find your way to the deer. This would ultimately make your entire expedition an absolute waste. This is where you need topo maps the most. 
For hunters, the two most challenging questions are, where to find deer and how to find it. These require a strategic plan and handy equipment such as a topographic map, GPS, rangefinder, etc. So, start training yourself on how to read topo maps for hunting and perform brilliantly in the upcoming hunting season. This is just the first step in polishing your deer hunting skills. 
What else could be better than learning how to read a topo map for deer hunting yourself? If you understand all the following important factors, reading it won't be a challenge for you.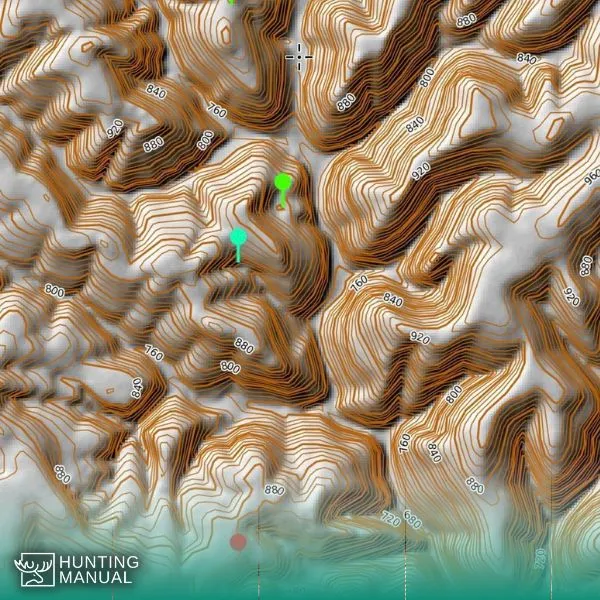 What is a Topo Map? How To Read Topo Maps For Deer Hunting?
A topographic map, commonly known as a topo map illustrates the surface of the Earth with the actual terrains and elevation changes. These maps are used for numerous purposes and hunting is one of them. Since hunters have to be highly cautious of the area they are venturing into to bag some bucks, these maps become their best buddies. 
Topo maps enable the hunters to determine the highs and lows of hills, possible bedding areas of deers, and even their funnels. Once you understand how to read topo maps for deer hunting, locating deer spots wouldn't be a hassle for you. The elevations are demonstrated with the help of contour lines which makes reading the map much easier. 
Contour Lines On a Topographic Map 
Topographic lines or contour lines determine the terrains on the ground with the same elevations. This means that when you travel along the path of these imaginary lines in real, you would remain at the same height for each connecting point. The difference occurs when these lines are present closely, which means that the terrain is steep. Whereas, farther lines determine that the surface is flat. 
There are three different types of contour lines on a topographic map: 
These are the thickest lines that you will see on the map. Index lines determine the elevation of terrain above sea level. These lines are generally marked with a number in the middle. 
On the contrary, these are distinguished as thinner lines on the map. You will notice lots of these lines between the index lines as these are the most common of the three types. After every five intermediate lines often occur one index line. 
Lastly, the supplementary lines represent a flatter surface and are present as dotted lines on the map. 
Furthermore, there are some key features and rules of these maps which need to be understood clearly to avoid misinterpretations. Let's find out about these in detail. 
Now you know some basics, let me give you a tip regarding glassing gear we use as hunters in hilly terrain. The distance, angle and gravity do not remain constant when terrain is hilly. Thus, I always recommend to use spotting scope and a best rangefinder with angle compensation to accurately measure and monitor movement of doe and bucks!
Rules of Using & Reading Topo Maps for Deer Hunting
To interpret the map appropriately, you must be very careful about the rules. It will also help you to gather information from the map in a better way. 
Contour Lines
These are the most important aspects of a topo map hence, it is crucial to understand its rules vigilantly. All the points of these lines are elevated at the same height. Since every line is specified for a different elevation, these never intersect unless there is a cliff or an edge. 
If you wonder where these lines end then, let me tell you. Contour lines don't merge anywhere randomly instead, they join to form irregular spherical patterns, indicating a hilltop or a cliff. 
Stream Flow Directions
It is to no one's surprise that hunters find streams of water in various deer hunting areas. That said, they must also know the rules to read the stream flow directions. Remember, the river always flows in downhill motion in the topo map and perpendicular to the contour lines. Reading stream flows is essential to know how to start deer hunting. With the help of V shape lines, it becomes easier to figure out the altitude point from where the stream will flow. 
Measuring Slope Steepness 
The steepness of a sloppy terrain is easily deduced by the space between the contour lines. However, if this space isn't changing, know that there is no steepness and the surface is flat. If you want to measure the slope in the easiest way possible, subtract the lowest elevation value from the highest elevation and divide the difference by horizontal distance (the scale is present at the bottom of the map). 
For example, look for a slope that you wish to measure the steepness of and determine its top-most contour line and the bottom-most one. Every contour line has a label that represents its altitude. Suppose the highest elevation measures 3000 ft. and the bottom one is 2500 ft., subtract the two values to get the difference. 
Now take a ruler and mark the points between both elevations on the ruler. Put the ruler on the horizontal scale at the bottom and measure the distance according to the marks. Let's suppose the value is 1.7 miles. Time to do quick math: 
Slope Steepness = Lowest elevation point – highest elevation point / horizontal distance
Putting values,
Slope Steepness = 3000 – 2500 / 1.7
The gradient of steepness is 294.2 ft./ mi. 
Concentric Circles
The irregular spheres formed by contour lines that were discussed earlier are also known as concentric circles. However, these circles tell a lot about the difference in terrains therefore, you must look closely. For example, when the circular bands are significant, it indicates downhills. Whereas in case of closed spheres, the indications are for a hill or depression and minor loops represent higher altitude. 
Key Features of a Topo Map
You won't be able to comprehend the squiggly lines of hunting topographic maps unless you have an in-depth understanding of its features. The following features will help you understand how to read topo maps for deer hunting.
Ridge Tops
As seen in the topo maps, ridges are elongated hills that can vary in size. These could be as small as 100 yds. or as large as several thousand yds. These have steep slopes on either side which are represented through contour lines on a topographic map. 
Ridge tops, as referred to by the name are simply the topmost part of a ridge. To find these tops, you should look for closely packed lines (indicating the steepness of the slope). Around these lines should also be a darker and thicker contour line. Once you have pinpointed those, look for a military crest or, in simpler words, a flat top. That is how a ridge top appears on topo maps. 
Drainages
Drainages are also called draws. These are the areas through which water flows down in form of streams. Draws are everywhere where two ridges meet and create a super steep valley or terrain for the water. These are the most distinguishable features on a topo map, thanks to the extremely steep hills on either side of the stream, creating a bowl shape on the map. 
When it comes to the steepness, depth, and size of drainage, these vary greatly. Drainages with lesser widths appear as V-shaped bowls on the map and those with larger widths are seen with a U shape. However, both points are uphills. 
Drainages are among my top priorities to look for deers. There are always significant chances to find your trophy buck near a draw. What I love the most about these areas is that it becomes a barrier for deers even if it sees you. Furthermore, these water streams also provide hunters with easy hydration during prolonged hunting sessions. 
Benches
Benches can be seen as extremely steep ridges with little breaks in the steep. These breaks or leveled sections are parallel to the ridges and are known as benches. Reading benches on a topographic map is quite challenging. Pro-tip to determine benches on a map is to look for lines on ridges that get farther apart for a very small distance and then come back close together. 
Spurs
These are micro ridges that protrude out of the main ridge body. Spurs are extremely difficult to point out on a topo map. These are highly subtle and fine therefore, also difficult to find out in real life. However, you can determine spurs on a map when the contour lines of ridges are slightly wavy from a specific point on an entire ridge on the map. 
Spurs hold several benefits for deer hunters due to numerous reasons. First off, these are very famous hot spots for deer bedding activities. It is a lot likely that you can get one laid on your lap in spur areas. 
So, make sure you don't forget to check out the sides of ridges and look for these little spurs while scouting for a deer.
Topographic Saddles
The topographic saddle is simply a lower lying area that connects two higher points of ridges. On the topo map, you can distinguish a saddle by looking for two V or U shapes pointing towards each other. These points sometimes also make two circles or an 8 figure with farther contour lines indicating a flatter terrain in between.
There is usually high deer activity on saddles especially when the bucks travel in a herd during the rut. They cruise from one high spot to the other in search of does. So, it would be wise to look for trails in these areas during your hunt especially when rut season is around the corner. 
Edge Covers or Transition Areas
When two different drainages meet and create a line of heavy vegetation or woods, it is known as edge covers or transition areas. These are probably the easiest to find on a topo map because of the clear and definitive lines. 
Typically these areas have an ample amount of food and a variety of habitats hence, you can find loads of deers sign. While navigating in these areas, it is suggested for the hunters to wear boots and find trails parallel to these lines. 
Funnels or Pinch Point 
As a deer hunter, you will hear about this specific area a lot. It is a great place for hunters to ambush bucks since they don't have an easy escape. Deer funnels and pinch points are narrow spaces that start wider but get smaller and smaller. You can see these are thin strips of heavy green mass on topo maps. 
Deers use funnels to travel from one place to another. Since these are extremely narrow points, they are forced to stay in them, or else they will be exposed to their predators. Trophy bucks are perplexed with the wider entrance as a favorable terrain which keeps on getting unfavorable for them as they move forward. 
Reading Topographic Maps 
To identify terrain features on a map, the hunters need to know how to read a topo map for deer hunting. Here are three essential factors to understand. 
Understanding and Reading Contour Lines
Understanding how to read contour lines is quite straightforward. As mentioned earlier, there are three types of contour lines, each representing a different type of terrain on the map. Ensure that you remember what each line accounts for and reading these would become hassle-free for you. 
Understanding and Reading Symbols/ Colors
You will find a legend on your topo map which helps you understand the different keys and symbols used in it. The map uses numerous signs, symbols, and colors to help the hunters read the map. Speaking of the colors, the darker area on the map shows a heavy green mass. Whereas, the colors get lighter towards the peaks due to less vegetation there. 
Understanding and Reading Topo Map Scales 
Every topographic map comes with a scale on either top or bottom of the map which shows the distance details. For instance, if the scale says 1 inch = 10,000 feet, it means that if you are 1 inch away from the desired destination according to your map, you are actually 10,000 ft. in reality. 
Reading topo maps is also common among fly fishers to find streams and rivers where fresh water fish resides. Our friends at thewadingkit.com often use this technique.
Conclusion
Contour lines are the most important feature of a topographic map. So, make sure you understand every aspect of it since this will help you navigate the map easily. You will also be able to figure out the probable deer spots without any challenges. 
The plethora of knowledge and unique terms shared in this article can overwhelm the hunters. But, with such resources, you can learn how to read topo maps for deer hunting even if you are a novice. Purchase the kind of topo maps you wish to use, start preparing yourself before the hunting season and do lots of practice. 
Frequently Asked Questions (FAQ's)
How to find the perfect deer hunting spot using topo maps?
The perfect way to find the game animals is by looking for spots where they are likely to hide the most. For example, places with loads of food supply, bedding sites, scrapes, deer funnels, etc. Once you know where deers are present mostly, you can look up those places in the topo maps. 
What are the best topo maps for hunting?
Topo maps are readily available everywhere but if you ask for the best ones, I'd suggest the US Topo Maps mobile app by US Geological Survey (USGS). On the other hand, for physical maps, I would vouch for the topographic maps by Rugged Maps as the best one. 
How to find deer bedding areas on a map?
Regardless of the area size, deers are present at very particular places. When it comes to finding bedding areas on the map, you can look for sides of the ridges, that is where bucks bed down. However, does and fawns are likely to perform bedding activities at the top of ridges. Now that you know the best deer bedding sites, find them on a map and ambush.