Do you venture out for shed hunting but return home demoralized? The main lacking could be in your search. Knowing when, where, and how to find deer sheds all are equally important. The shedding period for deers begins somewhere between the late fall season and the start of winters and ends by March. 
The competition for shed hunting has risen many folds in recent years and people have discovered efficient ways for that. If you are a professional hunter and also wish to get your hands on some sheds, try out smart strategies. For example, wait for the right time and season. 
Below you can find the best tried and tested tips and tricks on how to find deer antlers. I and my team went on the search and returned with a couple of mighty antlers. Our sole focus was on the best time and right places to look for it.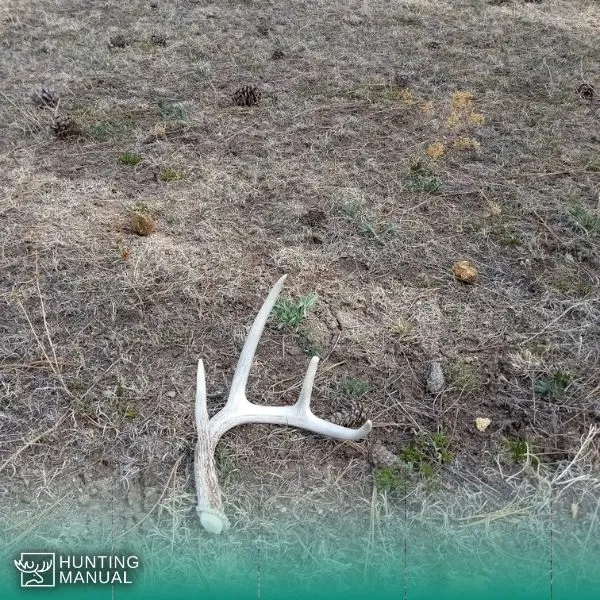 Deer Shed Hunting Tips – How To Find Deer Sheds
Hunting for deer shed antlers requires quality search and smart ways. Before you head to the woods, get an authentic estimate of the deer that are suspected in that particular area. In this way, you can optimize your search based on the approximate number of bucks that had undergone shedding. 
I often use best binocular with rangefinders to track deer trails and deer trails and sheds in remote plains. Some top tried and tested strategies to bag a couple of shed antlers are as follows: 
Wait For Prime Conditions 
It is no surprise that everyone wants to set out on shed hunting the earliest. This would be the most witless thing to do. Shed hunting has now become extremely competitive and therefore, you must plan very carefully. Rather than rushing things, wait for the prime conditions. This will not only save you your time and efforts but will also increase the chances of finding more sheds. 
Here, prime conditions mean when a majority of the mature male bucks have shed both of their antlers. You can determine prime conditions by checking out food sources and if they are munched or not. If there is a significant decrease in crops, know that the bald deer are done shedding. Get your gears ready and scoop up the mighty antlers. 
Look Up Every Now And Then
One major mistake that most hunters make is searching the ground only. This may also end you up at a chiropractor after long hours of failed shed hunting. Save your visit and keep looking up every now and then. You can always use glassing gear including binoculars and best hunting rangefinders to zoom in or map out an area.
You never know when you can spot an antler hung on dwarf trees, shrubs, or bushes. 
Gather A Team And Split For Search 
Hunting for antlers becomes more fun and efficient when done with friends and family. Since it could be a hectic task for you to do all alone, gather your partners and head towards the wood together. Chances to spot and scoop shed antlers are boosted when there are more pairs of legs and eyes. Divide into small groups and send each group to explore and search different chunks of ground. 
Slow Down Your Speed
Antlers easily camouflage into small bushes and shrubs which means hunters are likely to overlook them when in a hurry. Don't fall for a fast search in order to find more pieces, instead, slow down and look around carefully. The distance you cover doesn't matter but the number of sheds you gather does. 
You can always use glassing equipment to map out your target area. For that, often binoculars, spotting scopes and best long range rangefinders are used.
Do Your Homework
Always perform thorough research before stepping into the woods. Gather as much knowledge as you can prior to the shed hunt. This includes getting an idea of your desired hunting area via satellite mapping services. Mark off the places where buck presence is likely to be more and start your search from those areas. 
What Are Antlers – Velvet Shedding – When Do Deer Shed Their Antlers?
Antlers are simply the bones extending out from a deer's skull. These only grow on bucks (male deers) and during the spring season. By summer, the antlers are covered in velvet (a soft coat over the antlers). The main purpose of the velvet is to provide the antlers with optimum nourishment till they grow to their max potential. 
Between late August and early September, antlers are fully grown, and then comes the time for deer velvet shed. During the process, the fuzzy layer starts drying and rubs off, uncovering the shiny and robust antlers. The entire process of velvet shed takes only 24 hours to complete. 
The shed season for deer starts by the end of fall or early winter season which lasts up to the month of March. Bucks' hormones start changing as their antlers begin to loosen which can take up to 2 to 3 weeks. Once the antlers are ready to fall, the overall process happens between 24 to 48 hours. 
When Do whitetails Lose Their Antlers?
The antler shedding season of male whitetails starts by the end of December and continues till the first week of March. 
Do Elk Shed Their Antlers Every Year?
Yes, Elk shed their antlers every year. Out of all its deer relatives, they are the last ones to drop their antlers. The shedding period starts in January and lasts till April. However, the majority of the elks lose their antlers in March. 
How Do Deer Shed Their Antlers?
The overall process is highly overwhelming. Deer antlers extensions of its skull bone which grow from a certain point of the skull known as the pedicle. After the rut season when bucks are done mating, their testosterone level drops significantly. 
Due to the reduced testosterone levels, a new bone cell known as osteoclast begins to form. This starts loosening the existing bone tissue present that joins antlers with the pedicle. Because of the constant force being exerted on the tissue, the antlers start knocking off. 
The best thing about this entire process is that it doesn't cause bucks to pain even a bit. Since antlers lack nerve cells, they don't send any pain signals to the deers while loosening or falling. 
Where To Find Deer Antler Sheds?
Just as important as how to find deer sheds is, finding them in the right places also plays a vital role. 
Food Sources
These are honestly the top places to look for bald deers. Since the shedding period begins a few months after the rut, bucks are already deprived of energy. That said, these animals rely on sources loaded heavily with food. The top food sources could be heavy food plots, mast trees, orchards, or agricultural fields. Look closely for depressions, narrow gorges, or edges having dips nearby. These spots have higher chances of being loaded with antlers. 
Bedding Areas
Bucks need to revive their energy post-rut and during winters after they have dropped their antlers. Therefore, are likely to spend several hours resting in their bedding sites. The safest areas where bucks would prefer to bed down in winters include thick bushes, tall and thick green stands (grass), or timber pockets with heavy woods. 
Calmer Sites
Bucks survive to shed their antlers which is why you won't find much of these in common hunting areas. Think smart and travel to areas with less hunting pressure where deers migrate to survive and drop their antlers. 
Deer Jump Areas
Bumping into the ground, fences or trees can loosen the antlers. Search for deers' trails near obstacles such as ditches or fences. 
Buck Areas
As the winter season arrives, bucks move away from doe's and fawns. They usually unite with their old summer mates and cruise in a herd. So, if you find areas with a greater proportion of bucks, you might find numerous antlers from that single place. 
Cool Things To Do With Deer Antlers
Have you been successful enough in understanding how to find deer sheds? If so, it's about time you get some cool ideas to do with the antlers: 
Unleash your inner artist, paint the antler, and put it up as a decorative item in your house.
Spruce up your mantle by displaying the antlers there. 
Adhere it to the wall and use it as a coat hanger. 
Use it as a lamp's base or craft out table legs with it.
If you are a true shed hunter, dedicate a corner of your house and create a collection of antlers there. 
Simplest of all, sell them away and earn some dollars. 
Conclusion 
Deer hunting is a fun adventure that doesn't end with bagging a trophy buck. After the rutting season and by the start of winter arrives the most interesting period i.e., shed hunting. This is when the competition rises like crazy and a massive number of shed hunters pop out. 
To bring several antlers home, you should know where and how to find deer sheds. Get your hunting gears ready, boot up, and venture out on the fun endeavor but, make sure to keep in mind and follow all the aforementioned tips and tricks.
Frequently Asked Questions (FAQ's)
How much are antlers worth?
The worth of antlers depends on numerous factors such as size, age, breed, and weight. Keeping these factors in mind, antlers could be worth between $2 to $25 per lbs. 
Do squirrels eat deer antlers?
Yes, squirrels and a few more animals such as porcupines and mice love nibbling on deer antlers. They consume all the useful nutrients from antlers which result in the growth of shiny and strong teeth. 
Do moose shed their antlers every year?
Yes, just like other members of the deer family, moose antlers shed every year. The process begins in mid-December and lasts till late January.